May 5, 2015
Today, I'm going to try to answer two questions with one blog post. (something about birds and stones comes to mind, but I don't kill birds…)
Many of you are reluctant to buy shoes that aren't in neutral colors – maybe it's a question of having to buy very expensive shoes because of foot conditions, or a reluctance to draw attention to lower body and/or legs, or perhaps you have Audrey Hepburn feet (aka disproportionately large)… But for whatever reason, it's perfectly justifiable, as if you have to explain or defend your preferences!
And of course, we wanted to marry navy and turquoise, because it's one of the great color combinations!
So let's grab this lovely bag first:
And go back to our navy travel or capsule wardrobe from last week with one addition – excellent quality, very simple navy flats, which can be worn with the skirt and the trousers.
The most obvious way to draw attention to your face, or your hands? Jewelry!!! And turquoise jewelry is so lovely… I swear, if I had blue eyes, I'd wear something blue every day – maybe not turquoise, if it wasn't the right shade of blue, but something… I am the only person in my family with brown eyes… le sigh…
And a few more accessories, including a headband. I wear a headband every day to keep my "growing out" curls from driving me daft; why are they such a neglected accessory? I've heard that they're not chic, to which I reply "well, you haven't seen ME wear one…" Anything is chic if you make it so; don't let anyone dictate to you!
Lots of possibilities here! I've deliberately under-accessorized many of these outfits, just to show the degree of impact even a small piece of jewelry can have on your overall ensemble. Plus, these just seem like summer to me, don't they?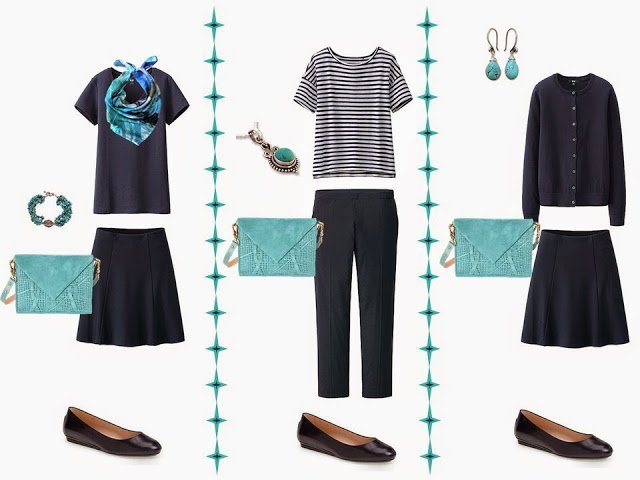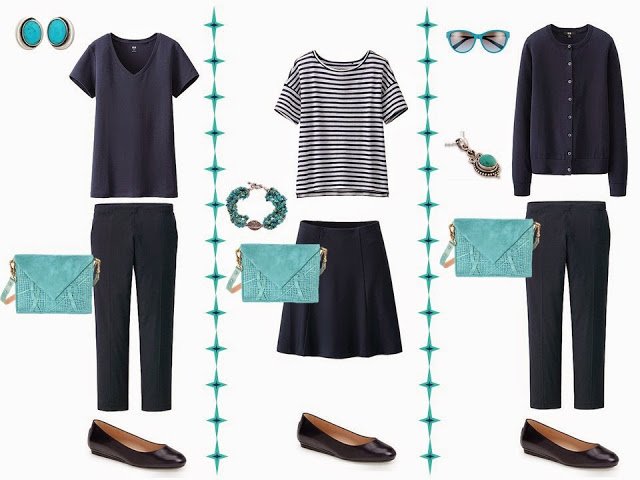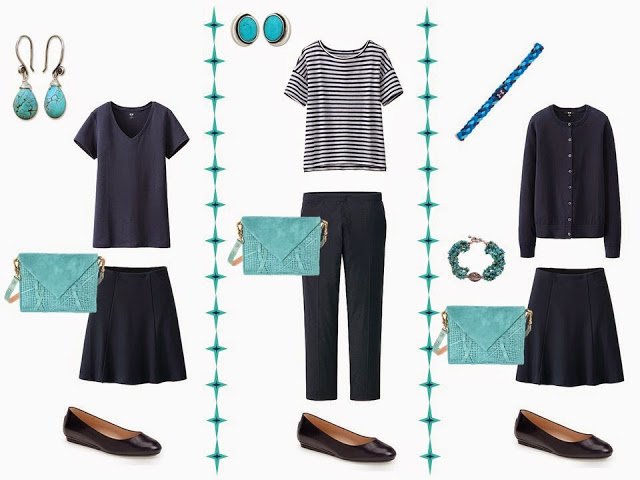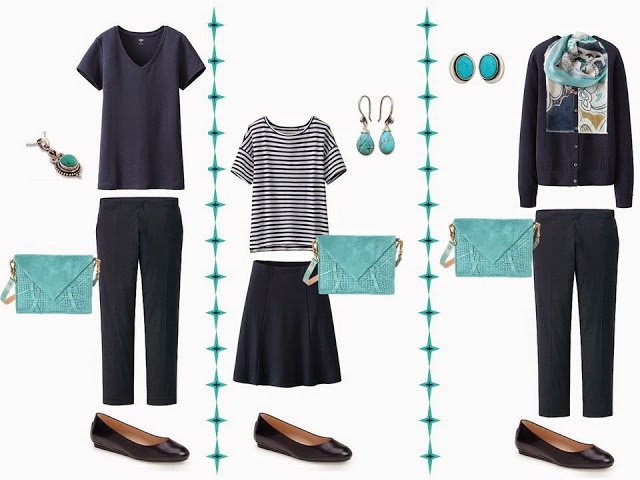 Warm weather arrived with a crashing suddenness, here in Chicago! So these clothes finally seem seasonal to me; what a nice change.
love,
Janice