December 15, 2014
My wardrobe is in kind of a mid-season funk right now. My arms are getting a little bit girthy from my workouts (hurrah!!!), and a few things that used to be capsule wardrobe stalwarts are going to have to move on to someone else's wardrobe. I'm losing sight of what my "big picture" wardrobe plan is… and that makes getting dressed time-consuming and tiring. Plus, since I don't have to go into an office any more, my wardrobe is long on "business-ish" garments that could be donated or sold. So it's time for me to Start From Scratch!
Step 1: Pants – easey peasy – my black pants from J. Jill. Perfect fit, and a 12-month fabric.
Step 2: Shoes – Stuart Weitzman "creampuff" style. They're long discontinued, but my next pair will come from here.
Step 3: My twinset-equivalent is a tee shirt and cardigan from Eileen Fisher.
Step 4: My jeans are waxed denim from Eileen Fisher, and my shirt is a black and white linen print from J.Jill – which is again long time gone.
Step 5: Majorica pearl earrings and bracelet, Hermes Croisiere watch (discontinued), an Agnes B. handbag, and my Hermes 70 cm "bandanna". So far, this has been really simple and straightforward – I can just walk to my closet and find all these things easily.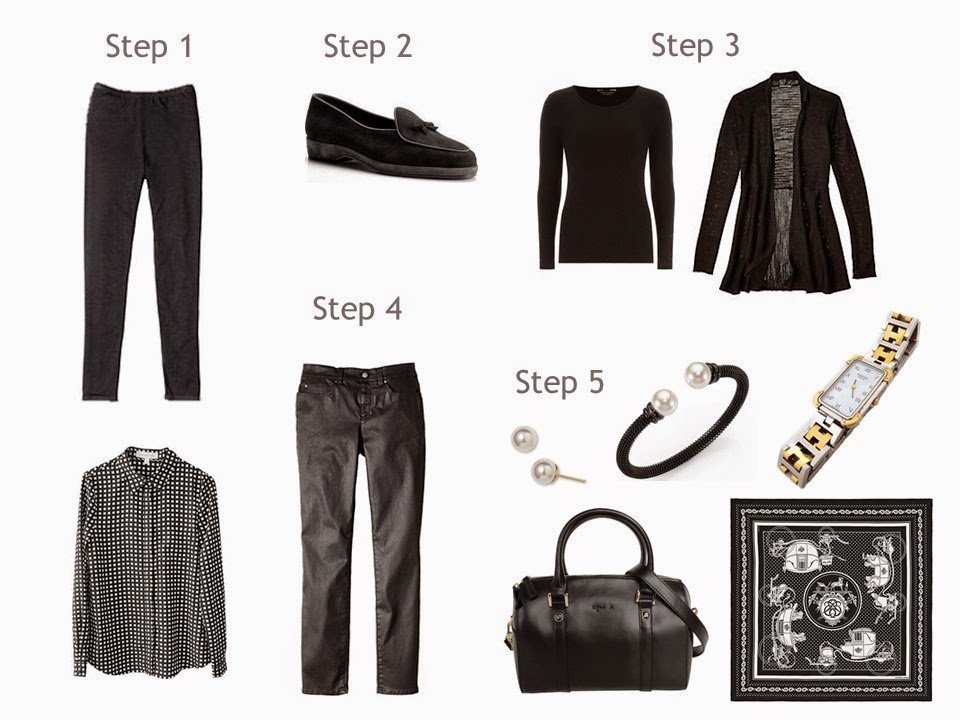 Step 6: Two Accent Tops and a scarf! My starry sweatshirt from Maison Scotch, my Mystery Door scarf from Julie Egli, and my black and white striped jersey from Muji.
Step 7: An ensemble in my 2nd neutral – light black – aka grey. A big snuggly sweater from Eileen Fisher, grey flannel trousers from Saint James, and my grey sweatshirt from ASAP.
Step 8: Accent Color tops, plus a necklace. Majorica pearl and chain necklace, red L.L.Bean tee shirt, and red L.L.Bean sweater.
Step 9: A skirt, with an appropriate top and footwear. My velvet skirt from Eileen Fisher, long gone from production, a black cashmere turtleneck sweater, and black kitten-heel boots.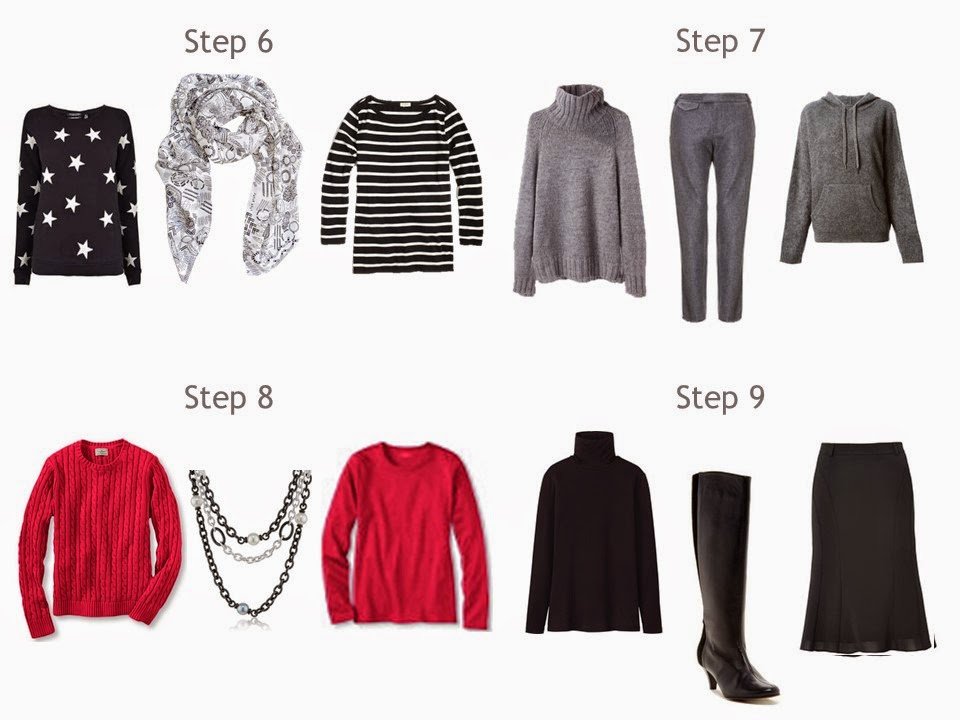 Step 10: Jacket, casual top and casual shoes. My Barbour jacket (still perfect after years), my grey Eileen Fisher sweater, and Munro shoes all fit the bill.
Step 11: A ensemble to express your personal taste. For me, black Eileen Fisher slouch pants, a black linen shirt, and a black and white marled sweater are essential, and very "mentally comfortable", so they must be added here.
Step 12: Winter essentials. Oh bother… I do not HAVE a long winter coat. Onto the (eventual) shopping list. But I do have my wonderful feather print scarf from Paris, and the best boots on the planet – a pair of Clark's that I've had for at least 10 years.
Step 13: More Accessories! I have a great Tumi clutch, a brooch I bought on ebay, my Alexis Bittar stud earrings, ANOTHER set of Majorica pearl bracelet and earrings, and my most excellent silver chain from Novica. What I lack in clothes, I make up for in accessories…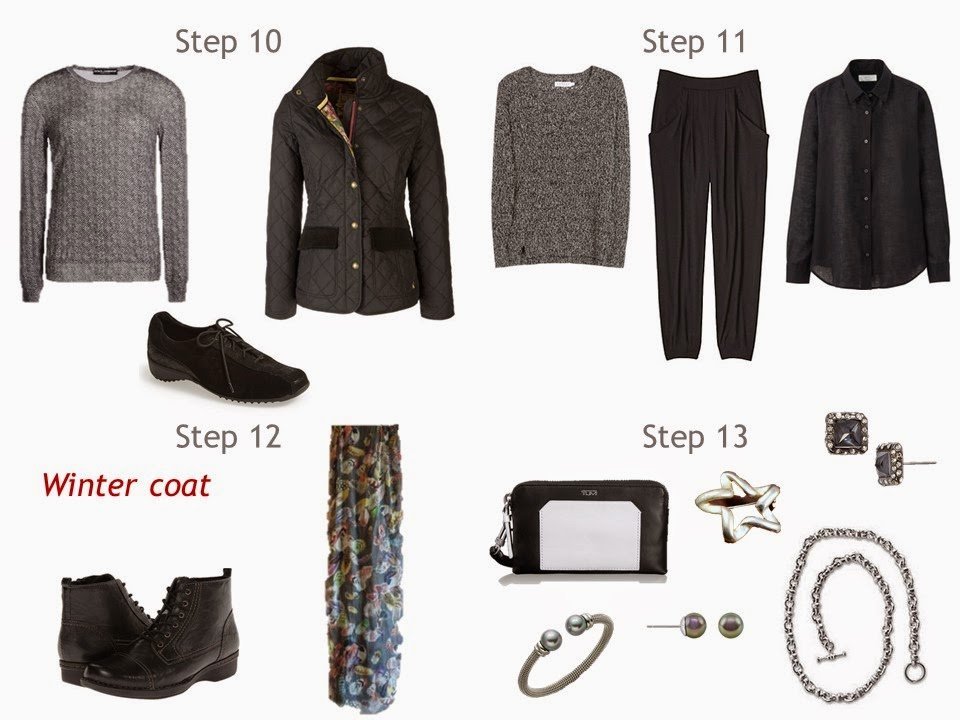 Step 14: Leisurely wear. Another pair of Eileen Fisher slouch pants and a pair of skirted leggings are in heavy rotation with a simple white L.L.Bean tee shirt and a J.Jill denim shirt. Around my building, this is what I'm OFTEN seen wearing.
Step 15: A dress and cardigan. Finally, I squeeze in my favorite starry cardigan from Rika Amsterdam. And a dead simple black knit dress is what I'm wearing almost every week this holiday season.
Step 16: Balancing Neutrals: which for me means I'd better scare up some more grey! So my Eileen Fisher grey silk blouse, and my extremely excellent COS tweedy dress get pulled into our assembly.
Step 17: Here's where I should balance out my 2nd accent color… I don't HAVE a 2nd accent color. There's no law that says I have to have one, but I might want to take a tour through my scarves and see if there's a color that has potential…
Step 18: Double-checking with The Common Wardrobe, and the idea of Whatever's Clean. I fall short here too. Although grey is one of my neutrals, I don't have a grey tee shirt (!?!). And I've noted before that I don't have blue jeans. Possibly a 2nd pair of black jeans, that aren't waxed cotton, would be right here… And with all of this black, a pair of light pants – probably in the neutral usually called stone – would be an idea. Stone is sort of a greyish tan, and is definitely a more cool tone than a yellowish straight khaki. But I DO have white shirts. Since I worked briefly in the bakery, I have FIVE white shirts…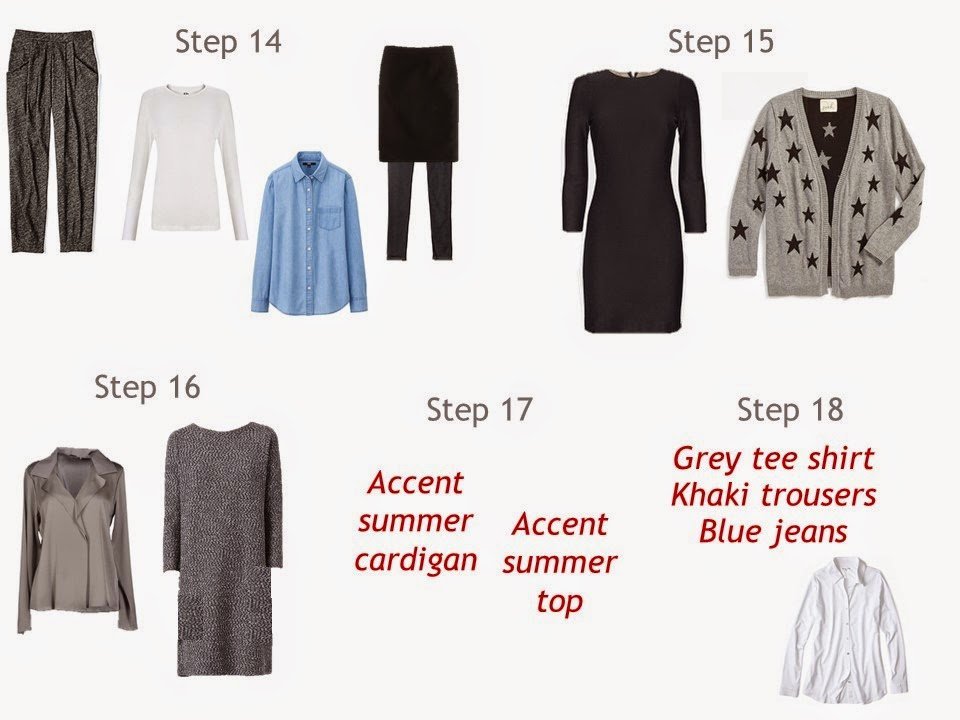 This was interesting for me to work through, because I learned that I'm VERY dependent on black, and I truly shy away from accent colors. My explanation for this is that I spend so VERY much time looking at clothes in order to build a beautiful blog that, by the time I am choosing clothes for myself, I want plain, simple, neutral and low-key.
But I would still like a grey tee shirt…
love,
Janice