December 17, 2014
I know I seem to talk about this same idea a lot, but I can't sufficiently emphasize the benefits of building your wardrobe around a unifying theme of some sort.
Your theme could be a particular color scheme, a painting, a photograph, or a scarf – there are really no limits to what you might choose. This theme doesn't have to last throughout your entire life, nor does it have to define absolutely EVERY purchase that you make.
However, it should be an overarching guideline that helps you make the hard decisions when you see something appealing – does it fit? does it clash? does it harmonize? does it make NO SENSE WHATSOEVER in the context of your chosen style theme?
So, when someone asked me to show some more navy and green, this was how I chose to do it. While you aren't going to be whipping out the scarf in the dead of July, it can still be the image and motif which informs your choices…
A warm sweater dress and tall boots are business or day-dressy, while a warm tunic sweater and narrow pants worn with ankle boots are an all-purpose outfit to snuggle under your heaviest parka.
A tee shirt, soft pants and rubber boots are going to be handy when snow turns to rain, and most of us have a spring holiday that requires a dress. Even if you don't have a holiday, putting on this dress might persuade someone to take us out for a posh dinner!
A bright green blouse means that spring is definitely here! I know that these shades of green aren't all identical – in a perfect world, we would be able to dye-lot match the scarf with each purchase. But we're going to have to settle for blending our colors nicely… And speaking of nice, a striped top, white trousers, and espadrilles just feel like summer for me.
For the hottest weather, simple tee shirts or tank tops, and shorts or skirts are all that's really needed. A couple of pairs of sandals, and you're set for outrageous temperatures! Note that here, there would be no way that you would wear your scarf, but you might still carry it in a tote bag so that, when you're indoors in brutally cold air-conditioning, you can wrap it around your neck or shoulders to stave off the chill.
I always like to show a suit, even if many of us don't wear them "together" as suits. A navy blazer is a handy addition to any wardrobe that includes navy as a neutral. And the September top just might match the October skirt – they're the same (blindingly expensive) brand. This shows that you can move your outfits around and use the pieces throughout much of the year, saving money, helping both your closet and the environment, and creating a unified personal style for yourself. I think that's called a "win, win, win, win"?
After a suit, one must have jeans! and a classic sweater. If you don't wear turtlenecks, a crew or v-neck would be just as useful here. And December's dress is lovely for holiday activities, but since it's sleeveless, it could easily be worn through most of the year, with a cardigan (or your navy blazer!) over it.
And here's your 12-month capsule wardrobe. Yes, there are some wildly varying shades of green here, but the message that you love, and look beautiful in, green comes through loud and clear. Your other accessories could include some emerald earrings, a jazzy green handbag… once you've isolated the style theme of your heart, you can go wild with it, and never worry that you're being wasteful or extravagant.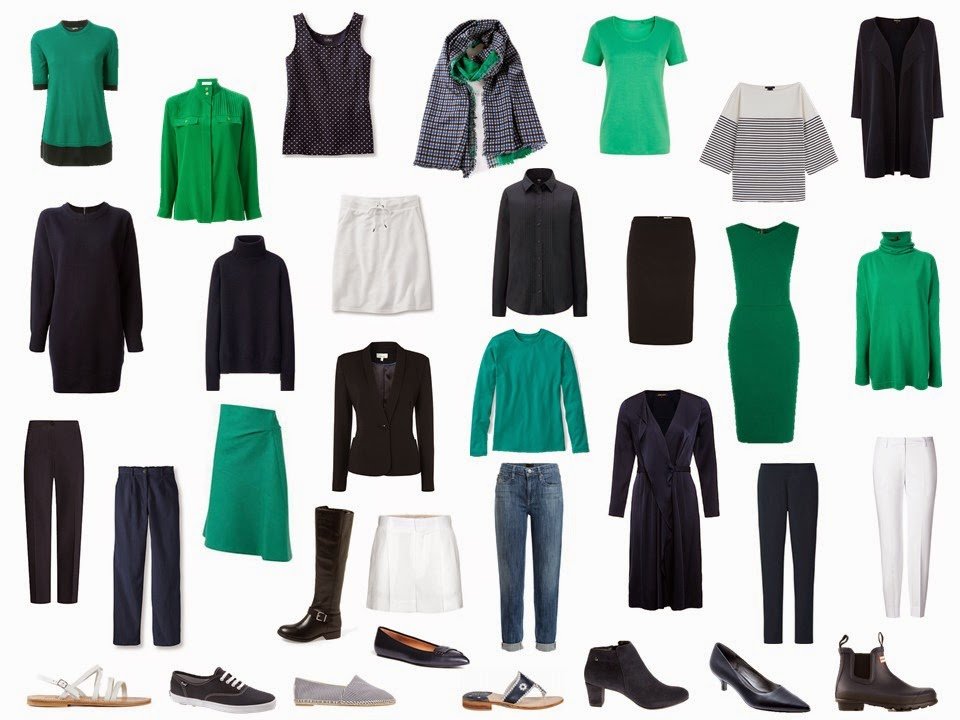 Just to show the versatility of this kind of ensemble, here are a few more outfits: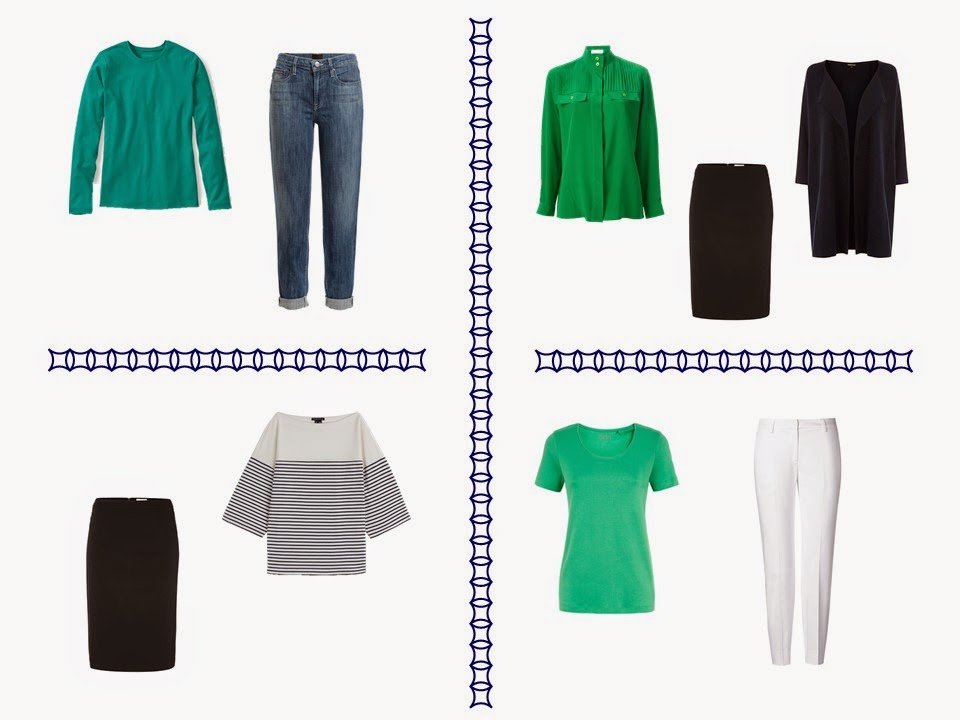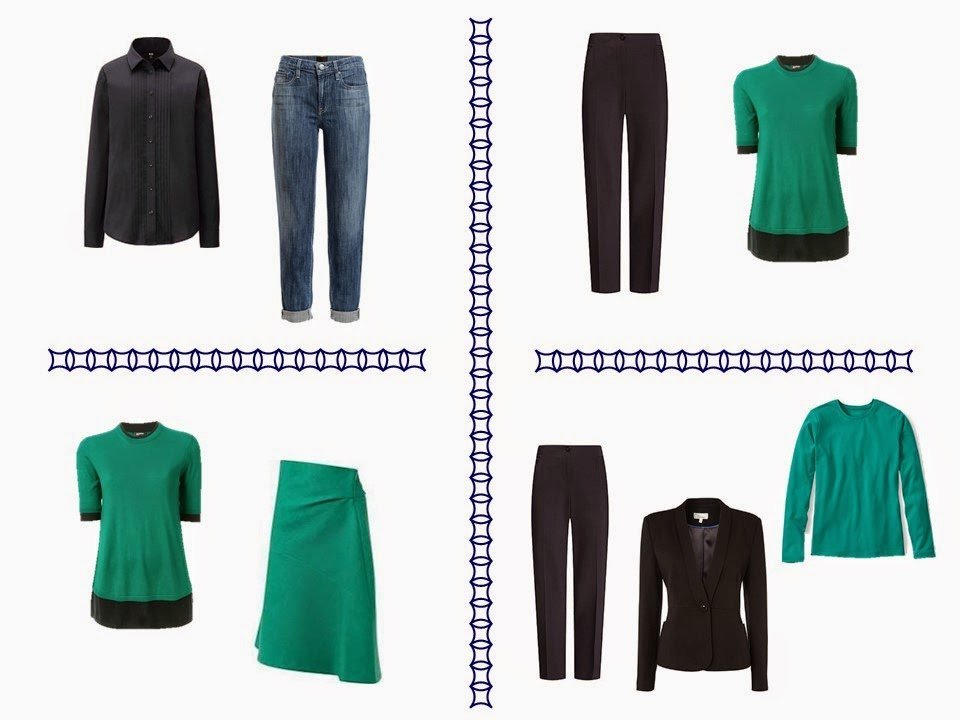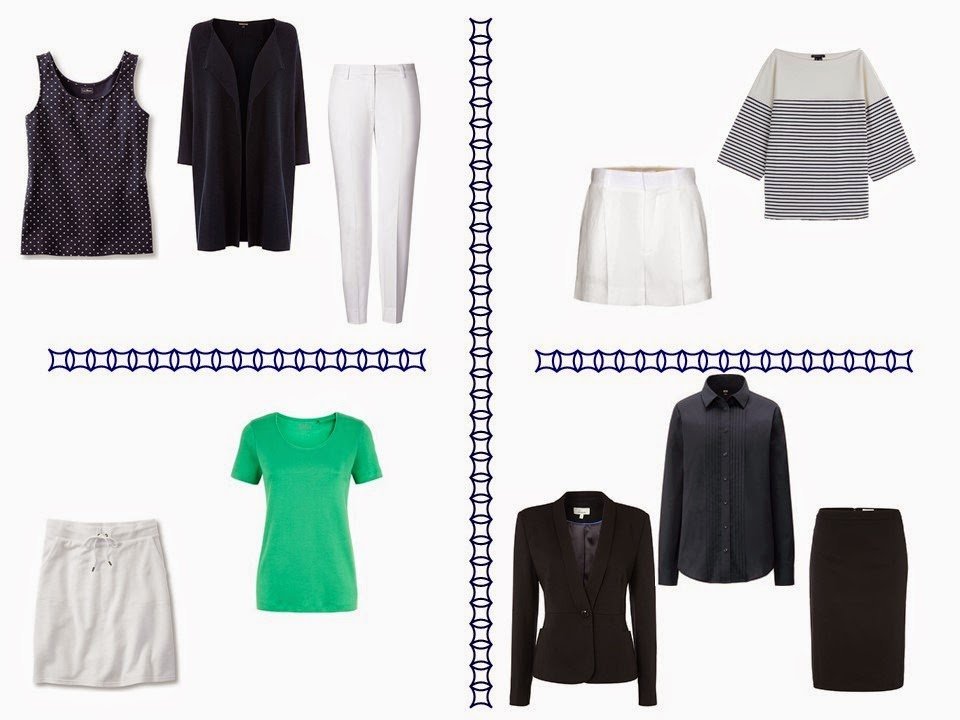 love,
Janice