September 5, 2014
Looking for the right items in this color combination caused me to hit the wall – at some juncture, I was at a loss to find more camel garments that were suitable for this capsule wardrobe!But then I thought about you all for a moment (as I think about you all constantly when I'm working on The Vivienne Files!), and I realized that if I was having trouble finding garments, then you must have the same experience, right? I spend hours a day working on this – you certainly don't have the time to devote to shopping that I do to my full-time job of blog creation. So rather than throw the towel in on this wardrobe, I figured out what a reasonable approach might be, and I'm sharing it with you all.
The first four camel garments came together reasonably well, but when I looked for another good blouse, tee shirt, or sweater, everything was either a really WEIRD color, structured… oddly… (as in it would reveal parts of your body perhaps better left concealed), or they cost $2,000. Not good enough for us!
So I looked again at the warm tomato red that was included as an accent color here. I just heard from a reliable source that she considers red to be a neutral, so I wondered what would happen if I just picked up a couple more tops in red, and we all waited until the market was more friendly to build a more "traditional" 4 by 4…
I think that this is successful – certainly every bit as versatile with red tops as it would have been with more camel and olive. And from this we can learn that, in the absence of a lot of one of our neutral colors, we can rely more heavily on one of our accents in order to have enough clothes to provide us with choices and "coverage" for at least a week.
We might see this solution used again in the future…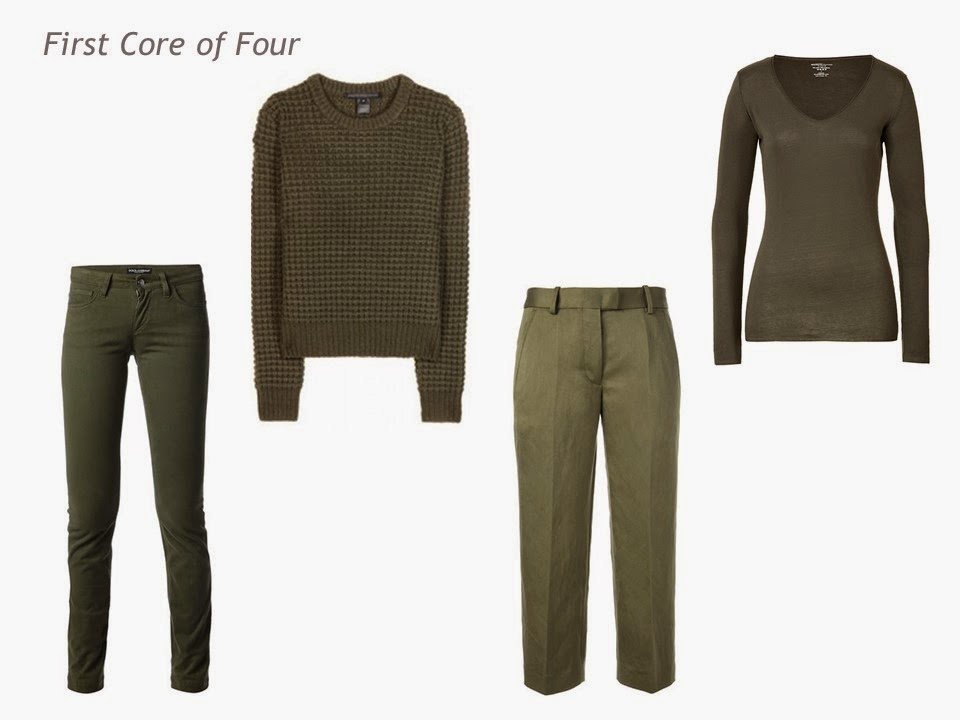 I think this works out okay – not the same color balance that we've seen in other wardrobes, but still very coherent, with a clear statement of personal style and preference.
love,
Janice