August 13, 2014
The Four by Four capsule wardrobe – in which you focus on four garments at a time – is a great way to move toward a complete wardrobe when you can't face a ton of shopping at one time.  The fours can easily be pulled from your Step by Step Capsule Wardrobe; this is sort of Step by Step with lots of resting in between steps!One of the great beauties of Four by Four is that sixteen garments, plus accessories, is a great quantity of clothes for travel…
While these sixteen items could be purchased in any order or combination, I've got to admit that I would be VERY tempted to get all of the solid navy pieces at the same time, and maybe even from the same place.  Navy is not a color that can just be tossed together the way grey or black can…
This is our final product: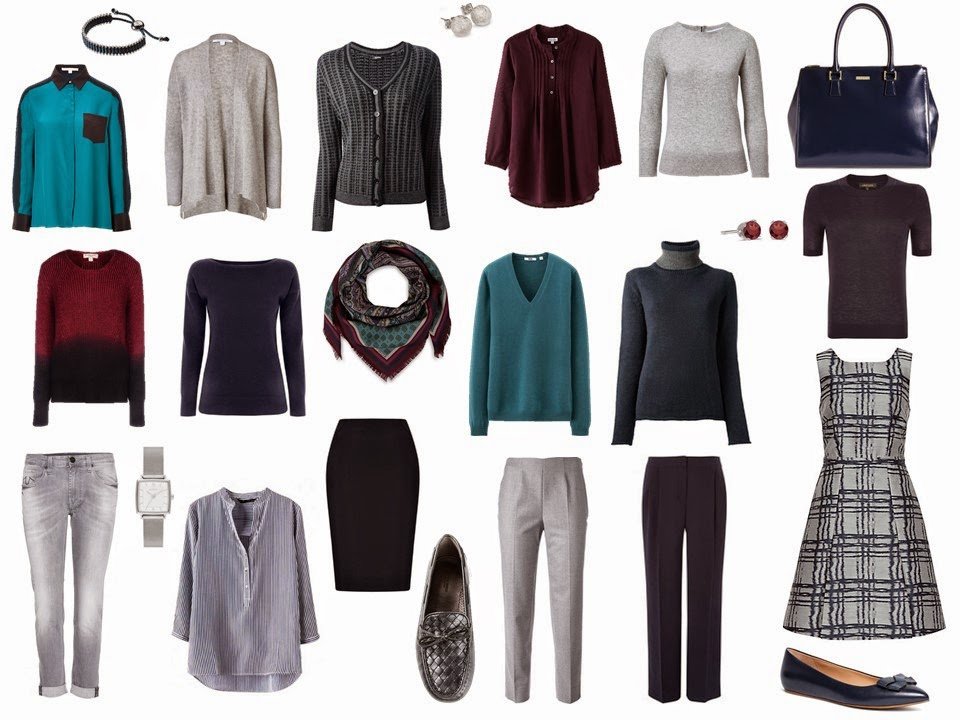 And this is the color scheme upon which it is built.  If the grey looks really brown on your monitor, I sigh deeply…
The navy Core of Four – simple and versatile.
The grey Core of Four includes a more relaxed cardigan, and a pair of jeans.
The Expansion Four provides items that can be worn with either grey or navy.  I would wear that patterned cardigan over the dress in a heartbeat!
The Mileage Four – tops enough to get you through the week – introduces your accent colors.
And I know I used to include only four items in the Integration Four, but this just begged for a couple of pieces of jewelry…
love,
Janice