August 14, 2014
Yesterday, someone asked if it was possible to change the colors in the Four by Four Capsule Wardrobe. Well, yes, I plan to show a whole BUNCH of these so that we can see some of the color schemes from The Vivienne Files Color Planner in action. (that's why I asked which combinations are your favorites; so I can work specifically with them)
All of yesterday's grey garments are still here, but the other three colors have been switched. If I were building this wardrobe for myself, I would ABSOLUTELY buy the scarf first and then very gradually build around it. This is a scarf that would be an ideal long-term focal object for all purchases; the colors and the design are just that perfect!
This is the capsule wardrobe:
And this is our color scheme: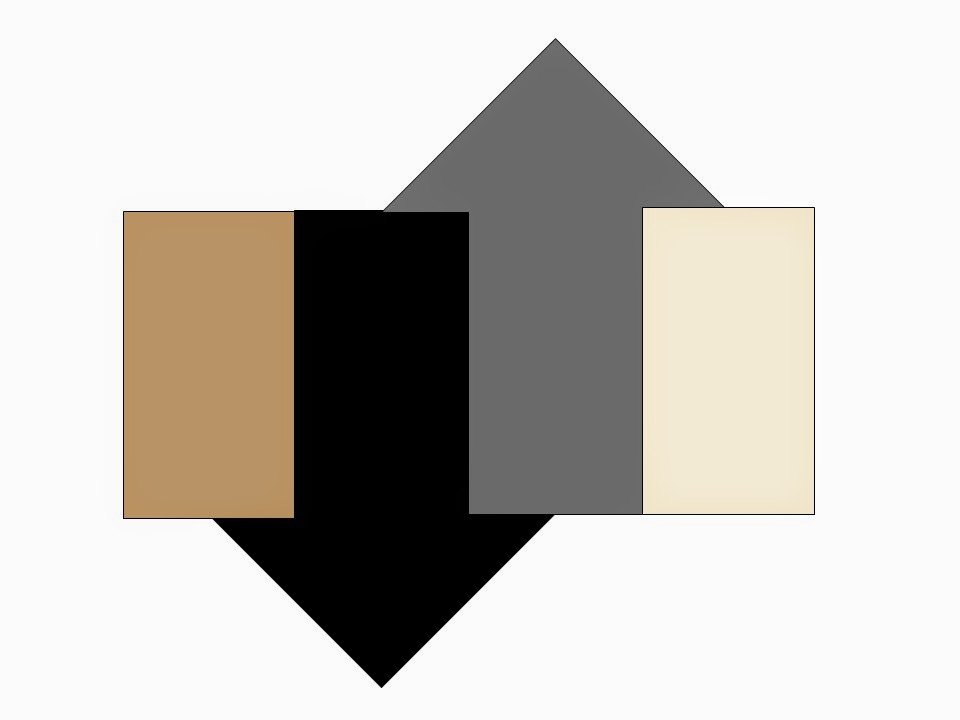 Starting with four simple black garments – remember that this, right here, gives you four outfits. They're not colorful or memorable, but they are an excellent base for a scarf, some jewelry, a jacket or a cardigan. Never lose sight of the potential of the solid, neutral column…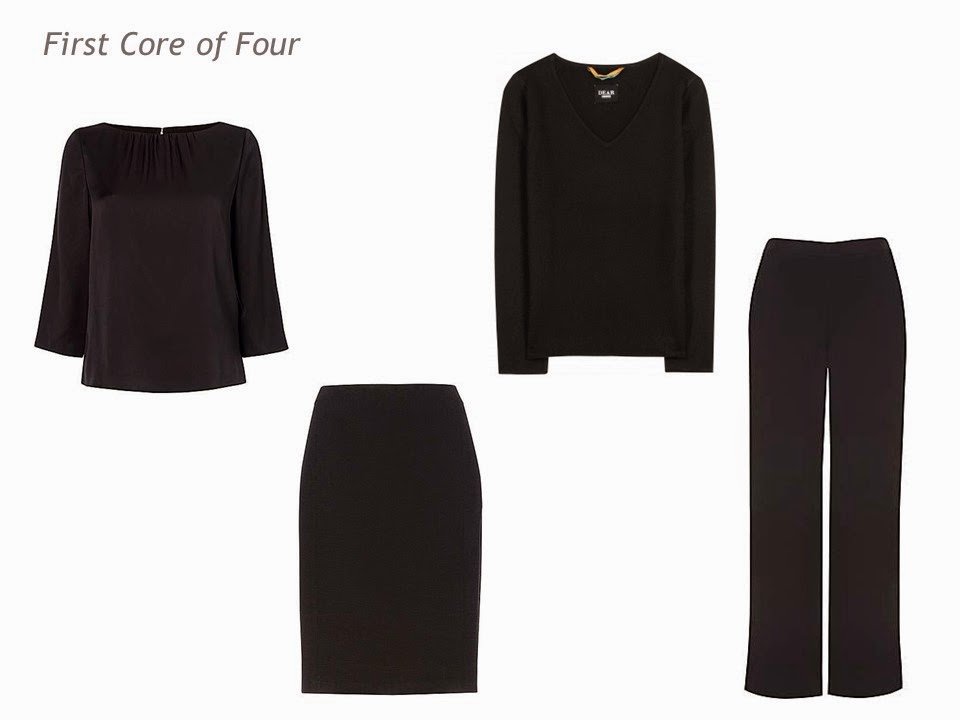 Silk blouse – Jaeger, cashmere sweater – Dear Cashmere, crepe skirt – Jaeger, crepe trousers – Jaeger
And yesterday's more relaxed, but still excellent quality, grey garments:
Items blending black and grey are next. Color blocking, stripes, tweed and floral are all represented here.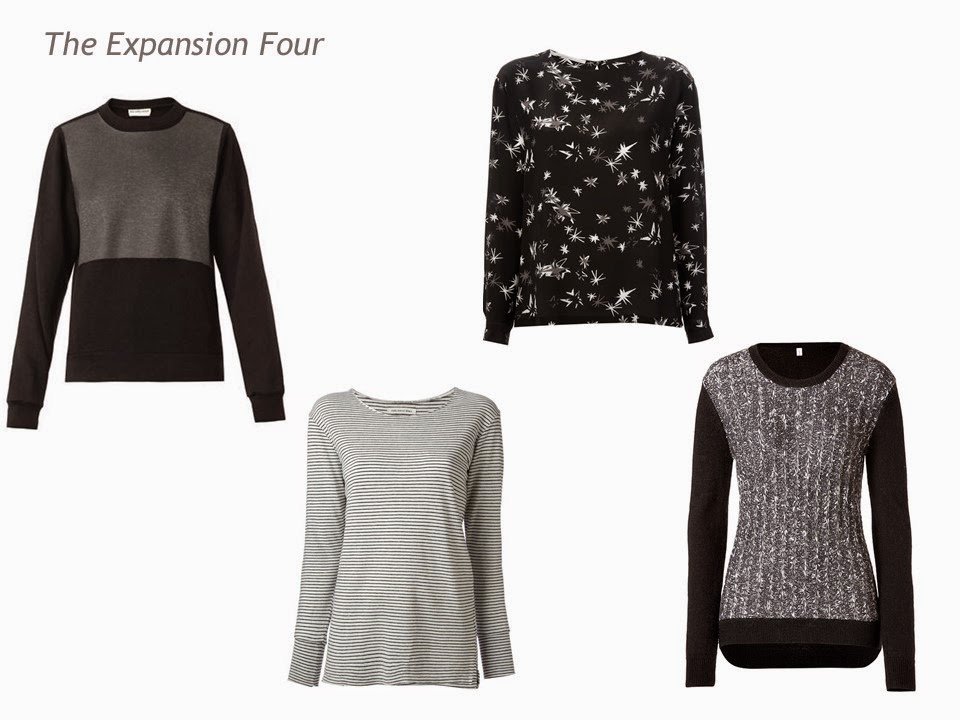 Color blocked – Balenciaga, striped tee shirt – Isabel Marant Etoile, star printed blouse – Aquilano.Rimondi, marled front – Faith Connexion
Now we bring in touches of camel and cream. You will definitely want to also consider a solid blouse or top in cream, and also in camel; with your amazing scarf, you will find plenty of ways to wear them!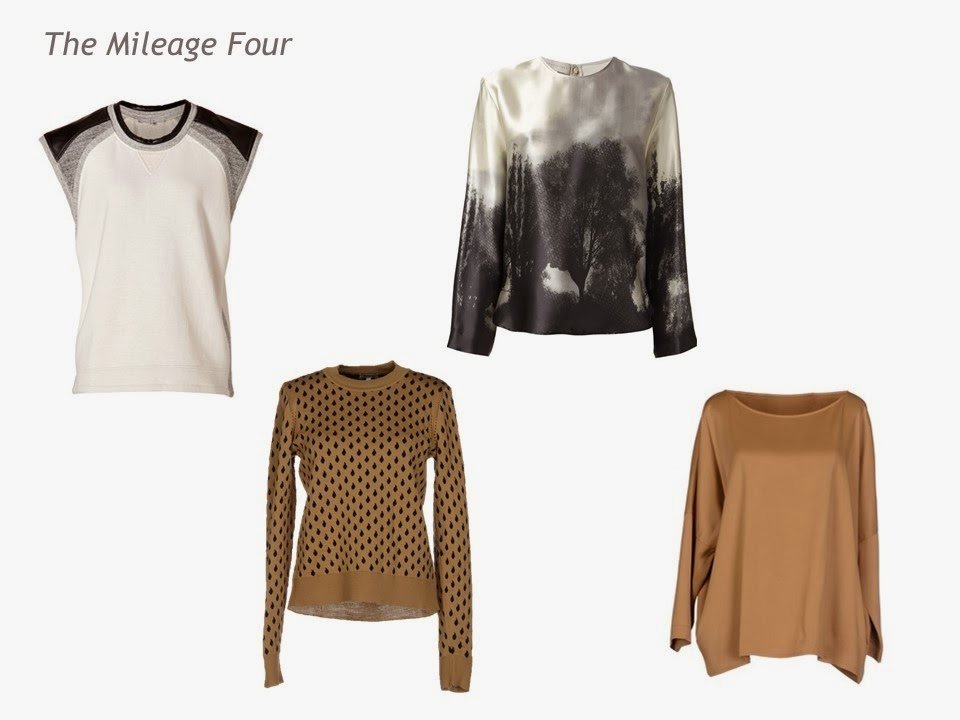 Cap-sleeve top – IRO, camel and black sweater – Kenzo, tree blouse – Stella McCartney, camel blouse – Roberto Collina
Yesterday's exceptional pewter loafers are still here, as well as the simple but interestingly detailed silver earrings, and one of my favorite watches. I'm quite taken with the black and silver earrings (why do I not already OWN these???)
This very neutral wardrobe really opens the door for lots of wonderful accessories…
Someone pointed out that this color scheme is basically just a combination of a "Three Neutrals" color scheme with a light neutral added in. The Three Neutrals document is still available; it would be interesting to take one of those combinations and just add in a light color to get a four-color plan for a wardrobe. If you develop such a plan, send me an email and I'll put together a wardrobe for The Vivienne Files based on your colors!
love,
Janice