August 16, 2014
One last visit to these four grey garments – this time, a entirely different color scheme! Making grey work with otherwise warm colors isn't difficult if you keep a few simple things in mind. In order to make everything hang together here, I made sure that the accessories mixed cool and warm. For example, the brown linen bracelet has silver beads, the smoky quartz earrings are set in sterling, rather than the most obvious gold, the brown leather band is on a stainless steel watch – even the grey boots have brown heels! These little touches make a lot of difference to the way things look to me…Today, let's start with the colors: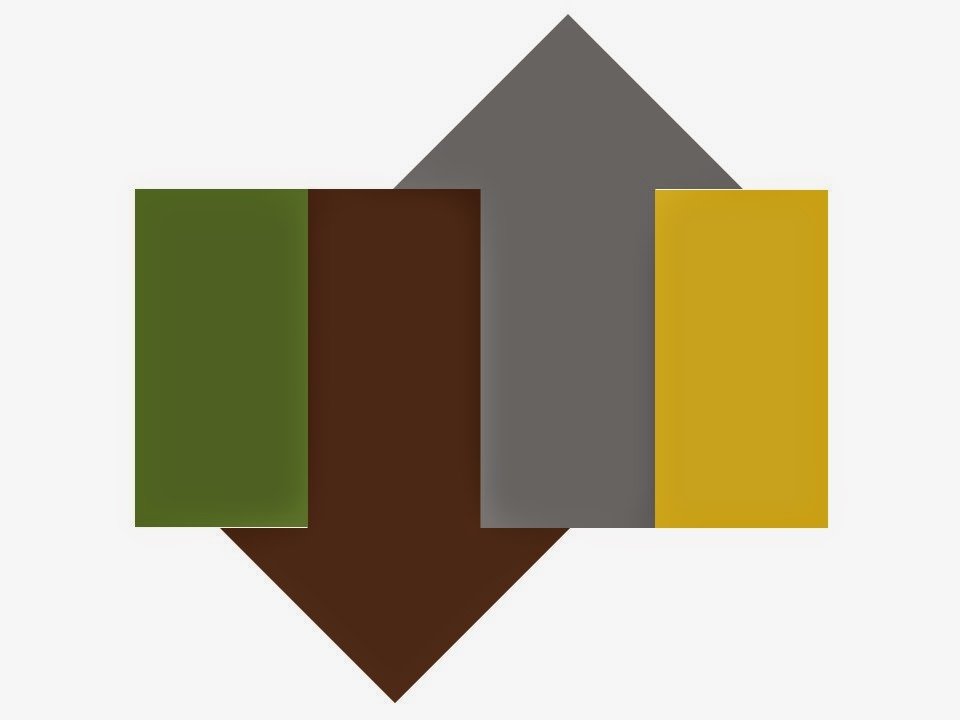 Starting with the brown garments: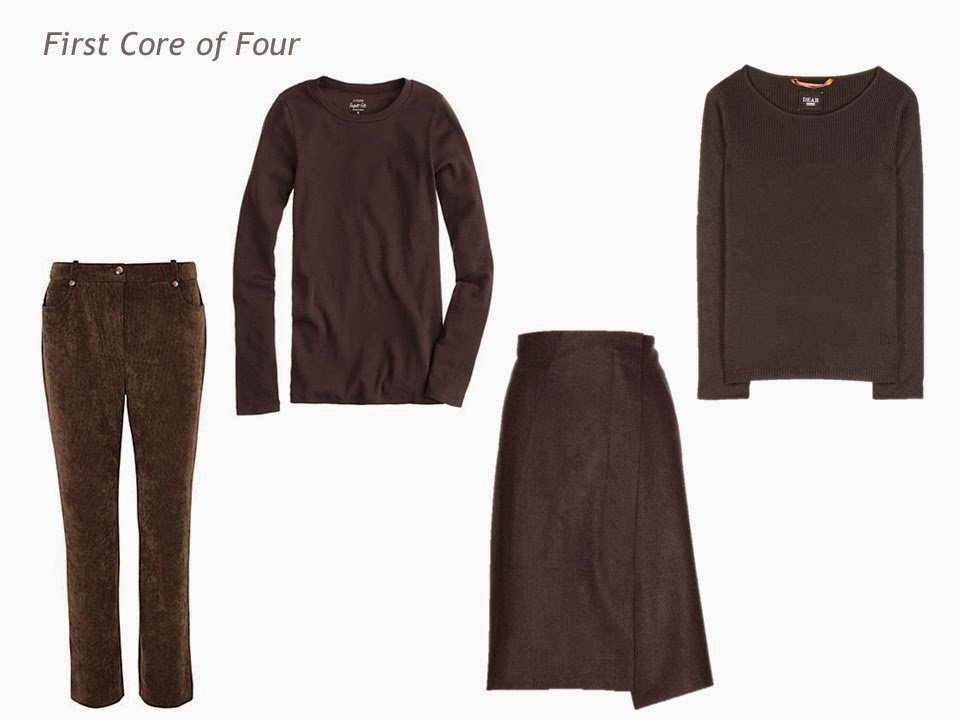 Corduroy pants – Viyella, tee shirt – J. Crew, skirt – Jil Sander, sweater – Dear Cashmere
and our familiar grey:
Finding garments that blended the two neutral shades was NOT the fastest thing I've ever done; if this is your color palette, always be on the lookout for the perfect garment. Don't cave in for the first thing that works, but don't lose sight of your color scheme when you're out and about. (these tops are really great for this ensemble – I only wish they'd photograph them better!!!)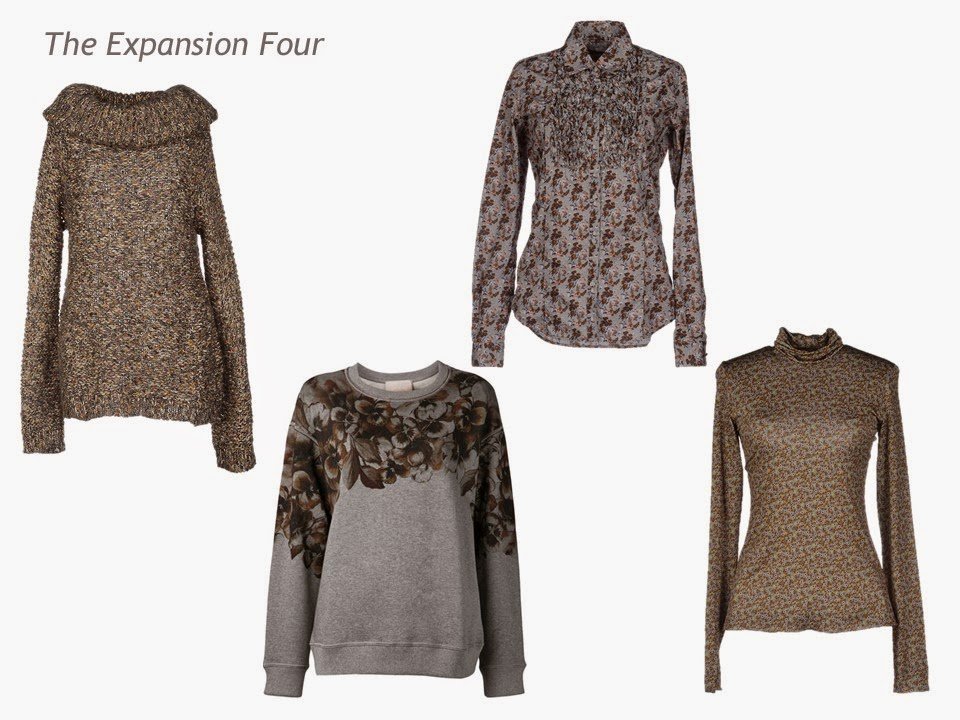 Sweater – Mariella Rosati, sweatshirt – Jason Wu, floral shirt – Sans Fixe Dimore, floral turtleneck – Kristina Ti
Similarly, there are tons of different shades of green and of gold – don't compromise. Refusing to buy "compromise" garments is the only way we will ever persuade manufacturers to make thing that we truly want…
Remember: Elegance is Refusal. Sometimes, I look at as many as a thousand other items before I find what I want to put here on The Vivienne Files. My eyes cross, I lose my temper, and I despair of ever finding the right thing. But then I sit back down, get back to it, and eventually, somewhere, the right thing appears. You have time to wait. You work too hard for your money to spend it on anything except exactly what you want.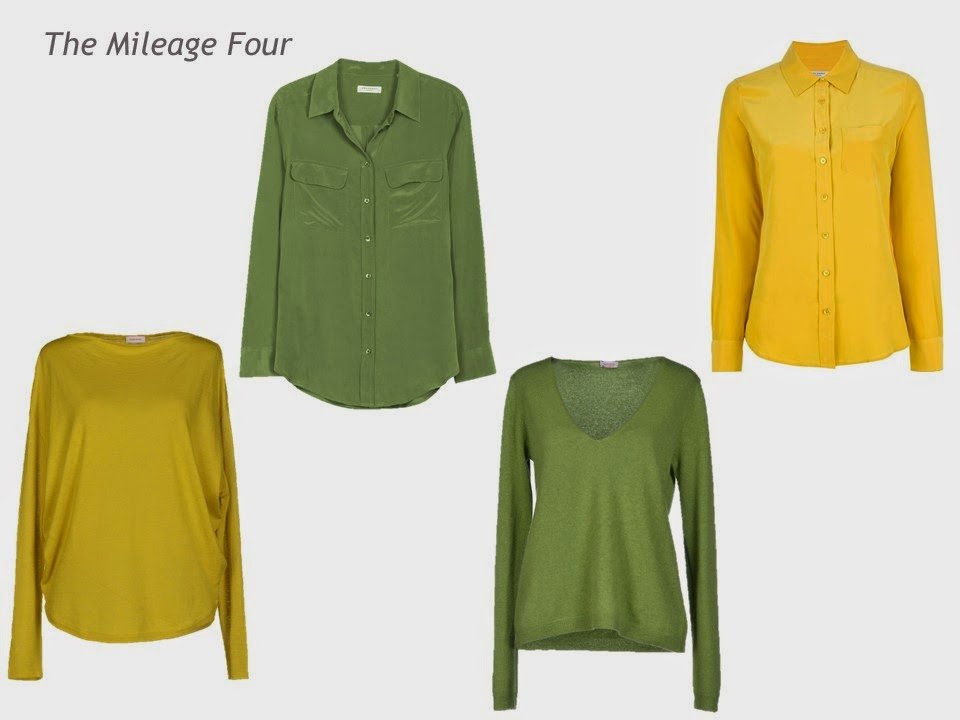 Yellow sweater – Rossopuro, green silk blouse – Equipment, green sweater – Rossopuro, yellow blouse – Equipment
But sometimes, there are truly perfect scarves!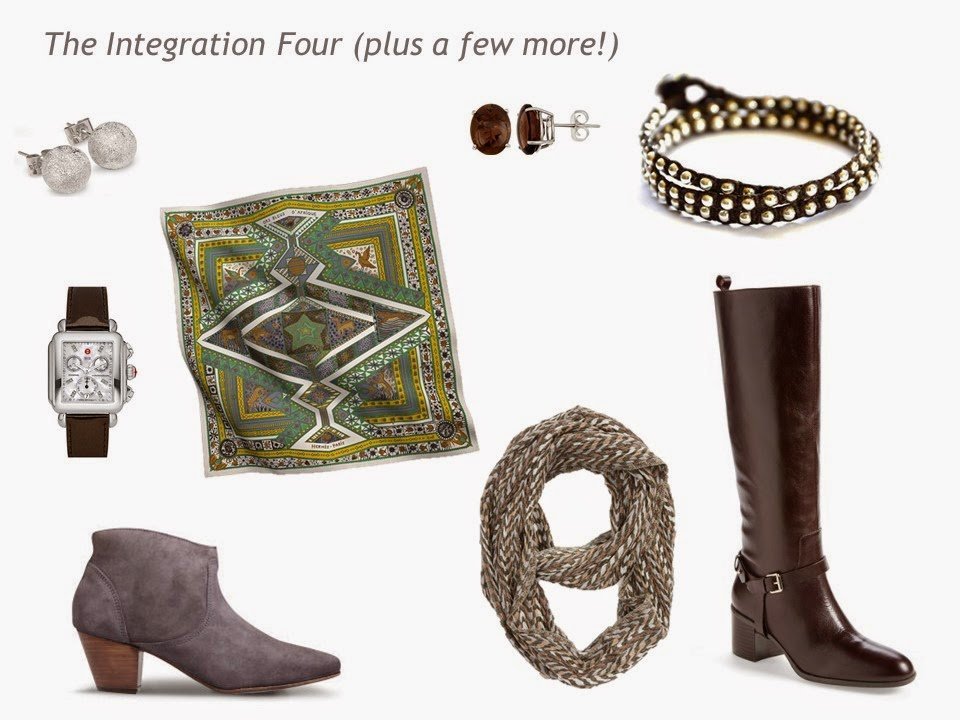 Silver stud earrings – Caterina Butera, watch – Michele, smoky quartz earrings – Allurez, sterling and brown linen bracelet – Vivien Frank Designs, square scarf – Hermes, short boots – H by Hudson, infinity scarf – Chelsey by Joseph, riding boots – Enzo Angiolini
And this is your beautiful finished product!
Unless I get a rousing scream that you're getting tired of seeing this Four by Four in a variety of color schemes, I'm going to continue these for another week. There were a variety of color schemes specifically requested after people looked through
The Vivienne Files Color Planner
, and I'd like a chance to see how these different colors give a different sensibility to similarly assembled wardrobes.
love,
Janice