April 10, 2014
Ah, you wanted to see outfits from the OTHER hotel room? That, I can do…
This isn't entirely different from yesterday's room – it shares a camel/beige sort of feeling, but some beautiful shades of blue give us a different wardrobe.
There are lots of stripe influences in every room I've seen in this hotel, and that's great, from a clothing choice perspective. A striped cardigan is always going to get my vote… And the lace skirt and trimmed blouse are the same as from yesterday, but take on a different look with a blue cardigan.
Soft blue will always make me think of chambray, and I love the striped sweater with the skirt (more than any pair of shorts that I saw!). These espadrilles would be great with anything denim or chambray, all summer long. And this tunic is soft, patterned, with subtle colors – exactly what this room indicated to me.
Even if you're dressing for something very casual, you can still use the soft
blue inspired by this room in your outfit to remind you of your inspiration. And doesn't this dress need to be loosened up some? Unbutton those buttons, roll those sleeves a bit, and slip on a fabric necklace… and lose that fabric belt – a belt of luggage leather would look much nicer.
This outfit is also from yesterday's choices, but takes on a different feel when the shoes are soft blue. And mixing shades of blue is strongly suggested by this room – notice how the bedding, the headboard, and the woodwork are NOT all the same color, but still look as if they belong together.
As we often notice, these eight outfits give you a nifty little capsule or travel wardrobe: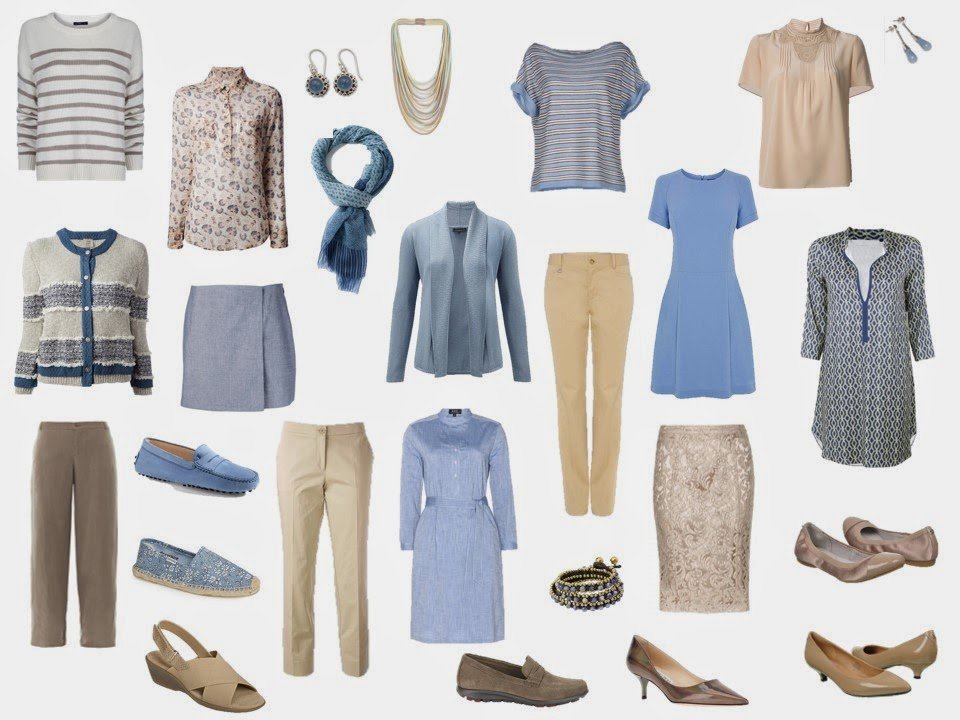 love,
Janice