April 17, 2014
Another visit to this concept, keeping the beige linen (I'm SO lazy…) and using navy as our other neutral. I'm going to try to explain the steps for choosing these items in more detail, so that you can recreate what I do in your own closet.
Also, I want to address the question of having multiple pairs of dark neutral pants. Often, we're told that "you shouldn't own three pair of navy pants", but I heartily disagree, because of the wide variety of navy pants that you might own. In this particular example, I've included very narrow navy capris in a cotton fabric, a wide-legged trouser (full-length), and a silk-like palazzo pant. My feeling is that these three pants give three very different outfits when combined with the same top: capris are on the casual side, the dress pant is very work or meeting-worthy, and the palazzo pants can be quite dressy. As with all fashion or style advice, your mileage may vary, and you should make your own choices!
First up, the navy "suit-equivalent" of a cardigan, two very different trousers, and a simple dress that can be worn alone or with any kind of jacket, cardigan, or shirt-jacket over it. Navy is a drag to match, so it makes life easier if these pieces can be found in the same store, or from the same manufacturer.
The next "suit" has much more casual options! If you weren't interested in shorts, you could substitute a skirt, and if the sleeveless dress is too revealing, you could look for one with elbow or 3/4 sleeves. The cardigan can be worn with almost anything you own, and when worn over the sleeveless dress, it makes it appropriate for work or more conservative requirements.
I've always believed that every closet should include a core of solid-colored, simple tops – enough of them to be able to avoid daily laundry. While for this particular wardrobe it would be most obvious to choose navy and beige, I've opted to replace the beige with white, because it's more flattering near the face, and will go well with anything you choose.
There's a very wide range of directions that you could choose to go when choosing accent colors to go with navy and beige. I've chosen two subtle, sort of dark-ish colors, but you could easily work with pastels like pink and lilac, or brighter colors like leaf green and turquoise…
Next, I look for printed, patterned, or textured tops which combine the two neutrals. These can be floral, any sort of abstract/geometric print, or something as whimsical as this great butterfly cardigan. And a tweedy textured sweater is always useful, except when outdoors in the sweltering hot weather.
Just to round out the wardrobe, and because I think 24 garments is a nice tidy number (especially if you want to buy all-new hangers for spring!) I add four more things. One pair of neutral, but much more dressy pants, a soft and relaxed tunic shirt, a whimsical printed skirt that could go to work or to any casual social activity, and a pair of jacquard pants. Note that this is definitely NOT a "whatever's clean) wardrobe – there are some tremendous possibilities for unattractive pattern mixing here…
But this is a summer wardrobe with tons of possibilities: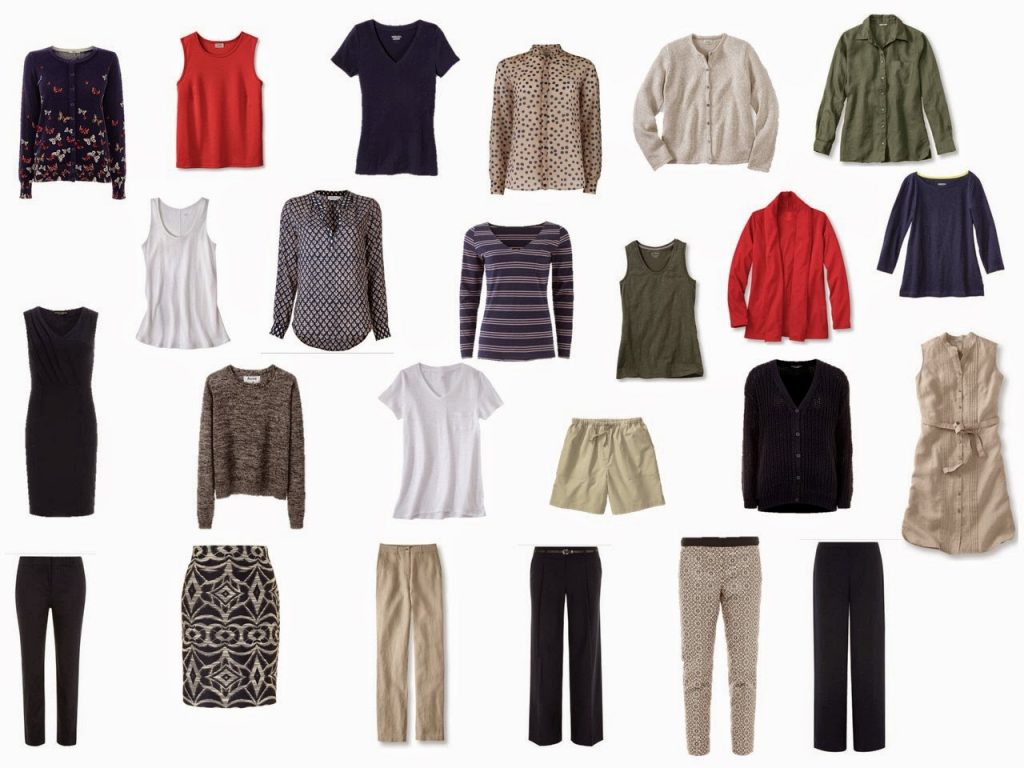 love,
Janice