March 1, 2014
Every day, I get lots of emails with lots of questions. I like that, and I'm happy that you take the time to write to me. (
[email protected]
) As hard as I try, I don't really have time to answer everybody individually, but your questions make a lot of difference when I choose my content every day.
The single question I'm asked the most: "Is it absolutely necessary that I own neutral, simple, basic, plain, boring garments?"
Let me say this flat out – if you can find a naturalist community with consistently moderate temperatures and well-groomed walkways, you can go without purchasing ANY CLOTHING AT ALL for the rest of your life. I know this is reducto ad absurdum, but sometimes we need to remember that clothing is something that we've chosen to wear because of our culture and our circumstances…
So at a minimum, I'm never EVER going to tell you that you have to buy anything. Many of us don't ever need a skirt, or a dress, or a pair of pumps. And you don't EVER have to buy anything except neon striped pants and animal print blouses if that's what you prefer.
That said, I think that you can indulge your fondness for prints and colors and patterns more efficiently and more cost-effectively if you start with a core of basic neutral clothes that you renew on a regular basis.
Here's an example – we're going to start with eight dead-plain garments (which gives you 2 dozen outfits right off the top), and then add in four more… statement… items. And I will show how those four additional garments, added to the eight basics with which we started, will give you an additional two dozen ensembles.
Twelve pieces of clothing = 48 outfits, if you have a core of basics. First up – the eight:
If you want to move through the world inconspicuously, this is a great way to start. (spies, pay attention!) But with some judicious accessorizing, as I did back in my "A Common Wardrobe" series, these clothes go a long way.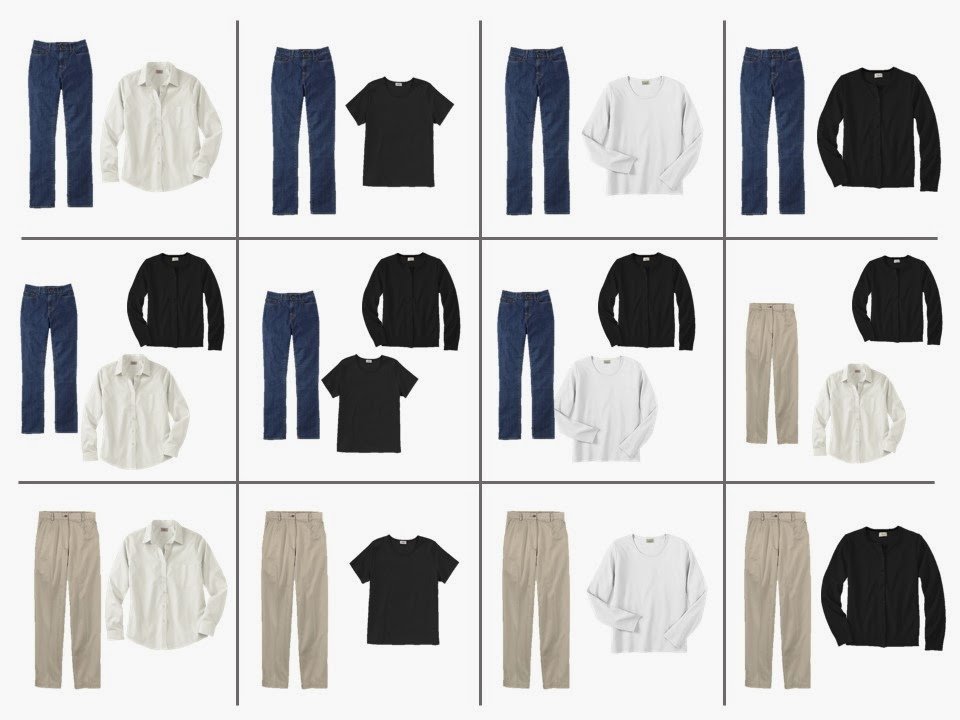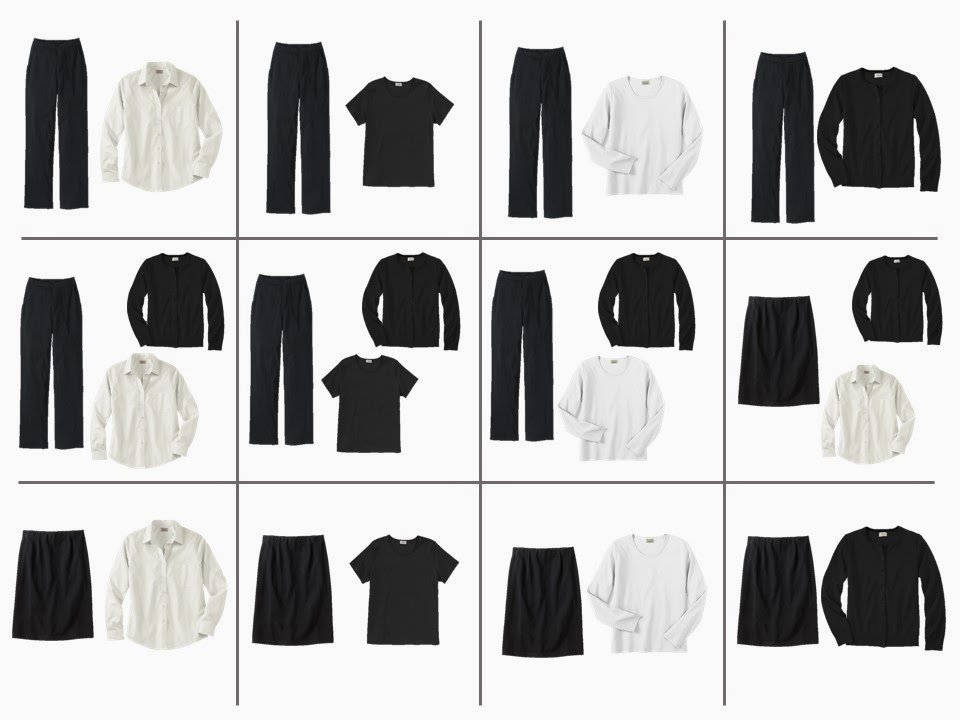 But one day you wander into Dorothy Perkins, and you fall into a pit of floral and are smitten with many items… A while later, you stagger out with these beauties clutched in your hands.
Oy. The cardigan and the skirt might be wearable together, but otherwise, you're in a pickle…
But you remember your beautiful, boring, basics and you begin to assemble outfits that both show your fondness for flowers as well as giving you a foothold in the normal world: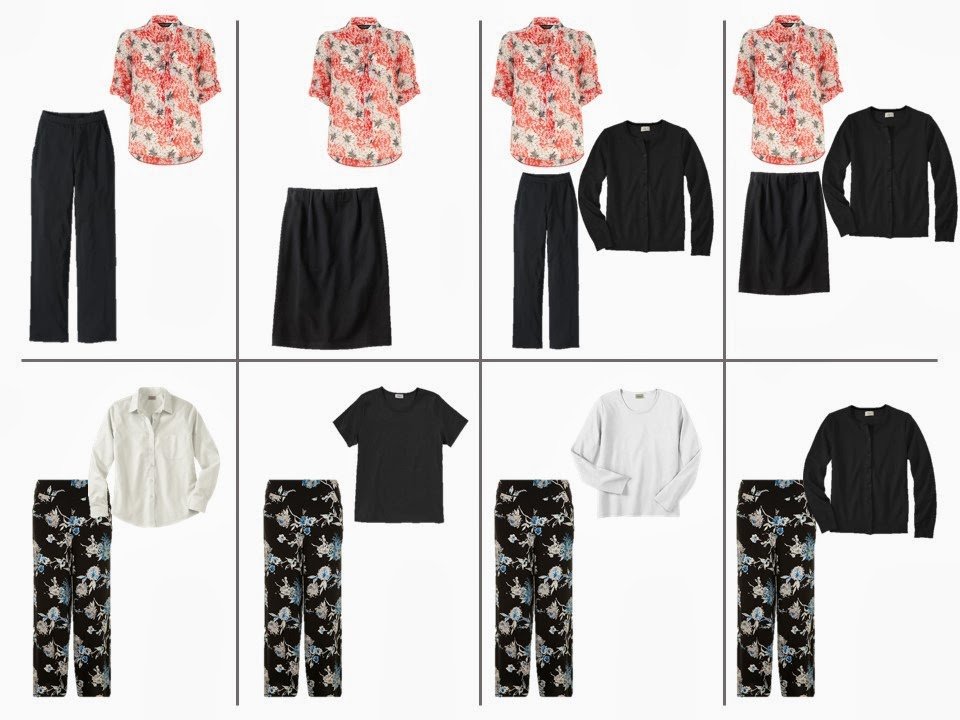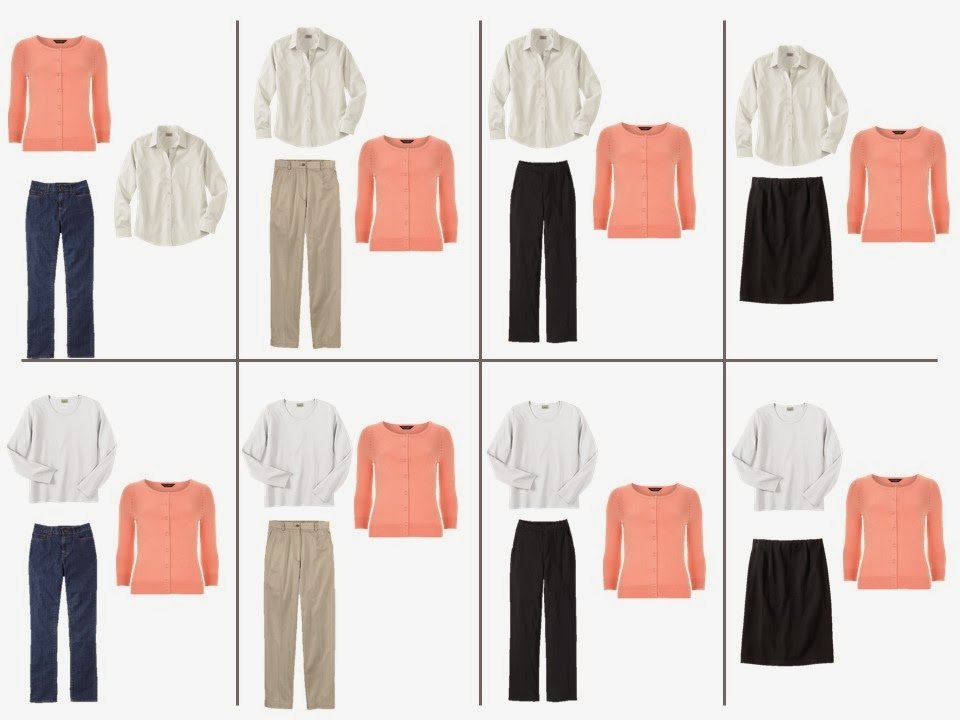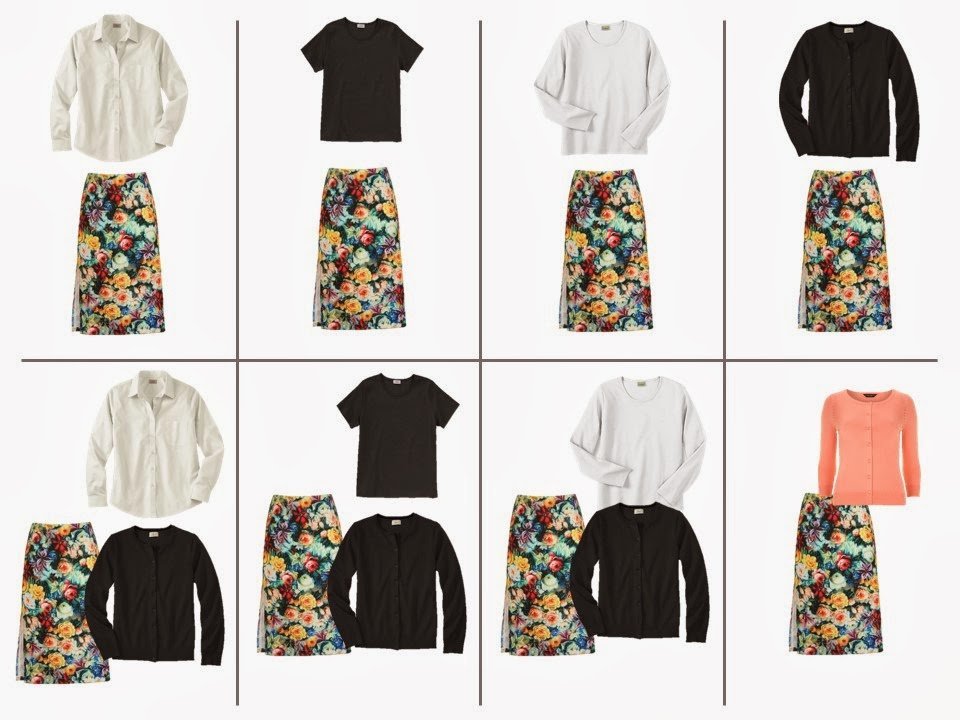 So there are no requirements, but sometimes a bit of moderation makes some sense. Maybe the best approach is to buy one neutral for each statement piece when you're shopping, i.e. balance the floral skirt with a black tee shirt, or a printed blouse with neutral trousers. That way you could still have fun while keeping a sufficient stash of basics in your wardrobe.
love,
Janice