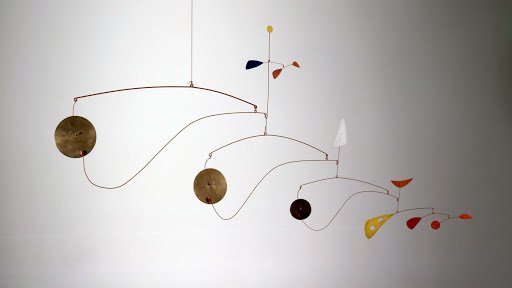 1.  There's a great Calder exhibit right now at the Chicago Museum of Contemporary Art.  We love the MCA – although the building looks like a government bunker from West Germany circa 1960, the inside is light and bright and often full of amazing things.  Sometimes full of troubling things, but that's what you get with contemporary art – you can't always fully grasp it first time through.
AND, they have one of the best gift shops in the known universe.  Particularly their choices of children's books and toys.  I do much of my gift shopping there…
2.  I had my first experience mailing clothes to Thredup.com, and this part of the equation is beautifully simple.  Go onto their site and order a bag, and about a week later, you get this cool polka dotted mylar bag (pre-address and postage paid!) which is large enough to mail maybe 10 garments.  Your mileage will vary depending on the bulkiness of what you're sending, but I was able to say goodbye to a substantial pile of things within about 5 minutes: bag, seal, drop at mail box.  I'll let you know how the selling side of things turns out.
3.  Talk to me about shoes.  I often get comments about the conservative nature of the shoes that I show here, and recently the terms matronly, staid, and frumpy have all entered the conversation.  I personally believe that high-heels are silly, and I only see a woman MAYBE once a week walking in them sufficiently gracefully that she qualifies as elegant.  I do, however, see a lot of limping, hobbling, foot dragging, and other bizarre contortions… My personal philosophy is that I will wear approximately the same height of heels as my husband wears – when he breaks out stilettos, I will hasten to follow.
So, did you climb K2 in your Manolos?  Can you run a marathon in Christian Louboutins?  Am I missing the fashion train because I just happen to run into women who wear high-heels badly?  If you're sincerely interested in seeing shoes that I seem to think are more about appearance than utility, I could certainly give it a try…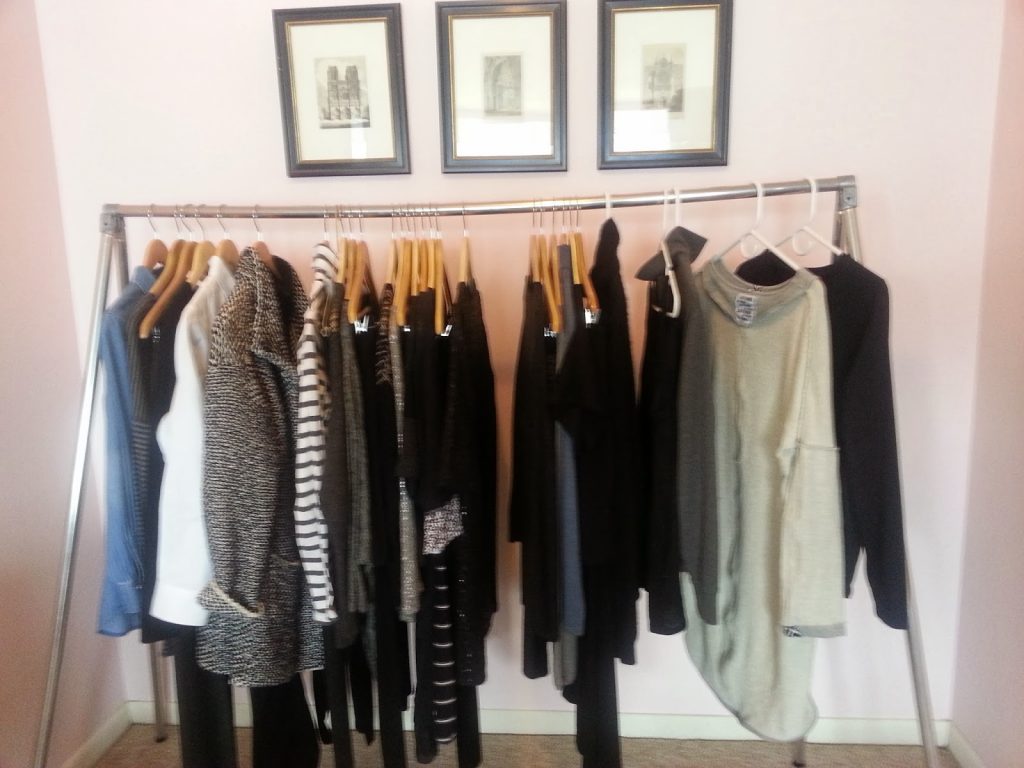 4.  So how are your clusters working out?  Poor Belovedest is having to live with the clothes rack in the dining room right now, while I work out my clusters.  I'm finding it to be a really great way to help me focus on what I don't need to keep; especially now that I don't go into an office five times a week, my wardrobe needs have changed dramatically.  Someone else needs those clothes that are just hanging unused in my closet…
5.  Shopping on Michigan Avenue: we went into Levi's to get B a new pair of jeans, and I was admiring the shopping style of the man in another fitting room.  He took in – no exaggeration – 40 pieces of clothing, and ended up purchasing 8 things.  He took his time, and he was very discriminating.  I was impressed by his discipline, and his ruthless refusal to buy anything that wasn't absolutely perfect.
love,
Janice