January 31, 2014
We'll be in Paris soon, and I'm already daydreaming about what we'll do while we're there… First off, I'm trying really hard to look upon the whole flying process as positively as possible. I can sit for 8 hours without a whole lot of trouble – I've done it at work for decades, so being on an airplane isn't that big an adjustment. I can hold hands with Belovedest, relax, and listen to music or some of my favorite apps on my phone. I've recently downloaded
Insight Timer
, which has dozens of guided meditations that are grand for relaxing… and then I can switch to one of the many apps that is just one long soundtrack of thunderstorms. A bottle of water, some skin serum, and I'm good for the night!
The last two dozens times I've flown, I've worn my black argyle cardigan, so this time I'm NOT wearing it. This cardigan will be great if, in fact, the weather takes a turn for the pleasant, and if it's cold, I will be able to snuggle myself silly. My Julie Egli scarf that I got over the holidays is so amazingly beautiful, I know I'll wear it a lot in Paris. My cross-body bag will probably be tucked into my briefcase for the trip…
When we arrive, we'll head to out hotel across from the Pantheon! Depending on timing, we'll either ditch our luggage and go out for breakfast, or head straight to our room and change clothes, because we've got a really busy first day planned.
We'll catch the train to St. Denis to visit the Cathedral. It's chock full of French history (it was the burial place for many French kings), and it's considered to be the first truly Gothic structure. I can't believe that we've never been there before.
And just a few hundred yards from the Cathedral is the Stade de France. We do indeed have tickets to the Ireland/France rugby match – the final of the 2014 Six Nations tournament.
So I'm wearing this: spill beer on me or whatever, I will be ready!
Sunday morning, I might make it down the hill to the Boulevard St. Michel, and crash into a cafe… This will certainly be the worst jet-lag day, coupled with the excitement of the day before. Leisure and people-watching is the order of the day.
So a cushy sweatshirt dress, a scarf, and some flat shoes will be perfect!
When we head out Monday morning, we'll give the staff a handful of pieces of laundry… Planning to have laundry done is one of the best ways to both minimize packing and give yourself some flexibility if the weather changes.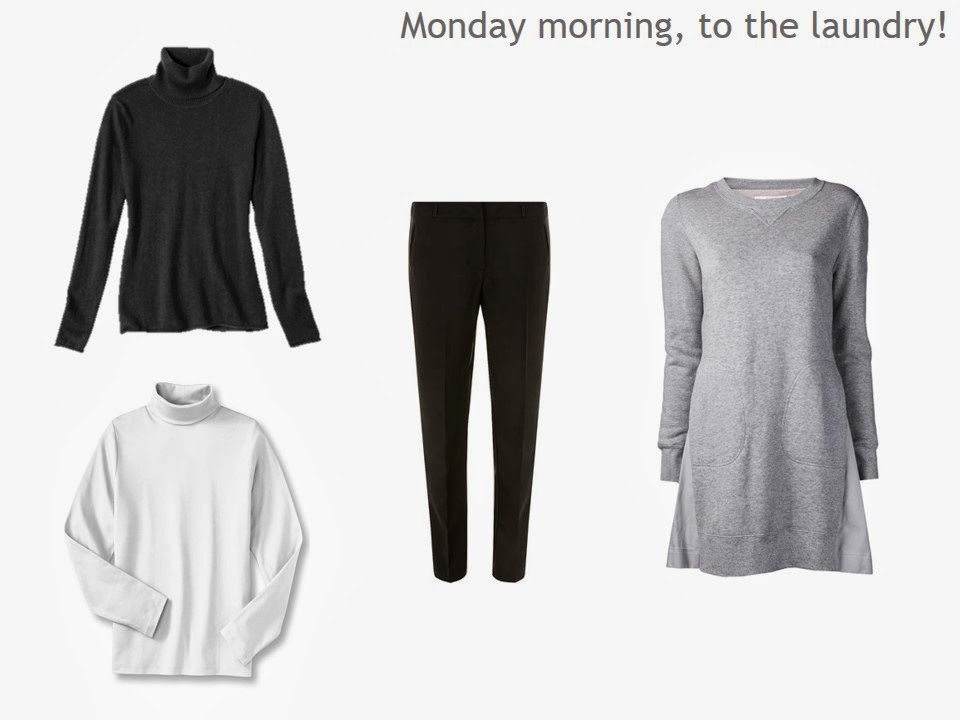 Monday, we'll probably not go terribly far out of our neighborhood – I love to visit the Musee Cluny.
And we're going to try to get into Fish, La Boissonnerie, for lunch. A wonderful restaurant, and it will then give us the opportunity to wander around St. Germain for a while.
A sheer sweater with a tank underneath, some skirted leggings, and accessories… Since this trip is for indulging the inner tomboy, I'm going to wear sweatshirt-inspired clothes, and my athletic shoes, as often as possible.
In a few days I'll figure out what else we're going to be doing while we're in Paris, and I'll be able to finalize my packing plan!