January 18, 2014
Normally, I've always suggested that you pack around a great travel outfit, and then a carefully selected travel capsule wardrobe of separates, chosen separately, all working together.
But what if you decided to pack outfits? If you work from a unifying theme around which you choose all of your outfits, this is a very effective idea, which also has the benefit of helping you remember all of your important accessories!
For this example, I'm packing for someone who LOVES the combination of blue and green, and who has a variety of clothes and accessories which reflect this. The trip starts somewhere relatively cool, but will include some warmer weather activities, and a dressy dinner for a special occasion. So how does this play out?
Since it's cool at your point of departure, a long-sleeved tee shirt, pants, closed-toe shoes, a jacket and a scarf will be important:
For your first outfit, you've determined that you want a casual skirt, and a fun cardigan. Comfy slingback espadrilles, a nice bracelet, and a great travel bag that can be worn cross-body for security and to free up your hands…
Another day will require something casual – shorts, a tank top, a shirt that can shield you from the sun or the air-conditioning… Remember sunglasses, walking shoes that don't look like marshmallows, and a snazzy green belt just because you can.
Dont' forget the evening out. This is where the benefit of thinking in outfits becomes really apparent – you can be certain that you don't forget your great clutch bag, dressy earrings, satin shoes, and a bit of a wrap to shield from drafts.
Two more outfits – at this point, you realize that you already have your essential shoes. Keep the mantra of green and navy in mind, and the idea of relaxed, warm-weather, and casual…
A simple tee and swishy skirt gives you an option of dressing up or down, and a sleeveless shirt with green pants are a perfect casual, warm day outfit.
If this just feels like not enough, options that are always open to be considered include jeans, a simple neutral tee shirt, and a cardigan in your dark neutral:
This is what you've got to pack; a travel capsule wardrobe that could see you through a very long vacation in consistent style, with lots of options!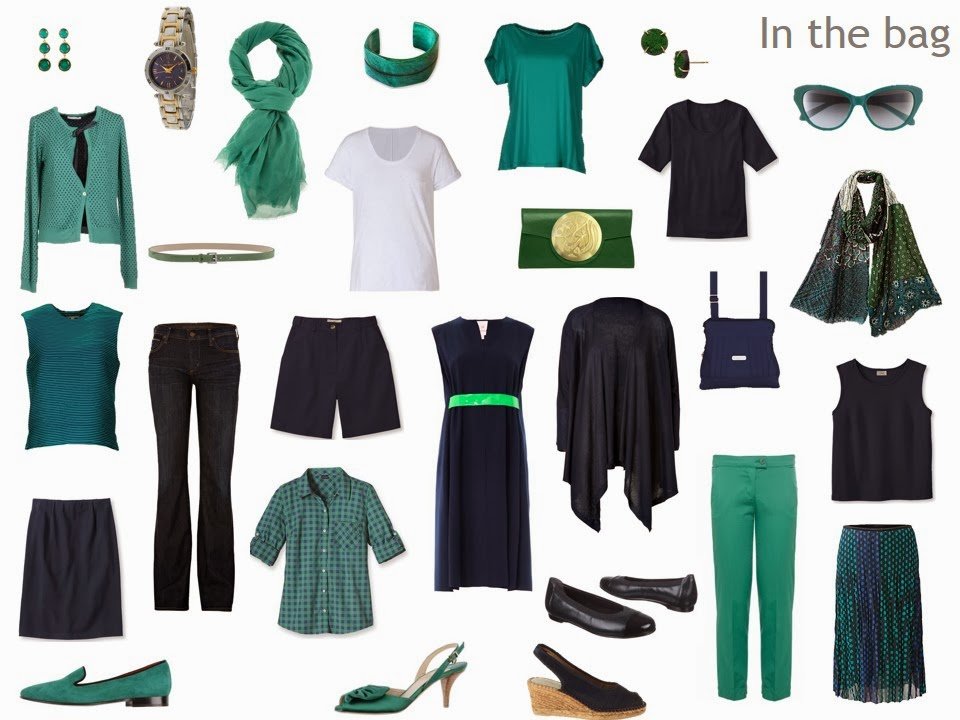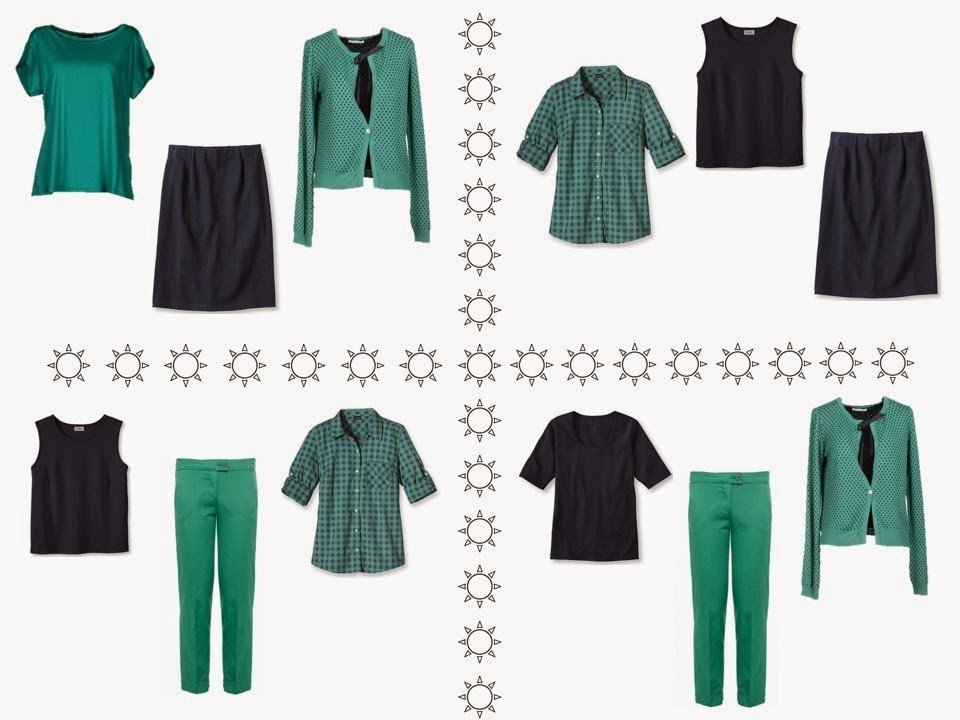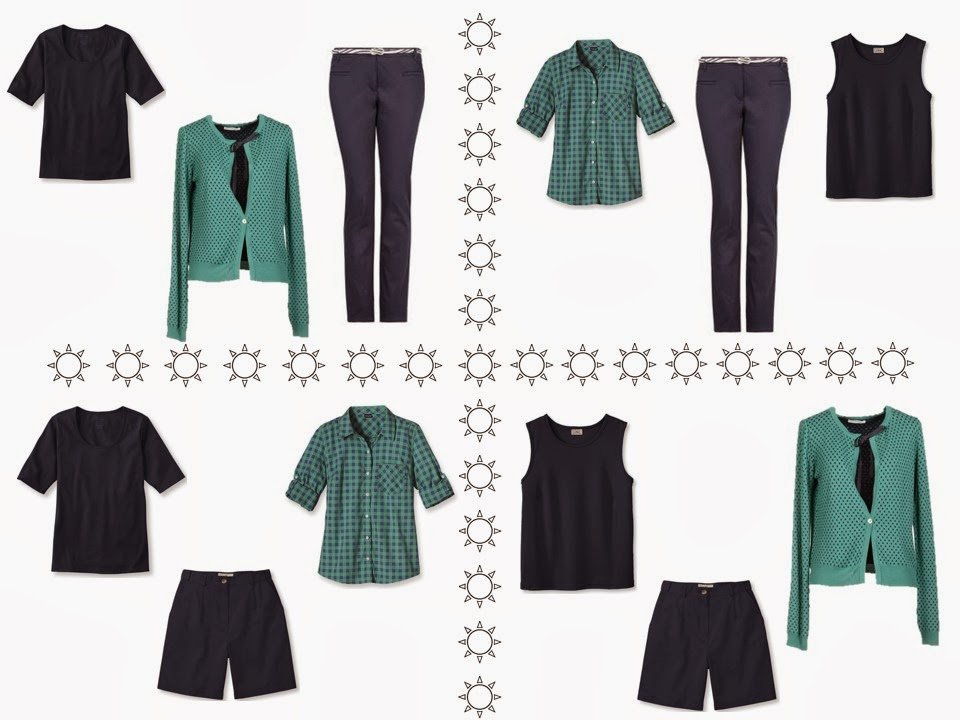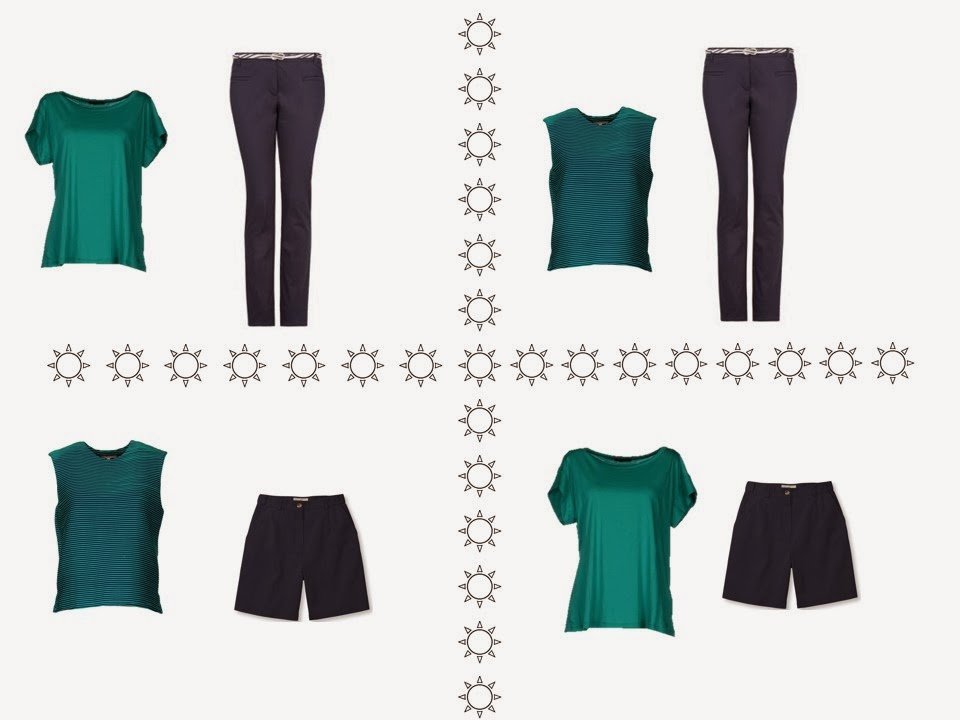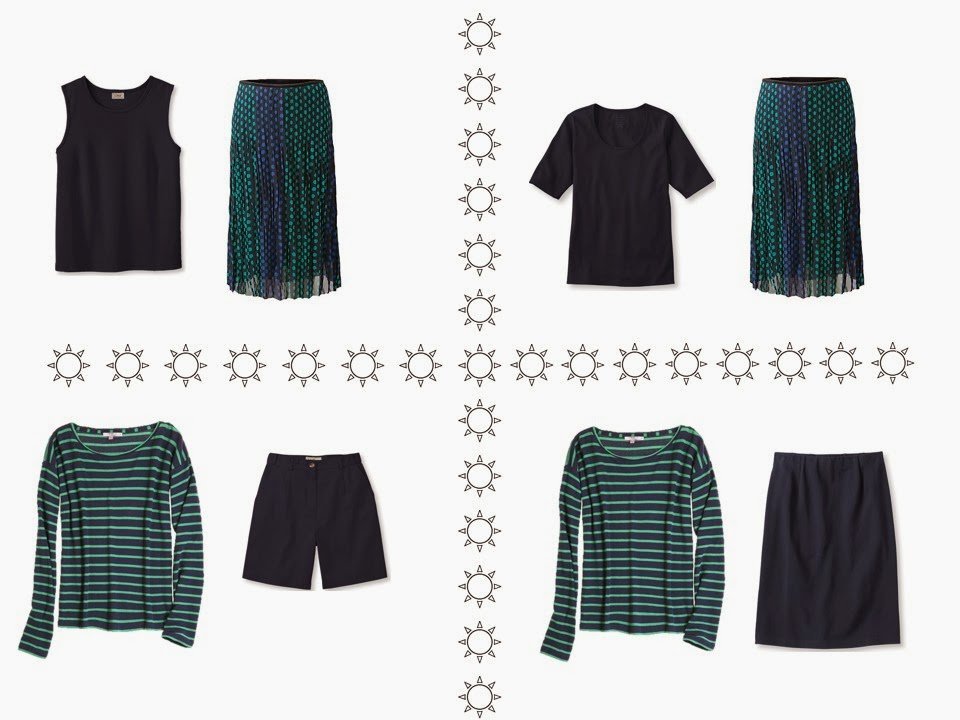 love,
Janice