January 17, 2014
Let me explain a bit of the "step by step" of how I would envision the use of a scarf as a unifying theme within a wardrobe. Starting with July – let's say you've decided that you want to get an entire new outfit in July, and you want to exercise the discipline implied by using a single scarf as your inspiration. You're working with four colors, and an overall sensibility and aesthetic of right angles, with woven textures.
July = hot, in the Northern Hemisphere. But it also means work for many of us, so a dress is the plan. You spot something solid red, in the world's most forgiving silhouette, so that choice is pretty straightforward. But you don't want to add on red accessories; because that's a lot of red in one place… Camel would be an option, but you choose black. Your earrings have a square component that echoes the squares of the plaid, your ring has square facets which also share that sensibility, and your shiny black shoes pull it all together.
For August – it's impossible to dress for work. (remember, the US doesn't have any laws requiring vacation time for ANYBODY, so many of us work at least 50 weeks a year) Another dress, sleeveless for sweltering – khaki cotton because you can pretend like you're in the desert… You know the air conditioning is going to be Arctic, so you'd better grab a cardigan (which will be useful all winter long). Some accessories that mix black and tan, with a summery woven texture that reflects the woven nature of your plaid scarf.
You're almost certainly not going to wear your scarf in July and August, but your appreciation for the colors and the geometric and woven aesthetics of the pattern are still informing your purchases.
In September, the call of a sweater is irresistible. When you find a sweater that combines three of your four colors, AND which uses your woven motif in a beautiful new way, you immediately know it's right for you. Completely unexpected winter white pants are grounded in camel boots, and the third color shows up in a … (wait for it…) WOVEN bracelet!
October – another sweater with your neutral colors, an an angular sensibility that's very synchronous with the angles of your scarf. This time you opt for a skirt in camel that will go with September's sweater, or August's cardigan…
A briefcase and simple pumps. You're set for anything. (and look – four garments, four outfits!)
November is when you start feeling sincerely cold. If you already have solid camel sweaters, and solid black sweaters, then this cardigan is a logical next step. With black jeans and a black turtleneck, and a sturdy pair of boots (these boots are SUPER warm), you've got a wonderful Thanksgiving weekend outfit.
And December…. The holidays… A simple black dress, since you have chosen black as one of your neutrals. You already have plenty of accessories to wear with this – those October pumps would be gorgeous – but you decide to spring on something decidedly festive. The black trim on the pumps holds things together so nicely… and then some subtle, but decidedly red, jewelry, and you're ready to go!
Of course, virtually none of us buy an entire new outfit each month! But if you already own many of these pieces, you can start to see how just a few purchases can pull together your neutrals into a more coherent ensemble.
And, maybe better yet – this gives you a way to evaluate things in your wardrobe about which you're uncertain… Does your garment fit into this scheme? Or does it clash?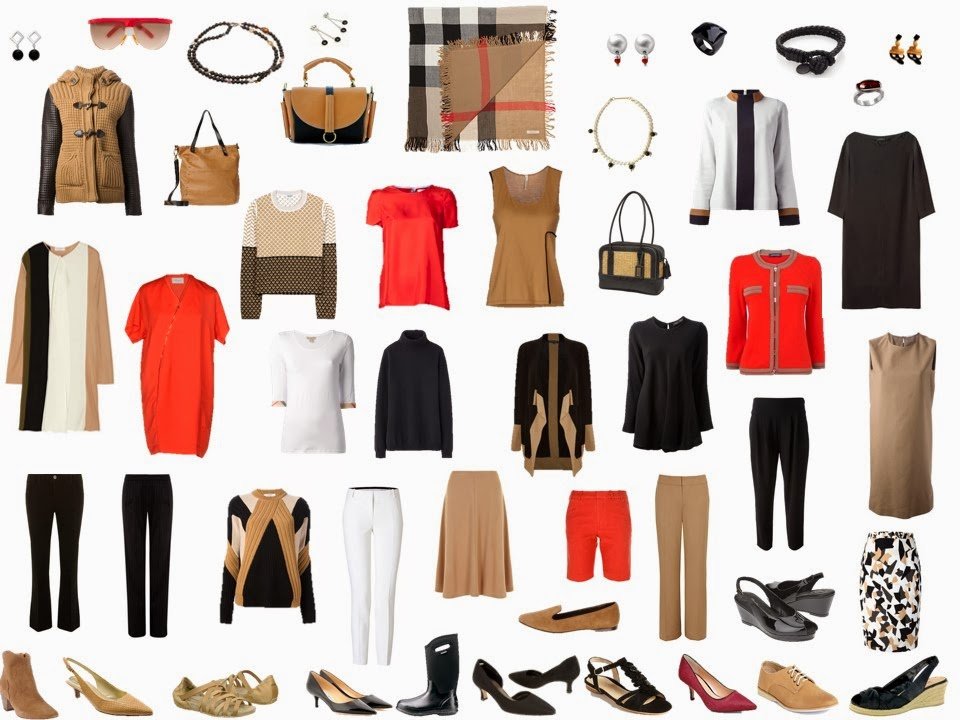 love,
Janice