December 14, 2013
Yesterday we packed six garments, for a short week or long weekend, and for uncertain weather. Today, I'm assuming that we know our trip is going to be longer – up to two weeks or more, and that we know that most of our weather exposure is going to be colder.So in addition to the original six garments we packed, I'm adding six more carefully chosen items, and a few accessories. The clothing items are chosen in pairs – sort of like adding outfits, but with an eye to being sure that we can use each item in a variety of ways.
Another pair of pants is very important in cool weather, so black jeans are my first addition. With the black cardigan, it's a long line of black that can have anything (or nothing) under the cardigan. With the blue cardigan and all of the other tops, you have a more casual black trouser alternative.
Now we need a top: warm, works well with out color scheme, and can be layered under either cardigan if the weather is truly nippy. I choose a black and white striped turtleneck, but if you're turtleneck-averse, you could always choose a long-sleeved flannel shirt or tee shirt, along with a scarf.
My packing always tries to strike a balance between pants and skirts, so we're due for a skirt, and for cold weather, tweed seems a great choice! Tweed packs really well (it can't show wrinkles much at all), and it blends effortlessly with the colors you've chosen.
Add a sweater that looks great with your skirt, and you have an easy, warm, but dressy outfit. The sweater should be equally at home over both pair of your pants.
I feel like a dress, two pair of pants and a skirt is a comfortable number of "bottoms", so I would choose to include a simple white shirt at this time. It can be worn under the cardigans, over the tee shirts, or on it's own. If you don't usually wear white shirts, don't eliminate this idea without at least considering the possibility of a button-front white tee shirt/jacket. They're becoming easier to find (L.L.Bean) and will serve much the same role in your capsule wardrobe.
And finally, a simple v-neck sweater in a flat knit, a medium weight, and either in your accent color or your neutral. This sweater in black would be just as useful, and when worn on it's own with black pants and some jewelry, can be quite dressy if the need arises.
I've also included a pair of boots, which you might want to consider wearing with your travel outfit, if your luggage is starting to be crowded. Don't forget warm opaque tights, a pair of two of socks in a whimsical print (or your accent color), and maybe another scarf just for dash!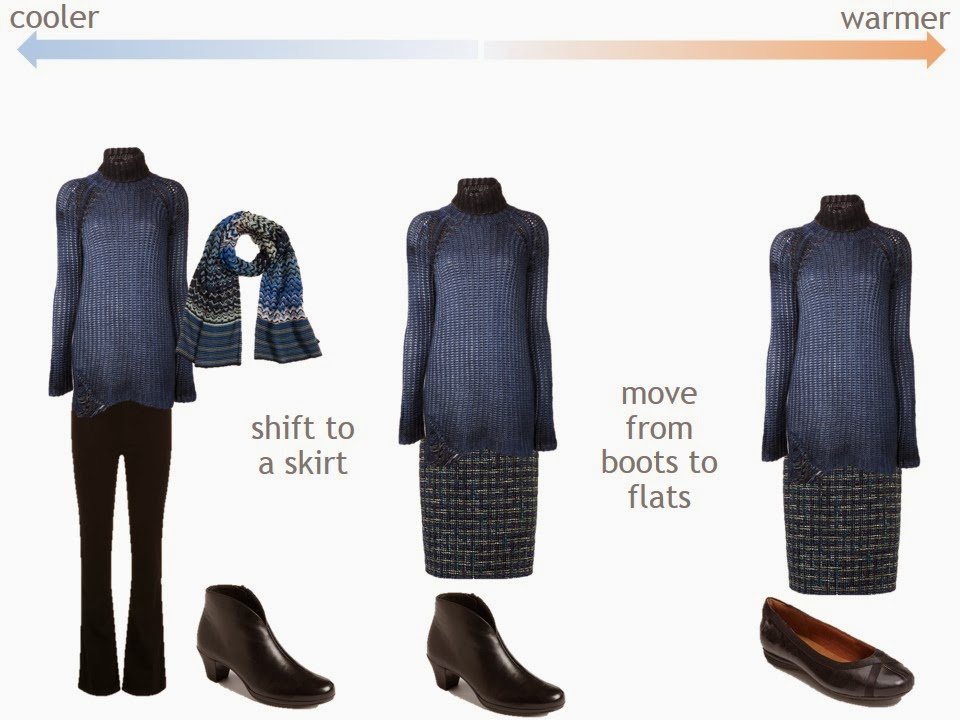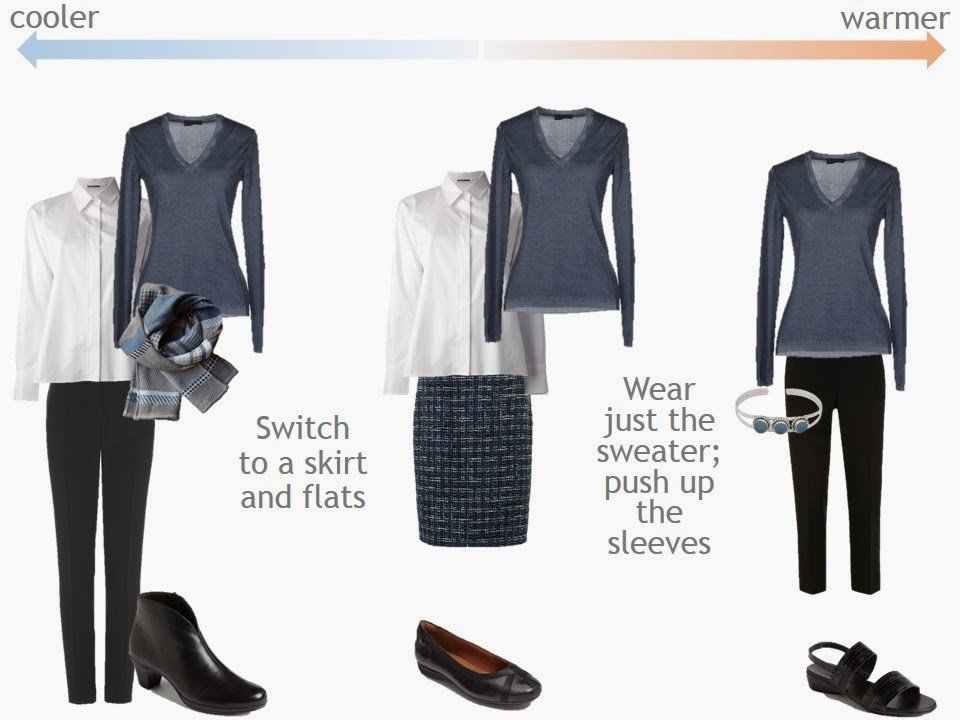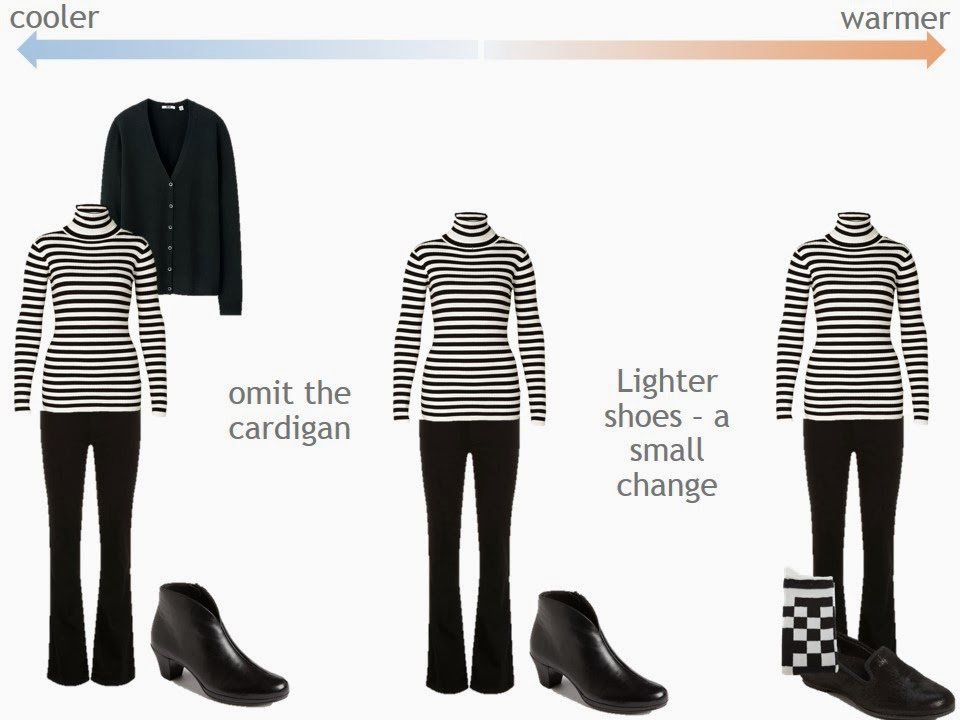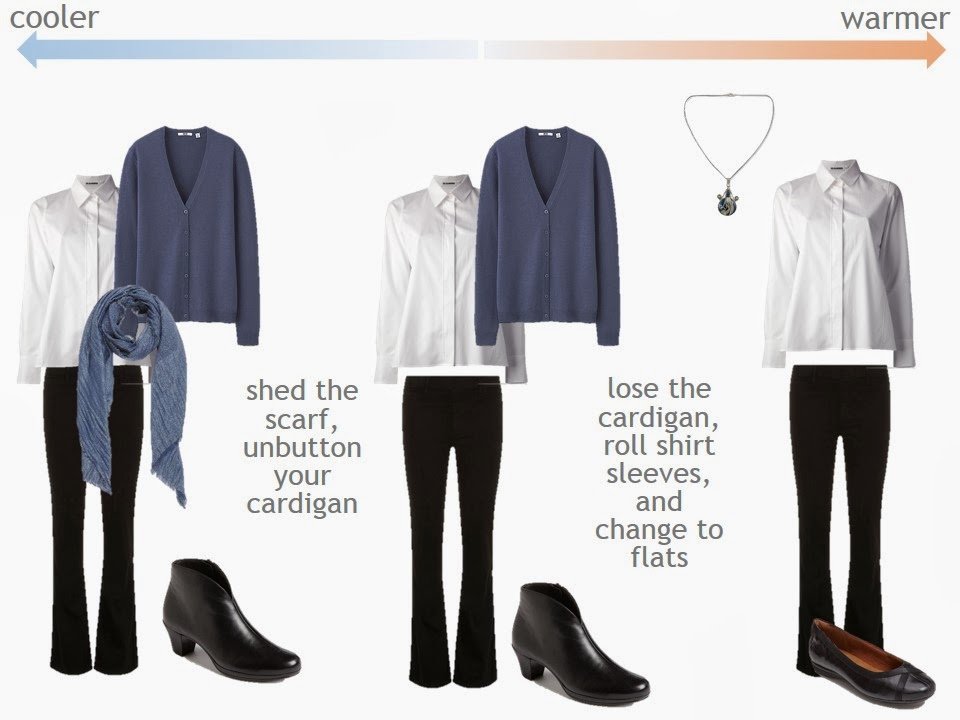 I realize that I STILL haven't shown any ways to wear the blue sleeveless top… Think of the additional options that you have with that in your suitcase too!
love,
Janice