December 13, 2013
Maybe the question I am asked most frequently – how do I pack when I'm not sure what the weather will be, or when I know that I'm going from cold to warm (or warm to cold) temperatures?Things to keep in mind:
Avoid any garment that's overtly "one climate" – like a bulky cable knit sweater, or a filmy linen tunic. Try as much as possible to choose what you pack from that middle-ground of transitional clothes.  Consider:

merino sweaters (or cotton, or silk, or a blend of these),
cotton blouses and tee shirts,
pants in flat finish fabrics like crepe, twill or gabardine, and
dresses that can be layered under a sweater or worn alone.

Plan around a color scheme that will be equally appropriate in both climates. A light neutral, dark neutral, and one accent color is the easiest way to go.
Be sure to include a simple, light neutral blouse, tee shirt or top.  Nothing feels more "warm weather" than an easy white tee shirt.
When choosing shoes, try to pick your favorites that are not bulky, and thus are easier to pack, and consider that you may have some that are equally compatible with pants and dresses.  Multi-purpose is very helpful in a tiny suitcase.  And no matter HOW tempting it might be to buy new shoes for a trip – don't do it unless you have plenty of time to test-drive the shoes.  My wimpy winter feet do not need to be tortured with lacerating new sandals…
Today I'm showing a six-pack that's suitable for a short trip – 3 or 4 days. Tomorrow, I will show how to add onto this six-pack to be prepared for a trip that's MOSTLY cold weather, and then on Monday (note, I changed this from Saturday, since tomorrow IS Saturday…), I'll turn the tables and show the same core, augmented for a WARM weather trip…
Please feel free to comment.  I welcome all comments – good, bad, praise, criticism – all are welcome so long as the tone is civil and the purpose is to share your thoughts.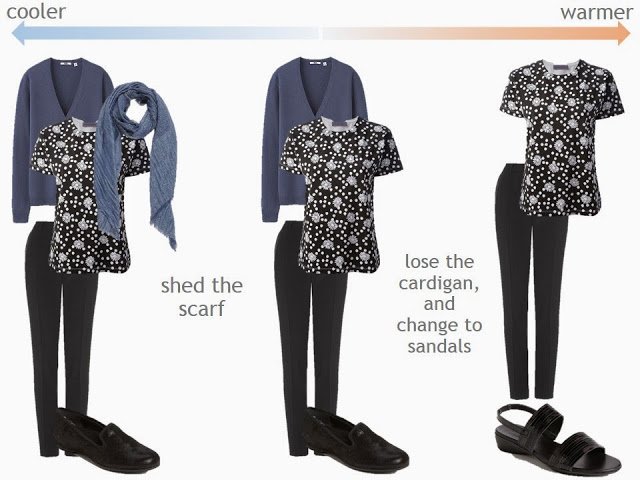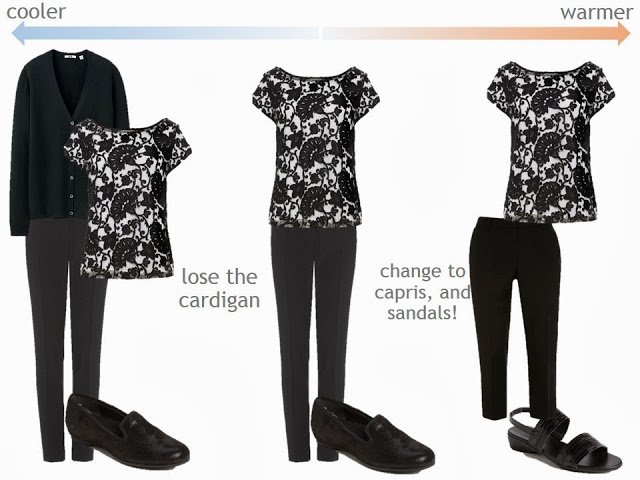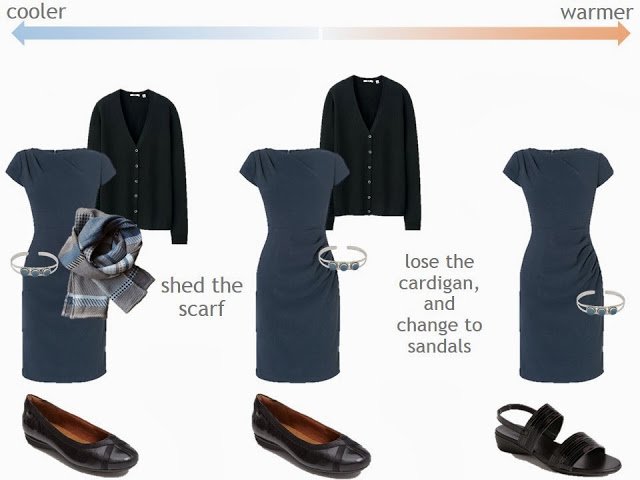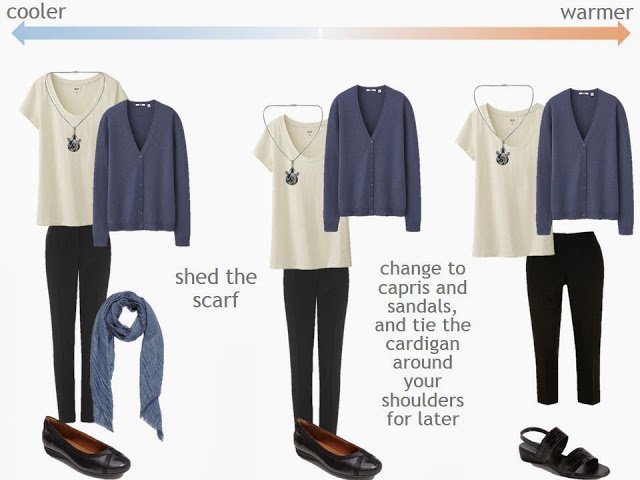 love,
Janice