October 7, 2013
Lots of people have been interested in where I purchased my various Project 333 items, and what designers or brands were represented. So I'm going to break down the whole show, by category, and review what I have. Better yet, since so much of my stuff is no longer available, I'm going to source out reasonable facsimiles or replacements.Starting with shoes: I have 2 pair of loafers included in this assortment, and 2 pair of oxfords. If I were starting from scratch, I'd probably only get one pair of each. But here are the autumn shoes, shown in order of absolute criticalness in my life.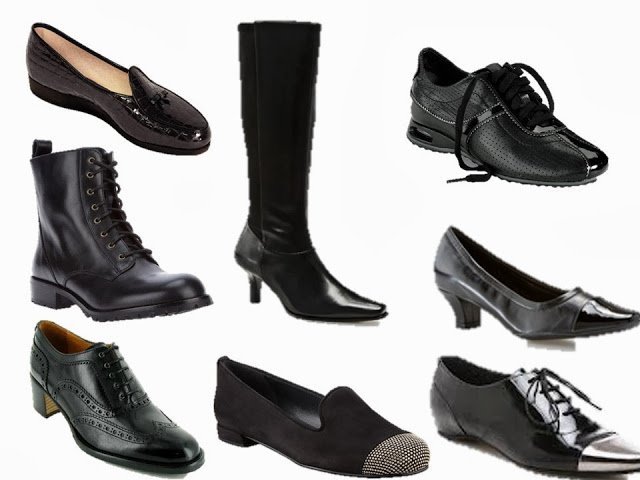 My loafers are from Stuart Weitzman, the tall boots are from Eddie Bauer, the athletic style shoes are from Cole Haan, my low boots might have been Clarks, but they've been worked on so many times that there's not one remaining mark on them to tell, the pumps are Stuart Weitzman and were purchased on EBAY!!!, wingtips – Clif, and silver captoes – Stuart Weitzman. Probably the only ones you could still find would be from Clif…
If I had to have just one pair of shoes going into cooler weather, they would be plain black loafers that I could wear with either pants or with skirts and tights.
And almost certainly, the 2nd thing I would add would be tall boots, to wear with my longer skirt and longer dress. You have to be careful about where buckles are placed on boots, and how well they lay flat and smooth – there's nothing more irritating that having your dress hem ripped loose because it caught on the buckle of your boot!
Now that I'm not in an office everyday, I'm loving my black pseudo-athletic shoes. They're a low enough profile and cool enough design that they don't look like white marshmallow shoes when I want to put on something equal to an 8 or 10 mile walk through the city.
Special mention to those of you who wear an uncommon size – I think all Munro shoes come in a full range of widths – i.e. AAAA to EE. Which is NOT usual in the world of women's shoes!
I've always worn short boots a lot, and I have a hunch that mine are going to get a lot of mileage with my skirted leggings.
I will always want to own a pair of nice pumps, even though I don't wear them that often. Sometimes, they're just the right shoe for the occasion.
I love my wingtips, but I'm not sure that I would buy them right away if I were in a rebuilding process. But some of these are pretty lovely…
love,
Janice