April 9, 2013
Many people have asked me to clarify how I choose the accessories that I put with these simple wardrobes; I will try to explain my thought process. And some of you have expressed a desire to see these wardrobes with fewer shoes – thinking that these little vignettes would make great packing templates…The accessories I've chosen are: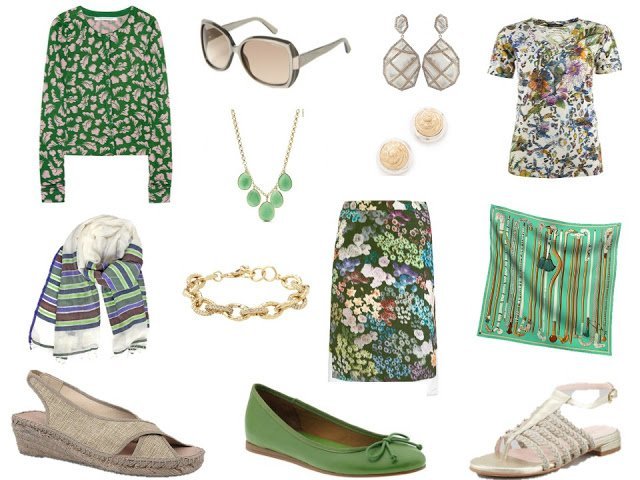 Silk/cashmere cardigan – Diane von Furstenberg, sunglasses – Jimmy Choo, dangle earrings – Kara Ross, necklace – Fossil, seashell earrings – Rose Pierre,
tee shirt – Balmain, daisy bracelet – Stella &Dot, striped cotton scarf – Mapoesie, skirt – Sophie Hulme, fabric slingbacks – Andre Assous, ballet flats – Franco Sarto, gold sandals – Taryn Rose, scarf – Hermes
Starting with the most basic garment – the white tee shirt. Arguably the easiest outfit possible is to grab the khaki skirt, but that's pretty… blah. So I wanted to incorporate the green accent color, in a cardigan that will be worn, tied around the shoulders, or carried, depending on the temperature situation. This all gets pulled together with a simple green necklace…
Or the basic tee shirt is the perfect thing to simplify the utterly beautiful busyness of a printed skirt. Some gold jewelry, and comfy flat gold sandals, make this dressy but still relaxed.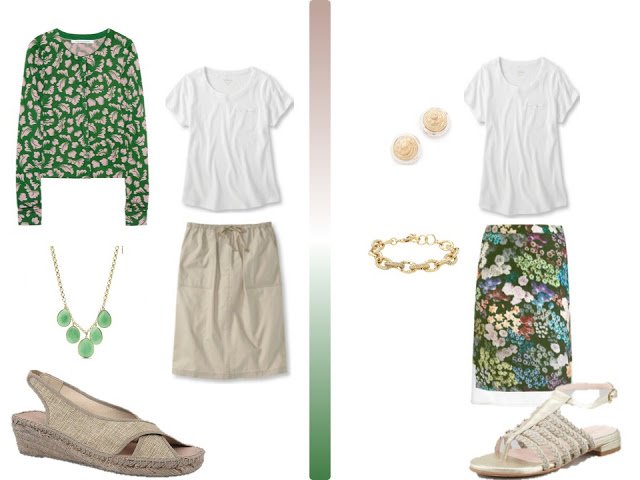 Sometimes nothing is cooler than head to toe khaki linen, but that can be REALLY drab. But with a scarf, and some jazzy, but comfortable shoes, things look much brighter. I always put an Hermes scarf into accessory packages, but you could easily substitute another scarf from any other company; the essential variable is that it shows at least a hint of the leafy green that is the common thread of the wardrobe.
And shorts – for many of us, they're essential. But they can still be gorgeous, and show your signature colors, with a pretty tee shirt, comfy espadrilles, and great sunglasses. (you MUST have sunglasses – you know how much damage the sun can do to your eyes, right?)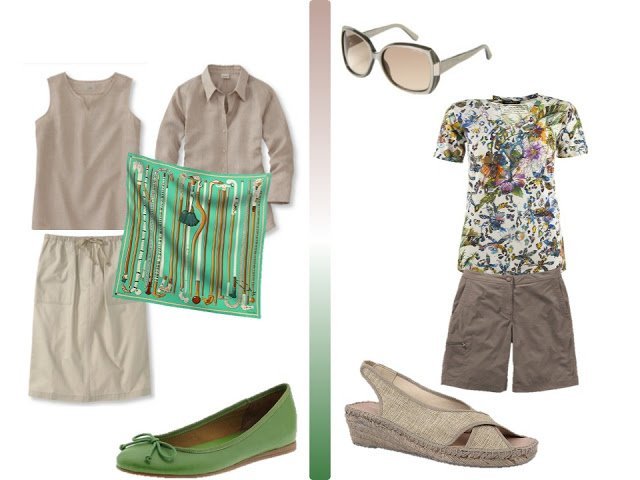 Sometimes, you have to wear a skirt! These neutrals get perked up with a lightweight cotton scarf – great stripes with our favorite green, and the ballet flats to make it look like you chose these things intentionally. And the cardigan – even if just carried – picks up the colors of the green necklace, and lends a bright accent to the workhorse linen dress.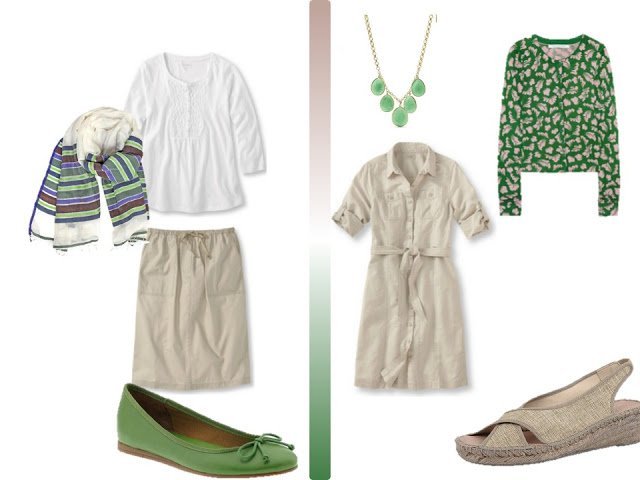 Casual outfits are a piece of cake – any amazing tee shirt stands out against the simple white pants – dressed up with some earrings that carry a feeling of khaki and white, with a luminous surface. Green flats pick up the green notes in the tee shirt, and tie everything together.
And sometimes you just want a tank top and shorts – with a cardigan to guard against air conditioning! But gold flat sandals and a gold bracelet finish this outfit much more neatly than would a pair of tennis shoes, or rubber flip flops…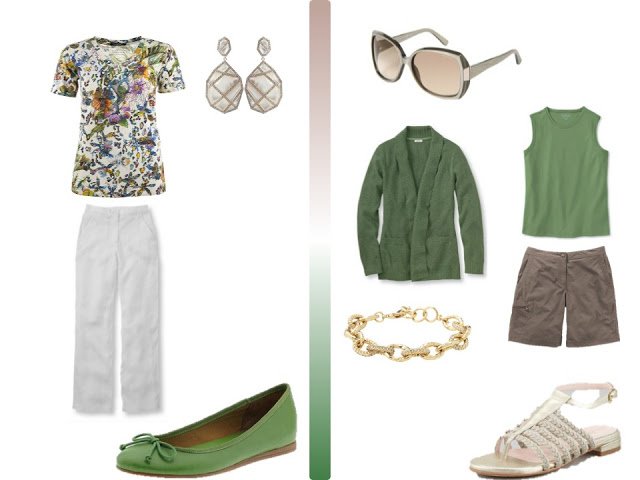 And you always have the opportunity to wear a sort of mellow linen "suity" kind of look with coordinating pants and shirt jacket. But again, we elevate this from blah beige by matching the tank top to the go-to flats in that personal signature green. Slide a cotton scarf under the collar of your jacket, grab some amazing earrings, and you're set for dinner at the nicest place around…
Lastly, we must wear that floral skirt again – it's just too amazing to become a closet orphan. The tank top gives you a feeling of a long monochromatic column of clothing, and some simple touches of gold jewelry finish off the look, without weight or clutter.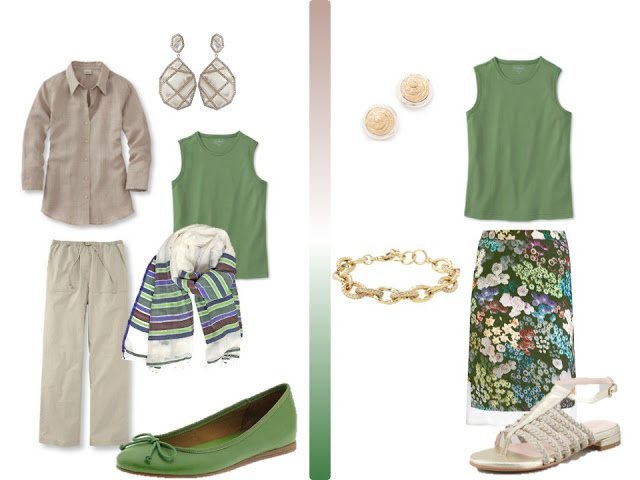 And let us take an appreciative look at the simple, well-made, timeless garments that serve as the basis of all of these variations:
When is L.L.Bean going to give me a contract???? Here's there site –
L.L.Bean
– I need lobbyists to get me away from my day job and committed to full-time blogging!
love,
Janice