December 23, 2011
One of my favorite Chanel quotes is "One shouldn't spend all one's time dressing. All one needs are two or three suits, as long as they and everything to go with them, are perfect."
So I thought about how this quote applies to the wardrobes that I build – let's try on Chanel's advice!
First, two suits: one black, one taupe. Now, to me, a suit is a jacket, pants, a skirt AND a dress. (sometimes, nothing looks better than a dress and jacket). Yes, I'm taking the definitions very loosely…
Next, you need the things that go with the 2 suits. One twinset that matches a suit, and another twinset in an accent color. One turtleneck that matches one of the suits, and a turtleneck or other sweater in an accent color. And of course, a light, neutral blouse, and a light, neutral tee shirt type top.
And finally, you're going to need jeans. And let's thrown in a pair of velvet pants – just for fun. And a really amazing, statement skirt. Another solid top in a tee shirt type style (this one's silk, so it can be worn dressy or not), and a few things that combine the two colors of your wardrobe, and I'd say you're set for a long time to come.
Maybe Chanel was onto something. For wardrobe editing, this could easily be the template that I use when I get around to doing the big purge…
Accessories to follow, when the hectic retail schedule permits!
Have a kind, generous, and patient holiday. Be good to EVERYONE around you – your heart is big enough to extend human warmth to every person you meet! The love you share will come back to you a thousand-fold, but you already know that…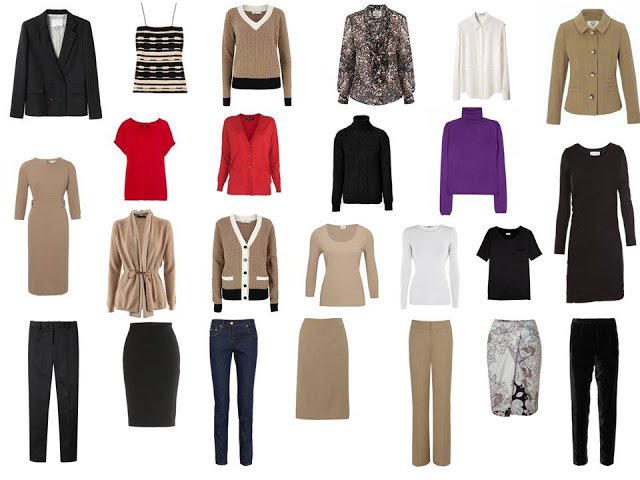 love,
Janice