Someday, the call will come:
Your Aunt Trudi is in the hospital, and nobody else can get there to be with her! or
The data servers are all down in Edinburgh – get there NOW and fix them, or
The Excel trainer broke her leg – you've got to go to New York tonight to teach the seminar, or
Honey! We're going to Paris TONIGHT for a long weekend! (this is a dream we share, eh?)
So somewhere in the back of my mind, every three or four months, I consider what I would do if I got this call. The best defense, of course, is to have a carefully curated and deliberately distilled wardrobe, so that you just just stick your hand in the closet and grab a handful of things and you'll probably be okay. And if you keep your toiletries ALWAYS ready (more on this another day), pulling this kind of thing together isn't as terrifying as it might seem. (oh yes, having laundry up to date is vital!)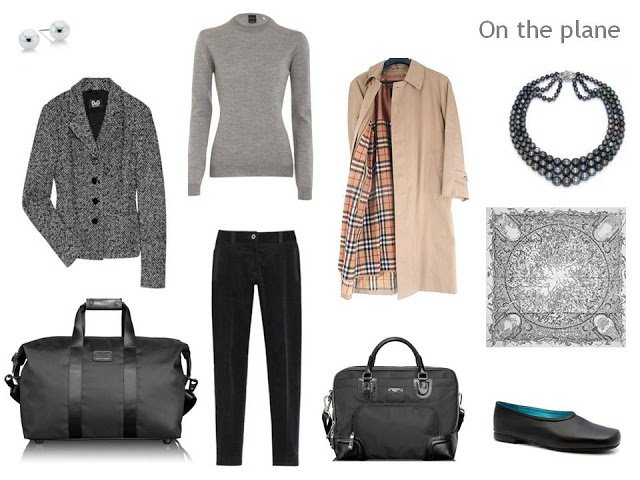 This time of year, I would fly in nice corduroy pants, a cashmere crew neck sweater, and a tweed blazer. I'd sort of pile on accessories – both pearls and a scarf, because scarves are so handy to have when you fly. Shoes that I can wear with jeans or with a skirt and tights, OR with my other pants, a carry-on bag, and my briefcase. Lined trench coat will endure anything – I'm so happy I found it!
Toiletries, a book, my MP3 player, cell phone, chargers, my cross-body bag, and my ID stuff all fits in my briefcase easily. Once I'm on the ground, if I don't want to carry my briefcase every day, I can fit necessities into the cross-body bag, sling it on, and forget about it.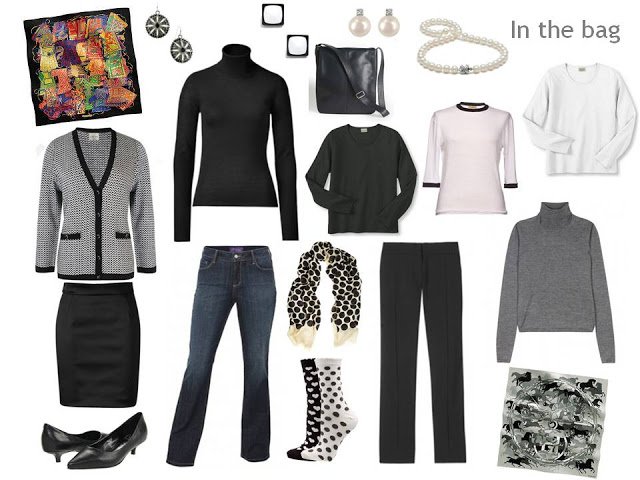 My carry-on is small – 18 inches long, and VERY lightweight nylon when empty. On short trips, waiting for checked luggage just eats up precious time, and for a few days, only a small bag is necessary. Nine pieces of carefully chosen clothing, ONE pair of shoes, and an assortment of accessories gives me more than enough clothing for 3 or four days.
So I have whatever I need to wear for:
crawling on the floor in a server room (jeans & tee shirt),
a board meeting (tweed jacket, gray turtleneck, black skirt),
sightseeing (black pants, white tee shirt and black & white cardigan)
hanging out in the hospital (black/white tee shirt & black pants)
doing Aunt Trudi's yard work (jeans & tee shirt)
or a nice romantic dinner (black turtleneck & skirt).
My friend's think I take planning a bit too far, but I find it comforting to have these sorts of issues settled in my mind, so that when the REAL emergency comes, these sorts of things are already handled and my brain power is available to take care of the people and situations that need me the most!