Since
I've quit shopping, I'm starting to really notice the garments upon which I frequently
rely when I'm scrambling to get dressed.
Foremost among them has to be my agnès b. cardigan. It's made of a sweatshirt fabric, and has
pearlized snaps down the front. I can
wear it almost anywhere I would wear a black cashmere cardigan, but it's more…
relaxed? Cool? Fun? All
of the above, I think.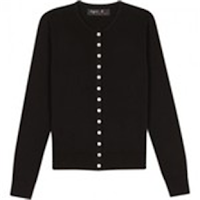 The agnès b. stores that I've been to
in Paris (Village de Bercy, rue de Marseille, rue de Castiglione) all share the
same qualities of clarity, light, and ease of shopping. Nothing is crowded, things aren't layered to
the point of being impossible to dissect, and everything looks terribly
appealing. The staff is always very kind
and helpful, and shopping for French classics has never been so much fun!