September 20, 2011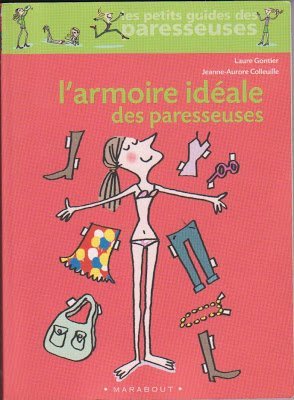 Yes, it means "the perfect wardrobe for lazy women"! It's part of a series of whimsical little paperbacks for "desparesseuses" that includes things like cooking, dieting etc. But this one is particularly appealing; while some of the suggestions aren't really appropriate for everyone, there are enough thought-provoking ideas in here to leave one feeling that the time reading was well spent. And practicing my reading in French is never a waste of time!
As with almost any "wardrobe" book, this one has "the ultimate check-list" for the perfect wardrobe. I list them here without comment; I fully intend to debunk at least some of these in my series "Customizing the Classics" when I have a chance!
(and if anyone else has this book and can better translate these terms, PLEASE chime in with a comment. While my French is very good, it is FAR from perfect.)
Jeans which give me a hot figure
Black pants, in which I forget all of my insecurities
A denim skirt
A little black dress
A dress with spaghetti straps, which I can wear summer and winter
A white shirt
A strappy top in silk
Tee shirts – long- and short-sleeved, to wear with a skirt or with jeans
A pile of tank-tops, which I can wear in the summer, and then recycle in the winter under a jacket
v-neck which gives me super-cleavage
twin-set in an accent color to give me a bit of energy
men's style jacket
Denim jacket
Trench coat
Scarf – to knot around neck or toss nonchalantly around shoulders
Silk scarf – to wear around the neck, in the hair, or as a belt
Belt – somewhat funky, to give a hip touch to any outfit
Opaque tights – to help a summer dress work in the winter
Matching bra & panties in a flesh tone
Frankly fake necklace
Extravagant earrings which glamorize my outfit in 5 seconds
A beautiful watch
Superstar sunglasses
A pair of gloves in an accent color
Tote bag
Small evening bag
Ballet flats
Black high-heels
Thong-style sandals
Riding boots
An interesting list, eh?Available from Amazon Canada or from FNAC France.
love,
Janice