July 18, 2011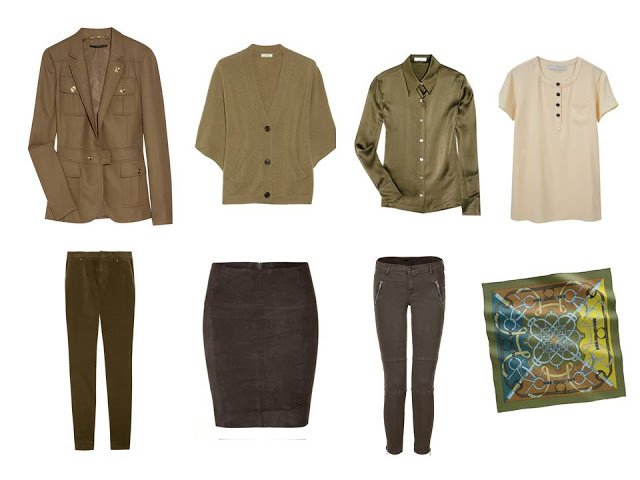 Jacket – Gucci , Cardigan – J. Crew, blouse – Fanfare, tee shirt – Proenza Schouler, Pants – Gucci, Leather skirt – Jitrois, Jeans – J. Brand, Scarf – Hermès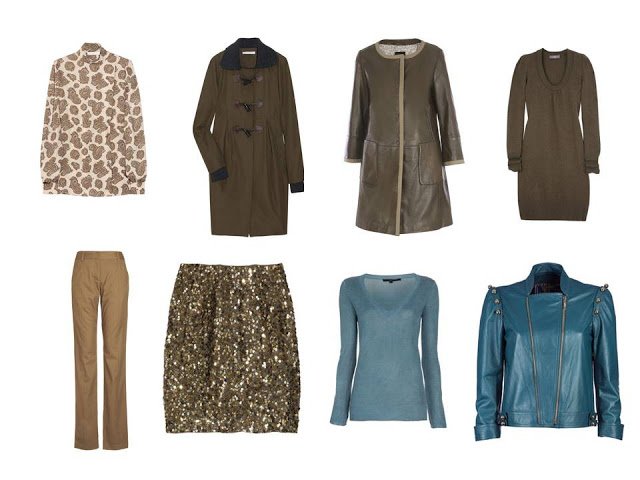 Blouse – Chloe, Trench coat – Paul and Joe, Winter coat – Weekend by Max Mara, Sweater dress – Alexander McQueen, Pants – Proenza Schouler, skirt – Vince, sweater – Snobby Sheep, Leather jacket – Matthew Williamson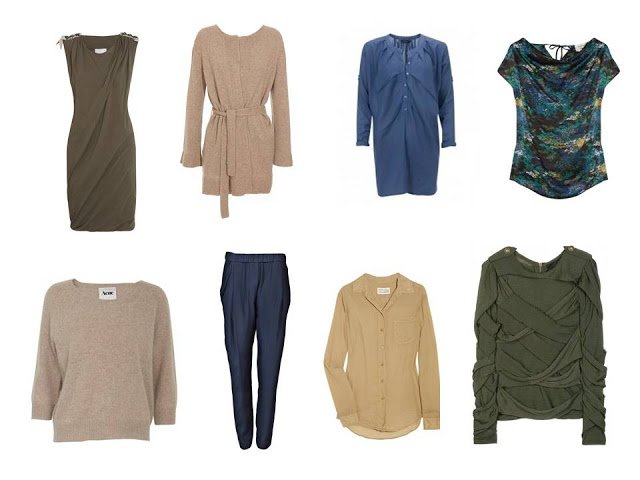 Dress – 3.5 Phillip Lim, Cardigan – The Row, Shirt – Modstrom, Tee shirt – Yves Saint Laurent, Sweater – Acne, Pants – 3.1 Phillip Lim, Shirt – Aubin & Wills, top – Burberry Prorsum
The lovely Kate asked for a wardrobe "rich medium brown, tan/caramel/cognac, and army green. For the colors any mix of light olive green, mustard yellow, orange, teal, plum, and terra cotta.". This one doesn't include all of those, but it's a start. And there are more autumn hued wardrobes under construction, so stay tuned! And thanks, so much, for your request.
Remember, if there's something special you'd like to see in a wardrobe, just leave me a comment and I'll put it on the list!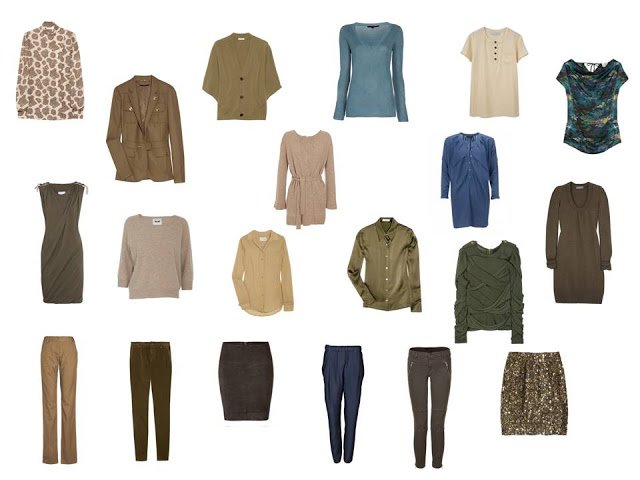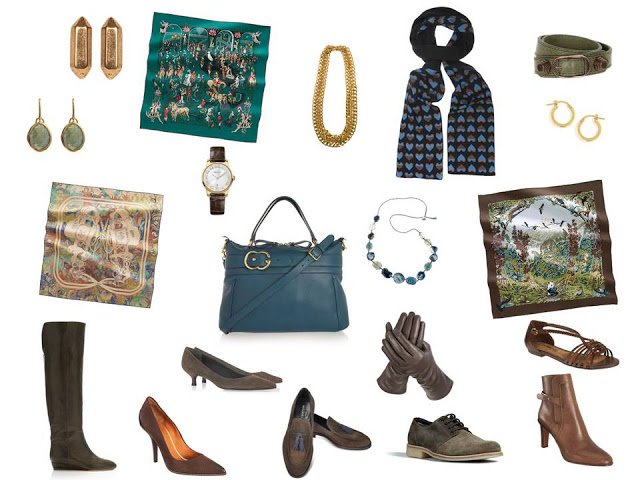 Square scarves – Hermès , Handbag – Gucci, Gold hoop earrings – Charles Garnier, Chain necklace – Bex Rox, Leather bracelet – Balenciaga , Blue agate necklace – Chaan Luu, coppery stud earrings – Erin Wasson, Labradorite drop earrings – Monica Vinader, Blue topaz hoop earrings – John Hardy, Watch – Tiffany, Tall boots – Loeffler Randall, Brown pumps – Givenchy, Gloves – Forzieri, Heart print muffler – Diane von Furstenberg, Suede kitten heel pumps – Stuart Weitzman, Brown suede loafers with blue tassels – Fratelli Rossetti, Olive suede oxfords – Marc Jacobs, Flat sandals – Modcloth, Brown ankle boots – Chloe
All images comes from Polyvore, although I don't actually built the vignettes there. Check out their most wonderful sight – full of beautiful things!