June 6, 2022
Iceland, and Packing in a Different Way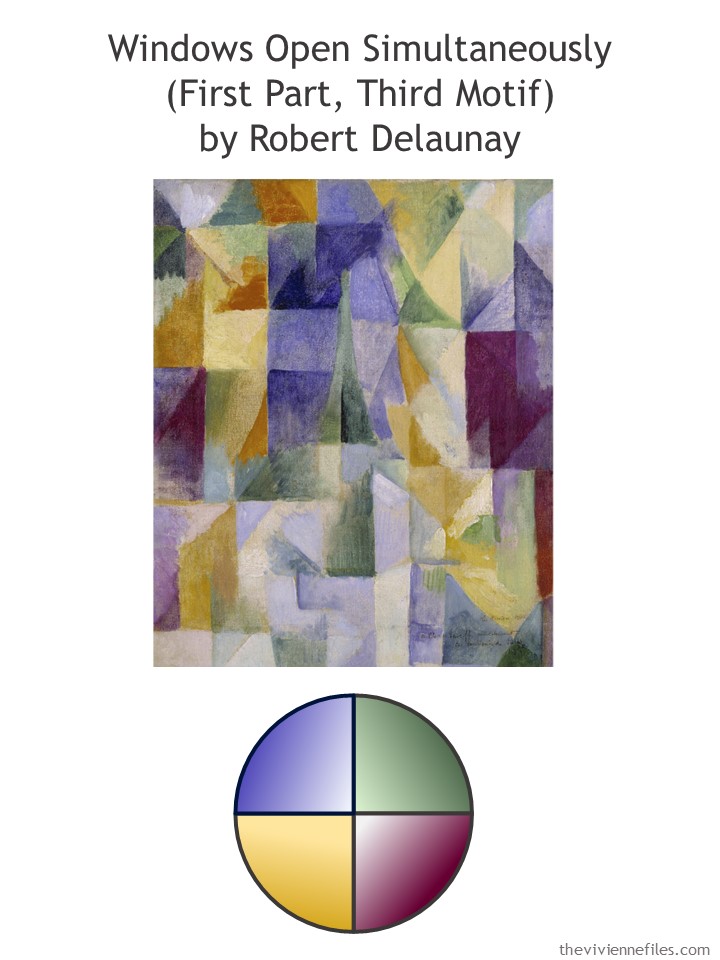 She knows her color palette, she KNOWS she's going somewhere relatively cool, and she knows what she wants to wear on the plane…
Is that enough?
She understands that she's going to be wearing her travel outfit for quite a while on her actual travel day, and she plans to wear all 3 garments frequently while she's there…
So she thinks… what additional garment – just ONE thing – would she bring with her for a cool place and lots of sightseeing?
There's a BIG advantage to packing this way – she remembers immediately that she wants to bring her labradorite earrings, so she grabs them and puts them in her little jewelry bag. And she digs her green socks out of the drawer and tosses them into her suitcase!
Now, she has 2 outfits…
She knows that her plans include being out in the countryside, visiting geysers and hot pools and such marvels of nature. To her, that suggests both jeans and waterproof shoes; she's going to be brave and choose sneakers rather than hiking shoes:
Rarely can you make a good case for wearing warm sweaters in June, but this is the trip for them! She loves her bright colors, and her scarves…
She quickly remembers that she can get more mileage from her marigold sweater if she packs her gold printed shirt too – a day or two of the sweater over the shirt, and then a day or 2 of the sweater on its own…
Don't forget the citrine earrings!
A cardigan is another sweater that's wildly versatile – worn over things, and then worn buttoned-up on its own. She tosses in a simple black tee shirt to wear under her cardigan; it's such a basic garment that it almost doesn't count as a piece of clothing!
And OH YEAH – she's going to need a smaller handbag!
Even though this is a casual vacation – she KNOWS that she's going to find the best food available and have a lovely dinner. It's one of her favorite things to do while traveling…
So when she packs her all-purpose skirt, she remembers to grab another pair of pretty earrings, and some dressy shoes. Tights too…
Now she swings to the other direction, and decides to pack her favorite flannel shirt. It goes beautifully with gold and with berry, and can be worn under, or over, or alone…
She feels like she's finished, but those of us who live in black will understand this – just ONE MORE TOP… and a nifty bandana!
While it's not technically part of her "travel capsule wardrobe," she would be nuts not to remember her swimsuit – hot springs abound in Iceland! And a pair of shorts is never a bad idea. Waterproof sandals, too…
This is what she will have with her – wearing while on the road, or packed in her bag.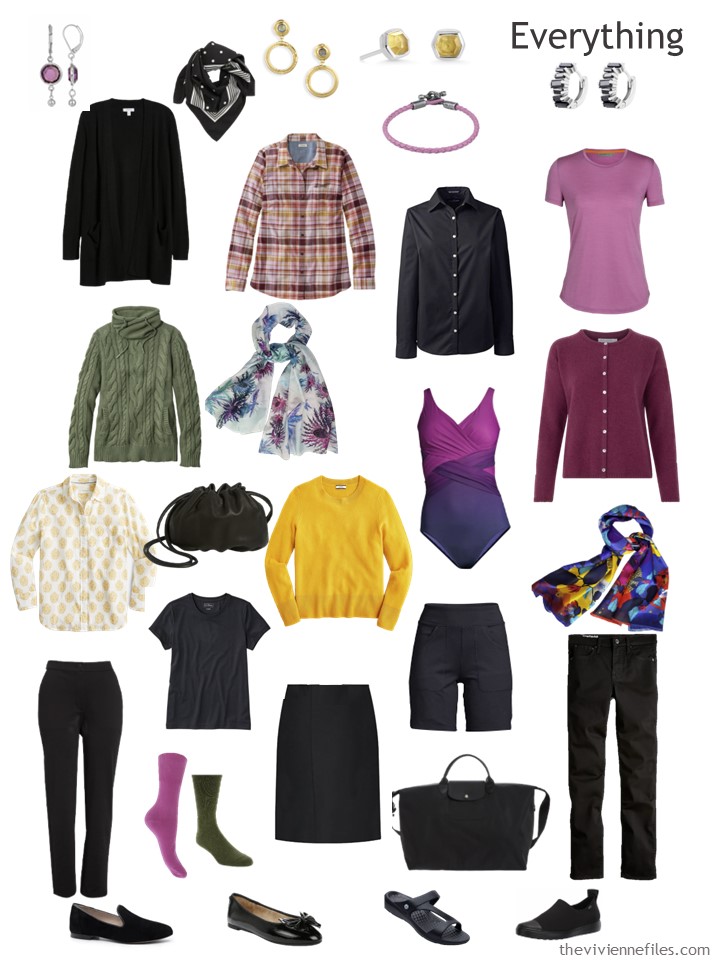 She already knows that she has quite a few outfits available, but she pauses to find just a few more possibilities…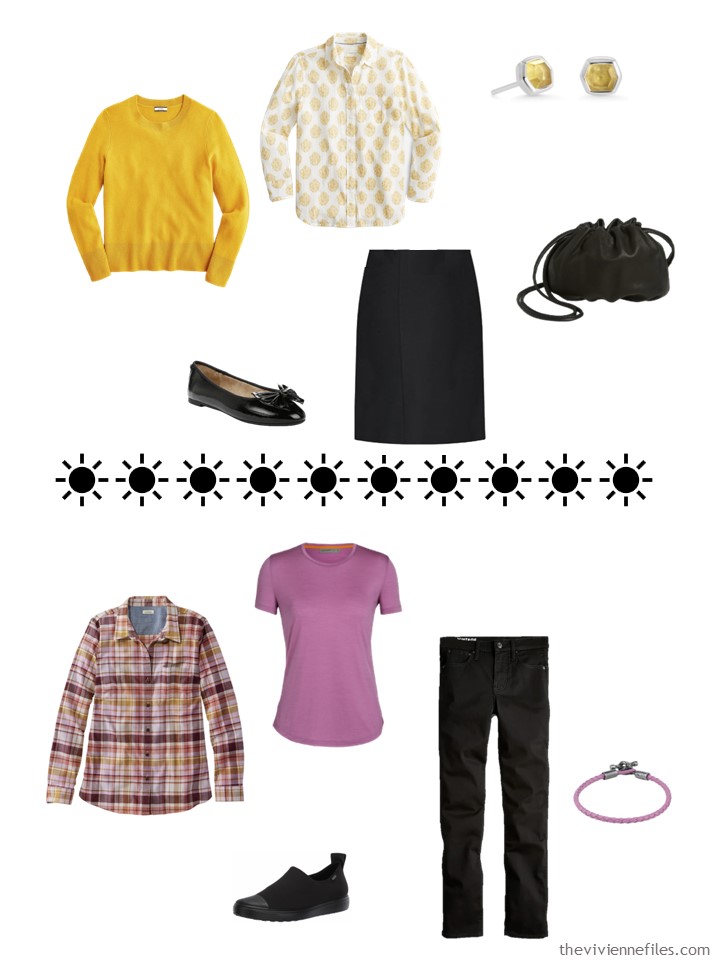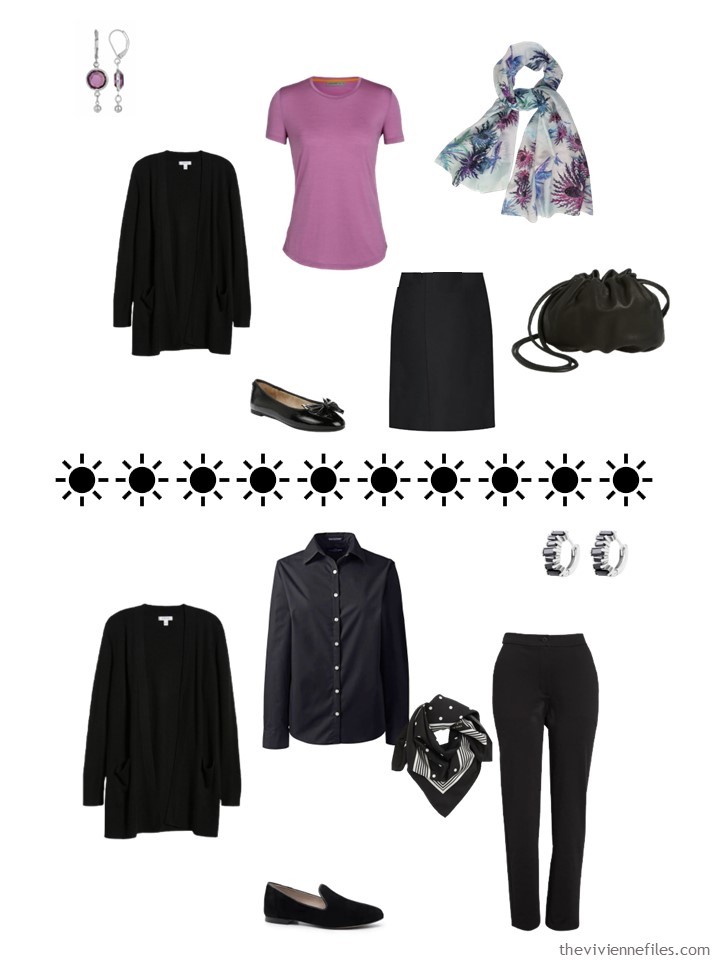 It's almost the complete opposite of packing "1 outfit at a time," but it seems to work well for this heroine.
How do you pack? I admit to sticking with 5-piece clusters; although I haven't packed AT ALL for 18 months!
love,
Janice
p.s. Eight years ago, one of my favorite questions every – I want an Hermes scarf in black and white – HOW TO CHOOSE??? I still like my suggested plan…