April 26, 2021
Ah, let's start with a version of my FAVORITE travel outfit…
Even though it gets to be quite hot here in Chicago, I find that I often need a cardigan or jacket when I'm indoors – because of air conditioning, or outdoors in the evenings when the wind turns and blows in off the lake…
This week I chose this black cardigan at least in part so that I could introduce you to COS – a store that I discovered a few years ago in Paris. They now have locations in a lot of countries, and they also do mail order…
My all-time favorite tweed dress came from COS, as well as a couple of tops and a jacket that I quite thoroughly love – I've had excellent luck with buying from them!
We all know how versatile a cardigan can be, but I can't resist showing this black cardigan with a range of colors:
I just ordered these drawstring linen pants to replace my ridiculously faded and threadbare linen pants from the past few years!
Black and brown – heck yes!
Even if you're dressed in very light colors, your dark neutral cardigan might still be just right with your outfit:
And if you're going to go completely NUTS with purple (and why wouldn't you, when you find things that work together this well?), a dark neutral cardigan can be a nice simple addition to your outfit:
Here's the master list of Weekly Timeless Wardrobe garments, for those of us following along at home…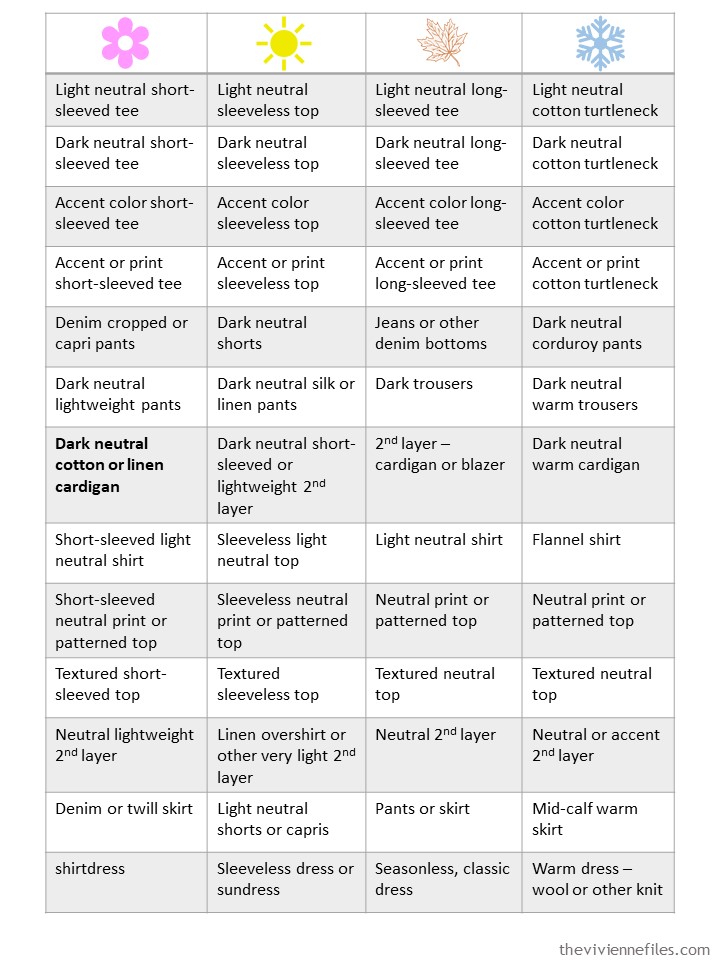 I'm SO READY for warmer weather… Is anybody else languishing in the world's longest, coldest Spring?
love,
Janice
p.s. Eight years ago, I pondered the idea that a denim jacket is a "must-have" item for every woman; what nonsense, eh?