May 15, 2020
Our heroine from a couple of days ago now has a good work wardrobe for her needs – not terribly dressy, but still serious enough that she will stand out from her former co-workers. If you're in an environment where people wear jeans and very casual clothes for work, it doesn't take a lot to stand out!
My system, such as it is, for most wardrobes, is to assemble a half-dozen outfits, trying to include all of the "bottoms" and as many of the tops as possible. I of course try to include all of the colors, and as broad a range of dressiness as makes sense for the heroine in question.
I'm sure I miss something this way, but I'm still looking for a better approach! Any suggestions?
First, let's start with a serious look "above the waist" but comfortable cropped pants and flat shoes "under the desk." Teleconferencing has changing our lives, eh?
Our heroine will almost certainly have to show up at something relatively serious; she doesn't work in a deeply conservative industry, so wearing a skirt and shoes with a heel will go a long way toward looking like one of the bosses:
What were the chances that we would find a necklace that includes teal AND navy? Sometimes that's all you need to look like you've had it all planned out…
To me, if you've got a lapel, you can wear a brooch! The brooch and scarf really dress up jeans and driving loafers…
Nail polish isn't strictly an accessory, but if your nails coordinate with your outfit, you are going to feel polished! And another perfect necklace…
Another outfit for teleconferences, or for in-person meetings in a casual environment. You don't always have to whack your staff in the head with the fact that you're the boss!
But a gorgeous scarf elevates a simple sweater beautifully:
So 20 pieces of clothing, and in this wardrobe 16 accessories; I could travel for a long time with all of this! And in our current circumstances, it would be realistic to work with this wardrobe well into the warmer weather…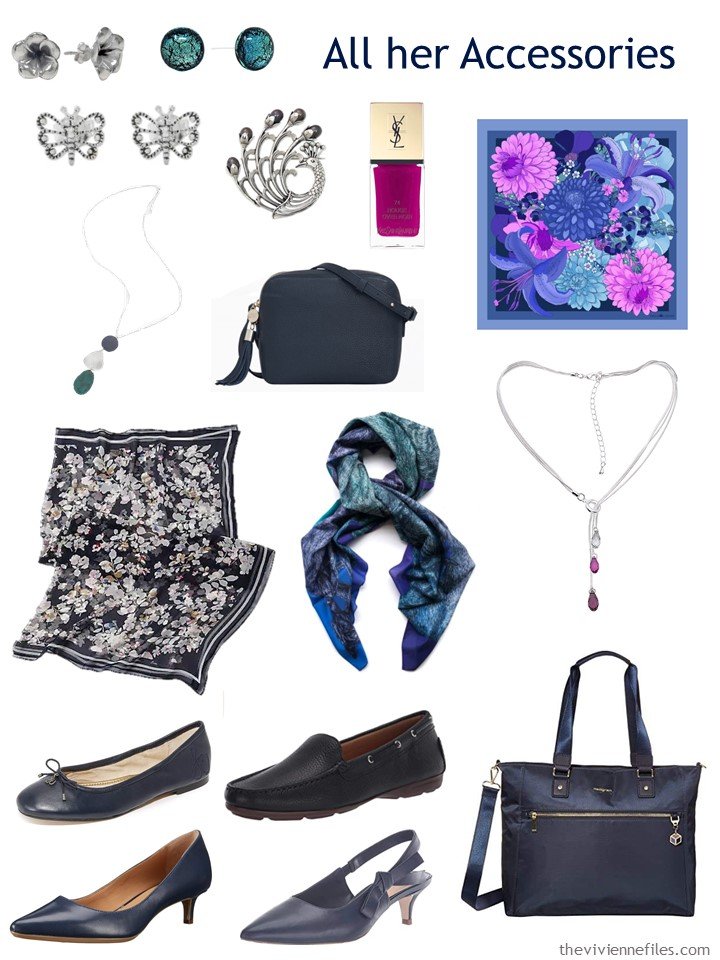 What accessory is your biggest weakness? Bags? Shoes? For me, of course, it's probably scarves…
It could be worse – I might be collecting diamond tiaras! Very practical for the stay-at-home blogger, eh?
love,
Janice
p.s. Six years ago, I reviewed what I consider to be the six essential styles of shoes to own, and showed these in a few colors… I would still buy and wear all of the black ones – they're timeless!