May 25, 2019
As I continue to minimize my wardrobe (it's going to take forever!), I try to make a point of keeping individual garments that are most versatile. That's not to say that every piece of clothing you own should be wearable 10 ways, but for core pieces it's worth considering.
I bought these a few weeks ago, to replace my old white jeans, which looked as if I'd worn them to clean… something disgusting…
(I don't consider replacing worn-out garments to be shopping, so by my rules, I haven't violated my "no shopping in 2019" plan! If you make your own rules, you NEVER break them, right?)
I have some thoughts about the "best" jeans to get – uncomplicated and easy to wear often without them being too memorable, or conflicting with too many of your other clothes: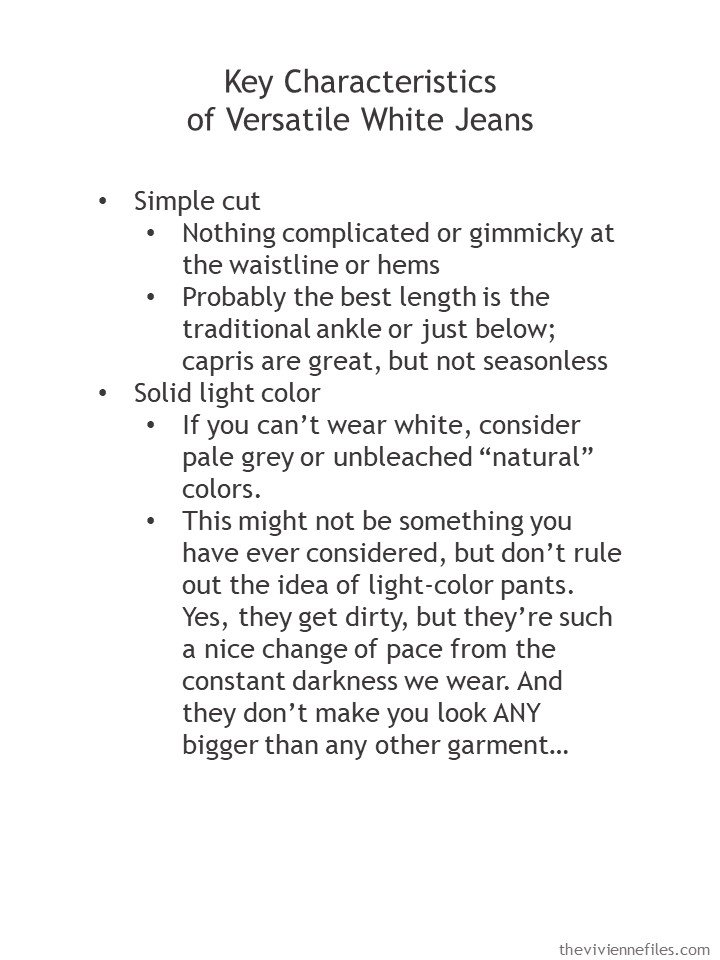 It's such fun to put together outfits with something as versatile as white jeans – there's probably no color that won't go!
Pastels of all ilk are obvious with white:
Nothing is more timeless than navy and white:
On a really bitter cold day, when there's no "slush danger," I think white jeans would be a startling but workable change of pace:
For the patriotic holidays in any number of countries, this would be perfect!
Maybe you have a pair of sandals that will give you an idea…
Maybe your tote bag will suggest something…
You don't have to actually wear a scarf in warmer weather – you can tie it to your bag, or use it as a belt…
Do you want to wear that dazzling blouse, but want something neutral to tone it down a bit?
Maybe your blazer and blouse need to be made a bit more… approachable?
No, light-colored jeans aren't an "investment" purchase (remember, garments almost NEVER are investments, in the true sense of the word), but you can easily wear them twice a week for the 3 months of the summer, and that's not bad!
love,
Janice
p.s. What's the story with clear plastic handbags? Back in the dark ages of my retail career, they were the only thing that we could carry onto the sales floor; for someone not constrained by "loss prevention" policies, I don't see why they would want the general public to see all of their gear…
p.p.s. What do you think of a "Once a Week" plan in which I took a total of 52 basic garments, and built a core, neutral wardrobe?