May 27, 2019
I prefer chambray – it's more "shirt weight" fabric, but if you can find a lovely denim shirt, grab it! It should last forever… Might take a while to break in, but worth the effort, I'd say.
This shirt seems pretty versatile. If I could find one without chest pockets, I'd be happier, but sometimes, one must compromise just a bit, right?
I have a few thoughts about what to keep in mind when you get one of these shirts. These are, of course, just guidelines! But as I often suggest, simpler is better…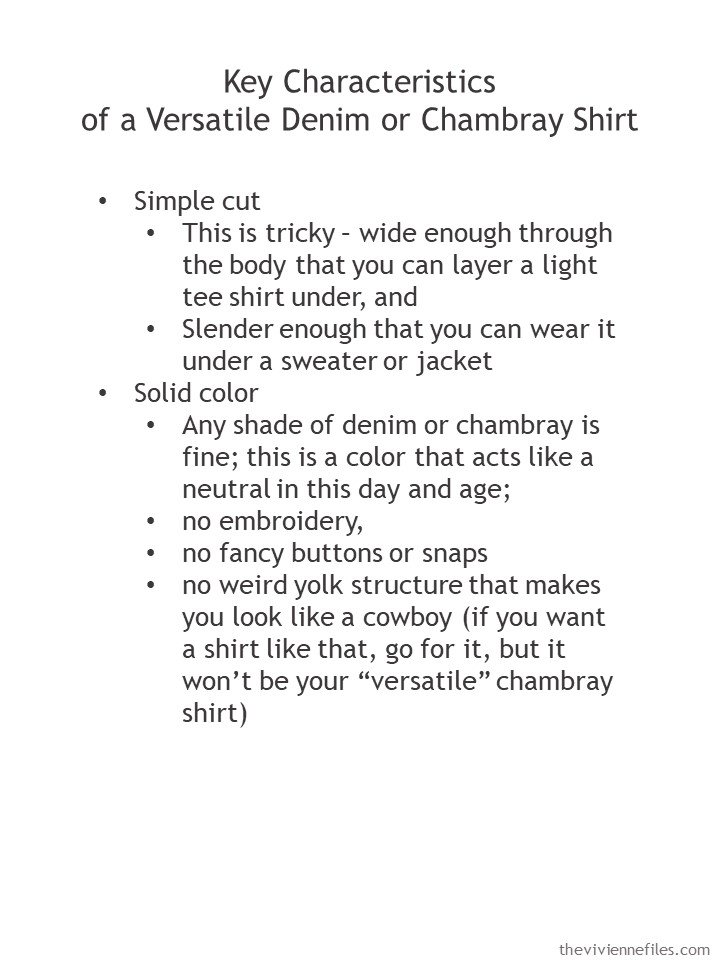 One of the easiest ways to wear this shirt is to pull it on like a jacket on cool evenings…
Maybe you feel TOO dressy? Or a cool breeze kicks up? Picture this shirt tied at the waist over this lovely dress…
No matter what tee shirt and pants you wear, this shirt will probably go well with your outfit. That's the joy of something that's denim blue – it's a neutral!
Of course, you can wear this shirt just as you would wear any shirt, under a sweater…
If you feel like your "warm" color is hard to wear, maybe a touch of denim near your face will help…
If you're migrating from warm colors to cool, or vice versa, a denim shirt can help you bridge the transition…
Chambray really does go with every color…
Maybe you've got a garment that's bright, and you want to balance that with something more softly neutral:
Unsure about how dressy you need to be? If you wore this, you could always pull off your sweater, in the worst case…
Feeling suddenly over-exposed? Too much sun?
As often as I travel, there aren't a lot of garments that I pack for EVERY trip, but my chambray shirt is always with me!
love,
Janice