February 4, 2019
Lots of you go on cruises! And right now, my mail box reflects that; anticipation is running wild in at least a few minds right now…
So how about a spring cruise in Italy and the near islands? The temperatures might reach into the 70s Fahrenheit, and evenings will be in the 60s. Right now, that sounds SO appealing!
I picked this painting to inspire us, although it is from a French artist, and has nothing to do with cruises… but it's lovely, and I find this woman getting dressed feels very… hmmm… romantic and evocative to me.
And yes, I suspect that her skirt is indeed black, but this wardrobe is built around navy, so I'm fudging that a bit. You could certainly use black here, or a wide range of shades of grey. Maybe other neutrals?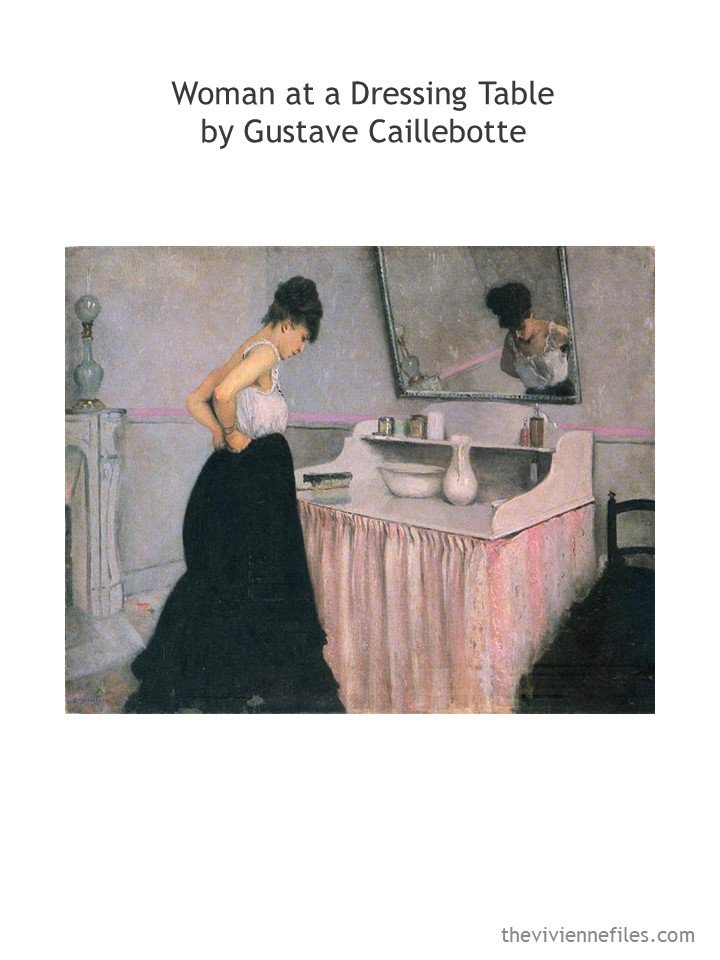 While there are a few other colors hidden in this painting (like a really pretty light greenish-blue), I've chosen this palette for our cruise wardrobe: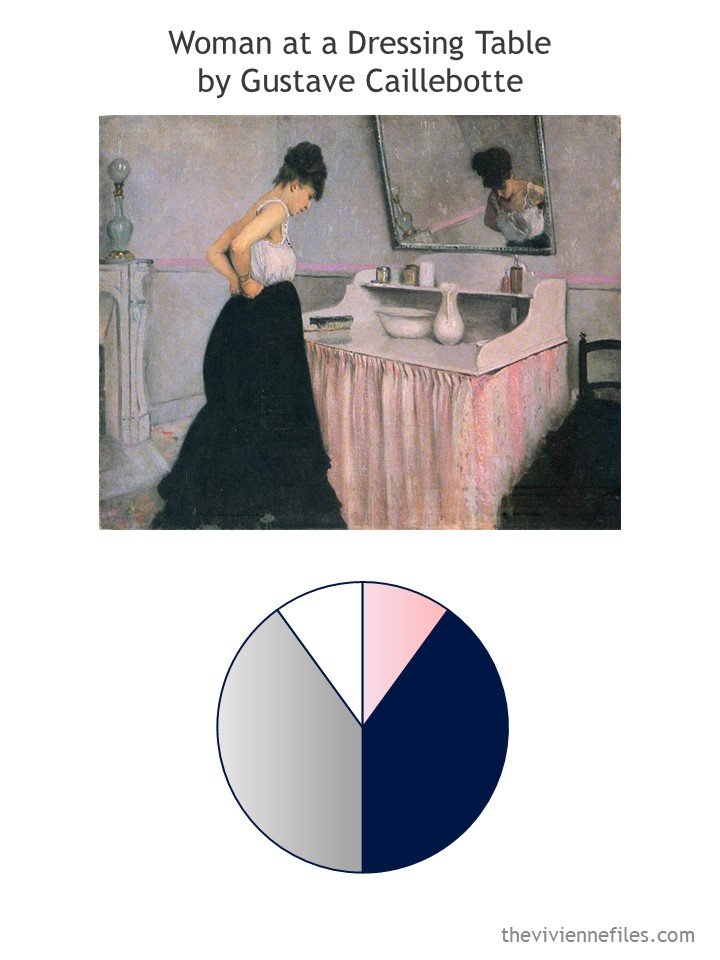 The concept of a "travel outfit" doesn't really make sense when you're traveling the entire time, so instead, I'm going to organize this wardrobe by clusters. This first cluster is traditional and timeless, and YES I would wear the striped tee shirt with the gingham pants. Not for everyone, but it's not impossible…
I included short-sleeved tops for the warmer afternoons, and a cardigan for the cooler mornings and evenings. A navy cardigan would of course be practical here; your patience will be rewarded!
Since this cruise is in the spring, and since it includes loved ones, I thought that packing a pretty substantial cluster of the beautiful pink/blush color would be fun. I'm not sure that I would ever wear the jacket and jeans together, but having them both with you can still make sense:
Note – if you see that a company (in this case, Lucky Brand) has a tee shirt or top in one of "your" colors, check their other offerings. It's normal for a manufacturer to use the same palette in a range of garments…
This cruise is going to involve some dressing up; these aren't the dressiest dresses imaginable, but I think they can be dressed up somewhat. You've got to get a feel for how dressy you want to be, and choose your pieces accordingly. I almost included a lace-top jumpsuit in navy, but opted against showing it again… It would be perfect here, though.
So where do we find ourselves, with these garments? Let's assemble them, and evaluate…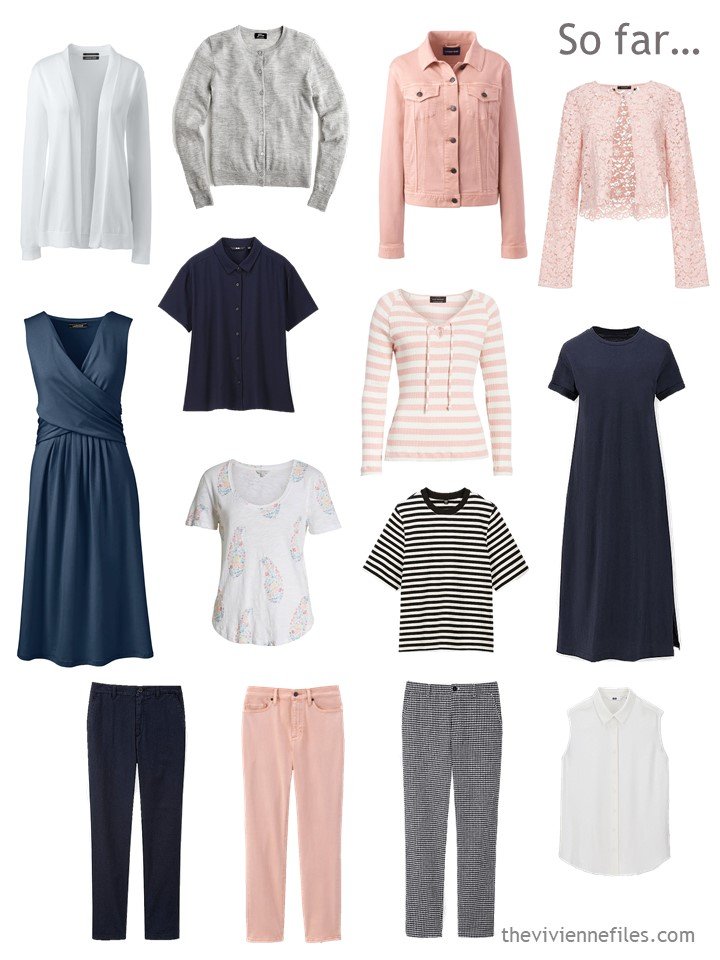 My first thought is that 2 dresses aren't enough, and maybe an additional pair of pants (shorts, another skirt, capris?) would be useful. And we still don't have a navy cardigan; can that cardigan help us dress up our existing dresses? This sparkly cardigan I chose in Cluster 4 will do anything a "normal" navy cardigan does, but it elevates everything with that metallic touch.
In all fairness, I would have a white tee shirt in here too… Maybe the white sleeveless shirt would have short sleeves? I could also see the usefulness of a navy linen shirt with long sleeves that could be layered over a tee shirt, or worn under a cardigan, or even on its own…
But one must make choices, and I've chosen these pieces:
There's laundry on the cruise, so white pants might not be the riskiest move in the world. But if it feels like a bit too much, grey pants would be a perfect substitute…
After these last additions, this is our heroine's travel wardrobe. Bear in mind that she will be wearing 3 of these garments onto the boat, so she won't have to pack all of these: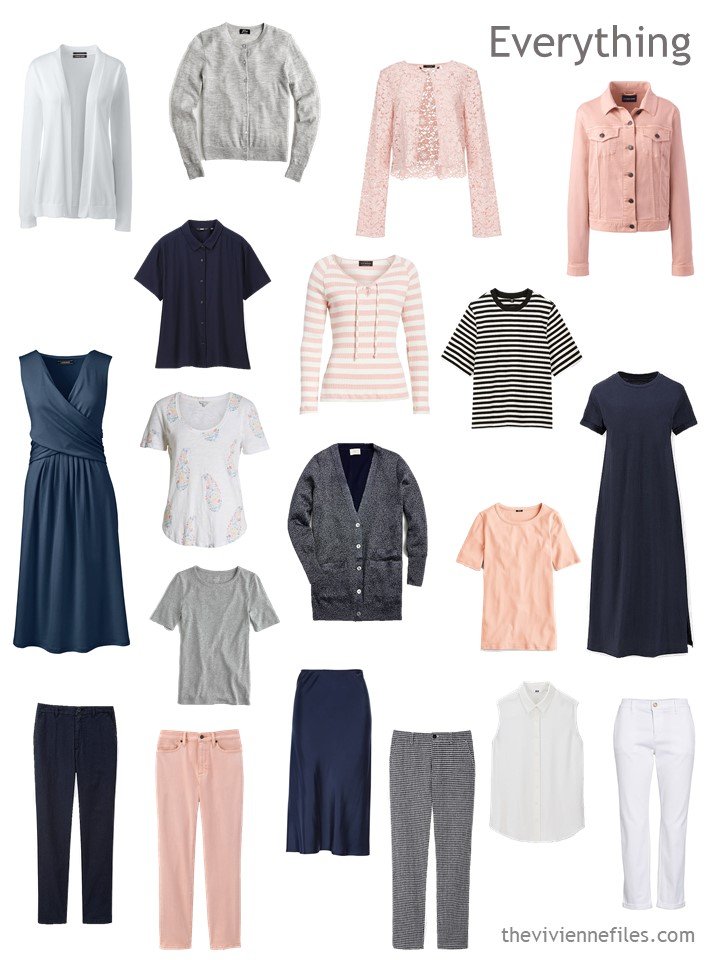 I'm not going to look exhaustively at all possible outfits, but I do want to at least make sure she's got a couple of weeks worth of ensembles!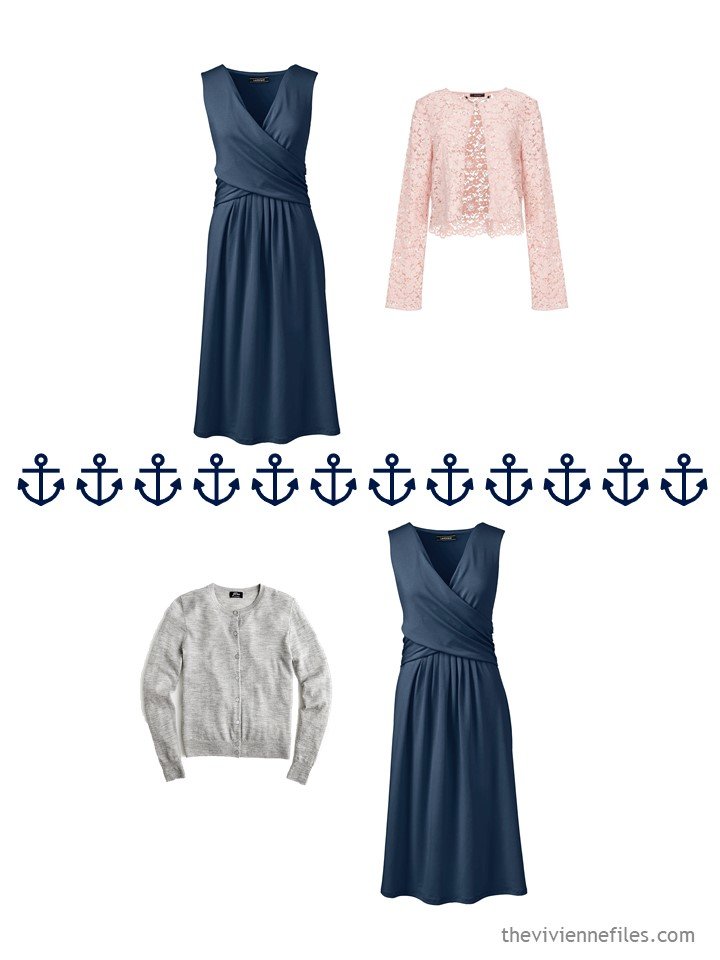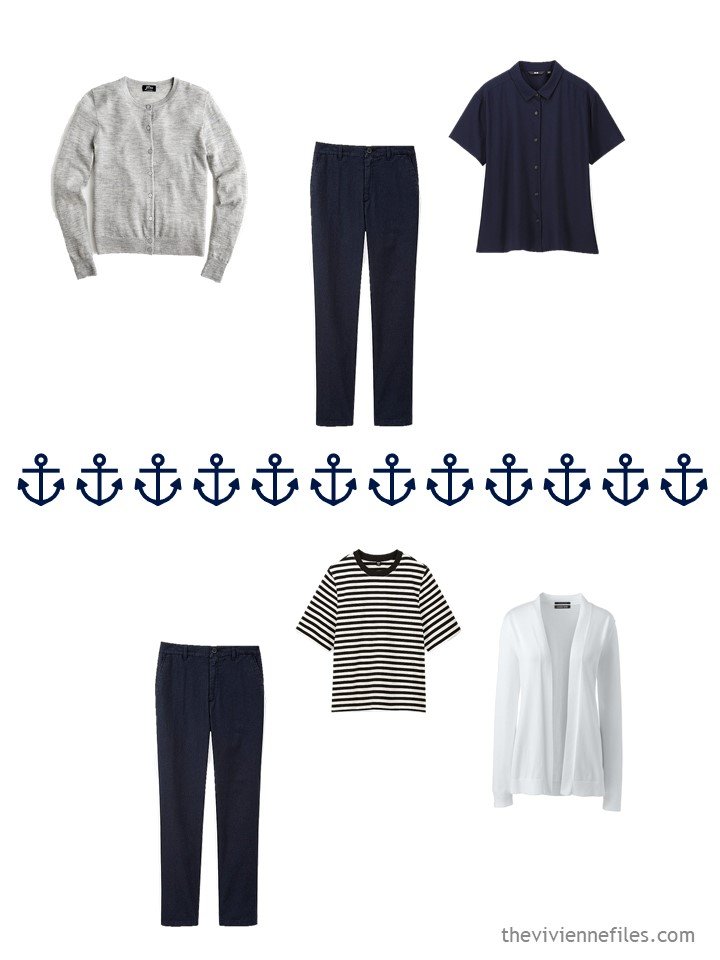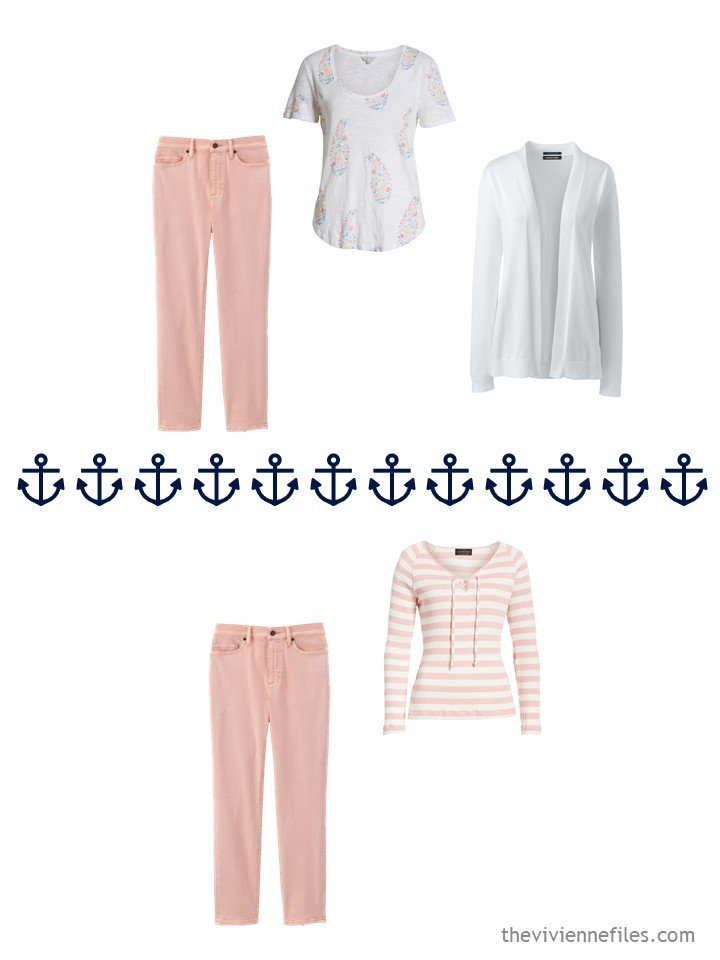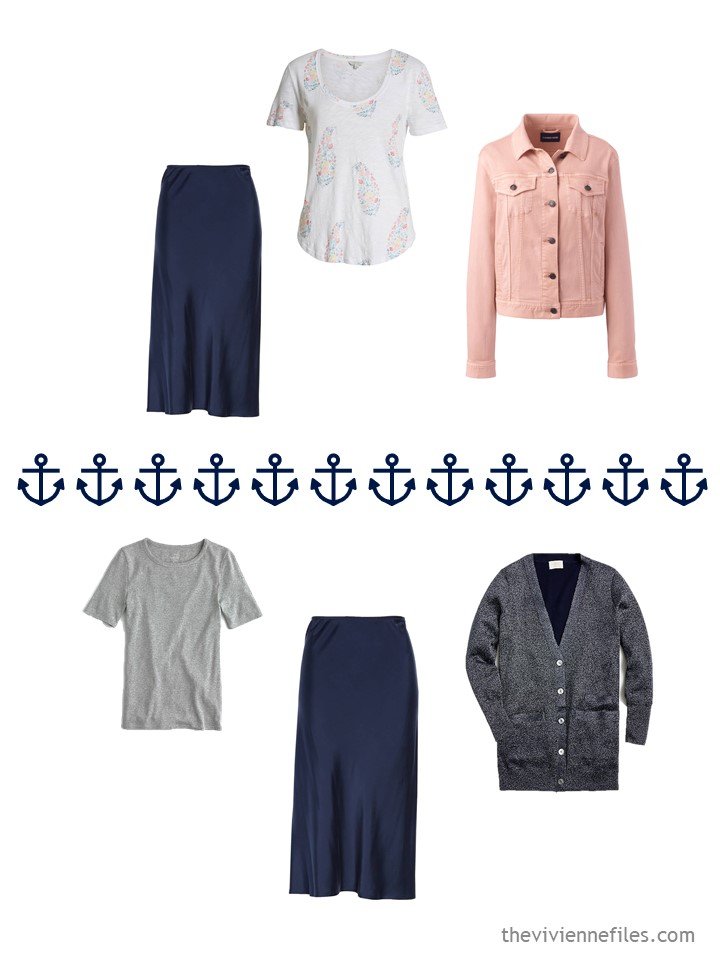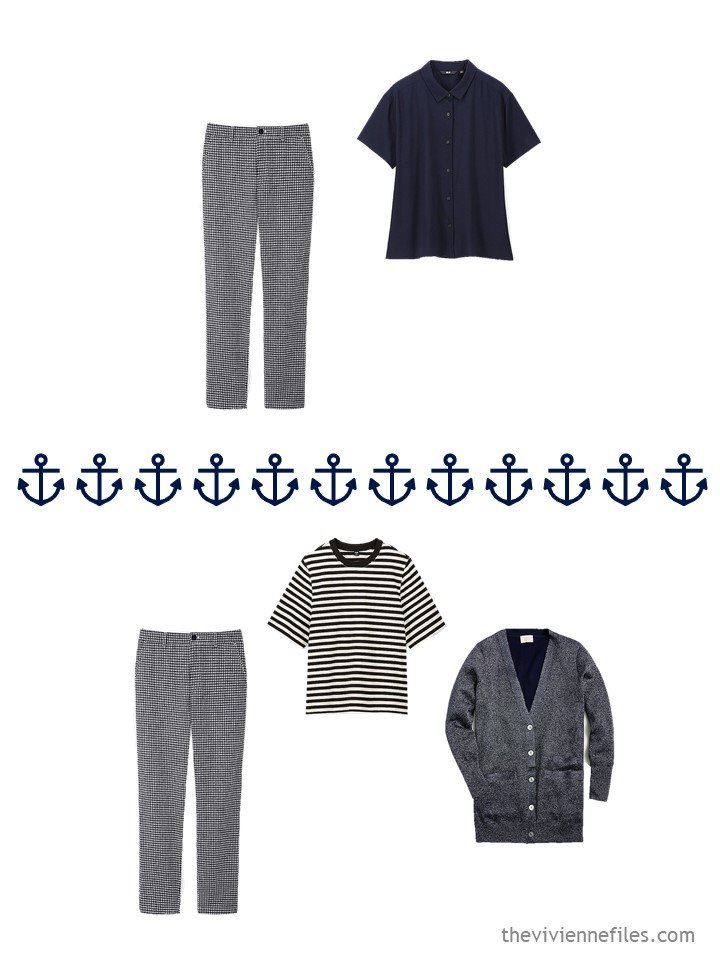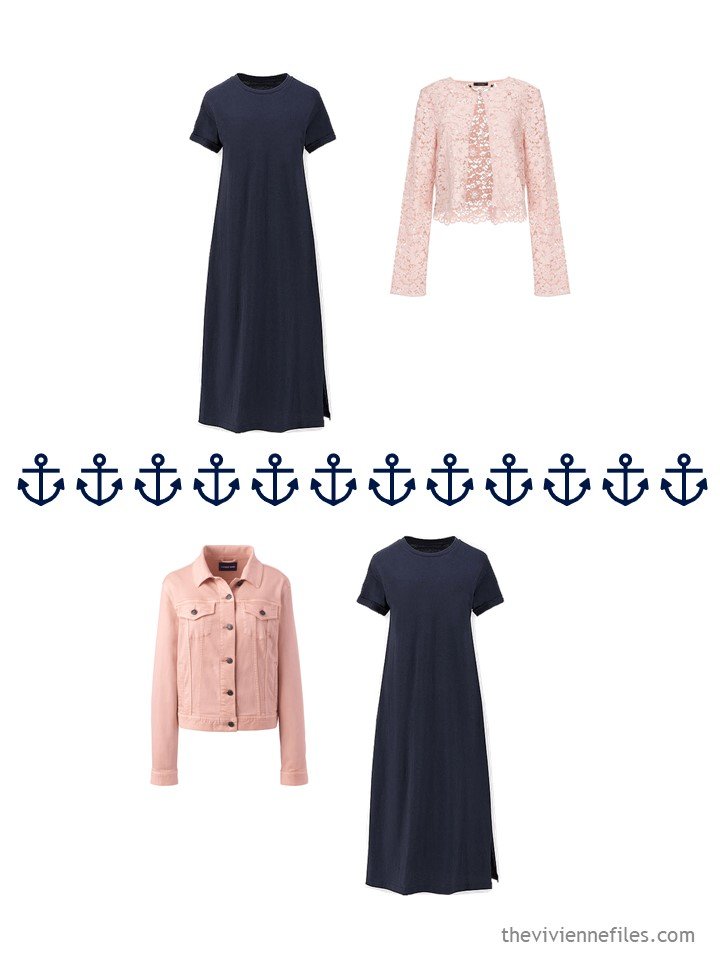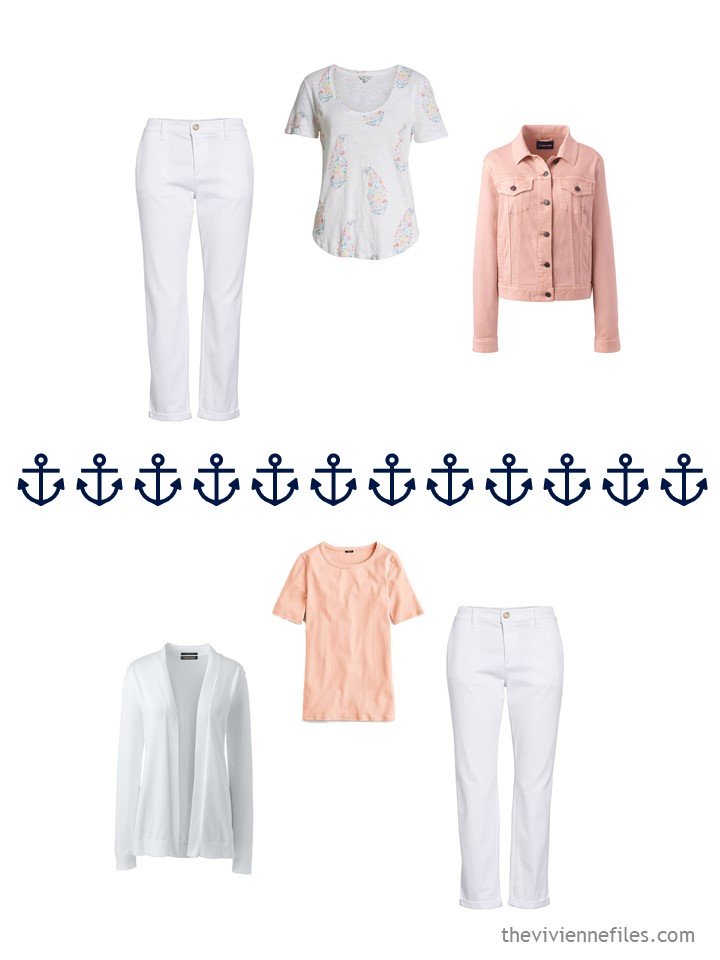 I'm going to assume that you're interested in seeing the accessories for this wardrobe – since I'm working so far ahead of time (because of the upcoming trip to Ireland!!!) I'm just going to plunge into that for Wednesday…
love,
Janice