June 29, 2018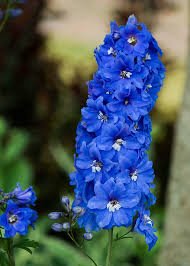 I have to admit, larkspurs are hard to find! And that's a pity, because they're so lovely… There are very bluish ones, and all different shades of purple… sigh…
But this at least gives us another look at purple! It's supposed to be the color for 2018, according to Pantene, but it's still terribly difficult to find many nice garments in a color even close to purple! When you type purple into a search, it's likely you will get everything from pink through burgundy… sigh…
But let's give a dash of purple a try, eh?
I think purple looks rather nice with beige – especially when worn with a scarf that ties the 2 together so well. If it's too hot to wear the scarf around your neck, tie it to your handbag!
Purple with white is always nice, too. Realistically, EVERYTHING looks good with white… These sandals aren't at all the color of the top in this outfit, but they do go really well with the various tones of the scarf…
Of course navy is a good option! And I'm really taken with the structure of this top; I think it might be very flattering…
If you've got the nerve to wear a white dress, there is no accent color that you can't use!
If you're not a fan of white shorts, they could easily be replaced with a pair of pants or a skirt. And if white completely freaks you out, you can always migrate to a more beige or natural color.
How do you feel about slightly different shades of purple in the same outfit? I think it could be good fun…
Now that this post is COMPLETELY FINISHED, someone has reminded me that Etsy has lots of larkspur bracelets, necklaces, earrings, and rings. Of course I find them all now… Do be careful when ordering from Etsy; they no longer have restrictions on things being hand-made, so you will see some very poor-quality sweatshop items.
love,
Janice