September 12, 2016
Many of you have asked me how to integrate an accent color into a neutral wardrobe; this is my attempt to give you some suggestions, and a gentle bit of guidance.Let's assume, for the sake of conversation, that you have your core ensemble for cooler weather, in your favorite neutral:
Some of these are easier to assemble than others; if olive green is your favorite neutral, you're not going to see yourself coming and going on the streets…
I've put together a few ensembles in more "business-y" looks, and others that are more casual. You can alter your personal neutral outfit to suit your preferences and your lifestyle!
All colors don't have to be absolutely dye-lot matched, but they should look as if they all woke up in the same closet together…
Honestly, if brown is your favorite color, I wish you endless patience; why there isn't more brown clothing in the world is an ongoing mystery to me!
Why yes, this black ensemble is drawn entirely from my closet! This is the perfect core upon which I should build…
Okay, now that we can clearly envision the core neutrals, let's see what kind of fun we can have with a couple of pieces of wine/burgundy/maroon clothing. (and a scarf, just to make the page arrangement asymmetric…)
To each of these pairs of outfits, I've added 5 more accessories: earrings, a bag, a pair of boots, a scarf, and a bracelet. These pieces can be moved around as you prefer…(you might notice, but I want to point out specifically, that Frye and Fossil have a LOT of nice leather goods in this shade…)
AND… if your birthday is in January, the lovely garnet is your birthstone. Garnets are the perfect stone for this color scheme, and they're never hideously expensive…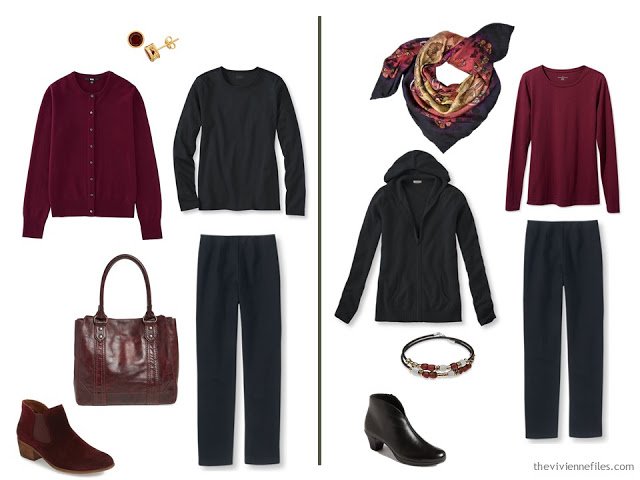 Earrings – Tiara; wine cardigan – Uniqlo; tee – L.L.Bean; pants – L.L.Bean; bag – Frye; wine boots – BP.;  scarf – Helen Ruth; cardigan – L.L.Bean; bracelet – Platadepalo;  wine tee – L.L.Bean; black boots – Munro
My thought is to take these same 6 core outfits and try all sorts of accent colors. Next up would be rust, then gold, then teal…. maybe plum….
And of course I could look into some bright colors…. AND some pastels….
What do you think?
love,
Janice