April 26, 2016
I had never seen this book in the US, although it's been available for years! But I saw it at the Pompidou Center in Paris and grabbed it right away – it's right up my alley…Below are links to the book in both English and French – links at Alibris.com. Alibris is a collective of private, small bookstores; I'd rather keep them in business than give that river in South America more money…
The section of the book that intrigued me first was one that linked a range of colors to certain personal or abstract qualities. I'm showing you the first half of them today, along with some ways that each color could be incorporated into your wardrobe.It's particularly thought-provoking to me that red is a symbol of force; it's by far my favorite accent color, and I don't consider myself to be at all forceful… hmmm…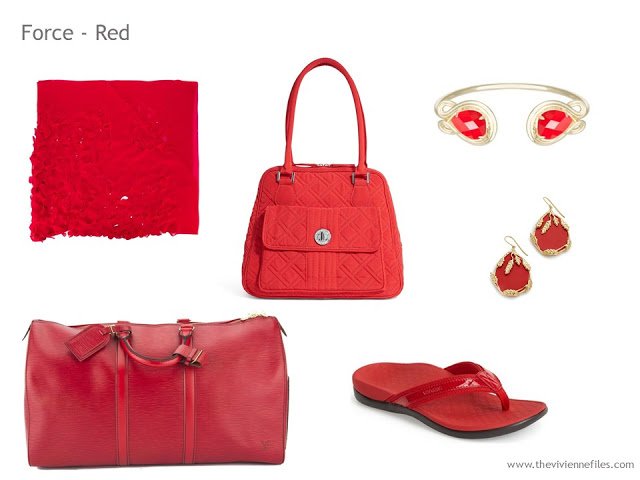 scarf – Maria Calderara; handbag – Vera Bradley; bracelet – Kendra Scott; earrings – Aurelie Bidermann; duffle bag – Louis Vuitton; sandals – Vionic
I love this bordeaux; it would be beautiful with so many neutrals. Like maybe camel?
And if you like this bracelet style, but not the color, it is available in 22 colors. Kendra Scott's website is very different from other jewelry companies, in that you can search by color. It's addictive fun…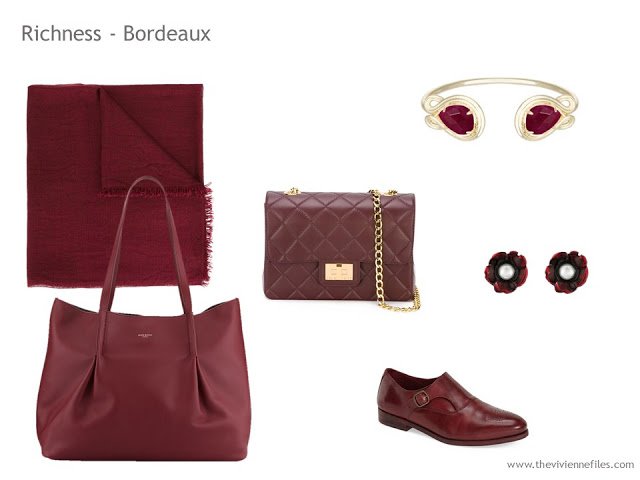 Scarf – Faliero Sarti; bag – Designinverso; bracelet – Kendra Scott; earrings – Oscar de la Renta; tote – Nina Ricci; shoes – Johnston & Murphy
And this – oh those shoes…. and the bracelet… sigh…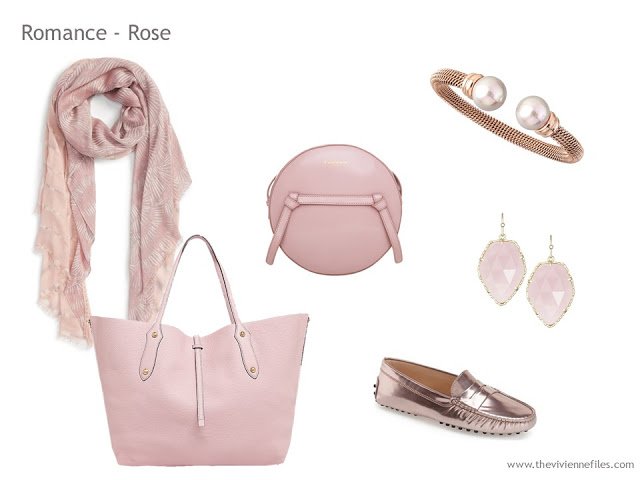 scarf – Hinge; round bag – Donatienne; bracelet – Majorica; earrings – Kendra Scott; tote – Isabella Collection; loafers – Tod's
This is certainly energetic, and really attractive for warmer weather.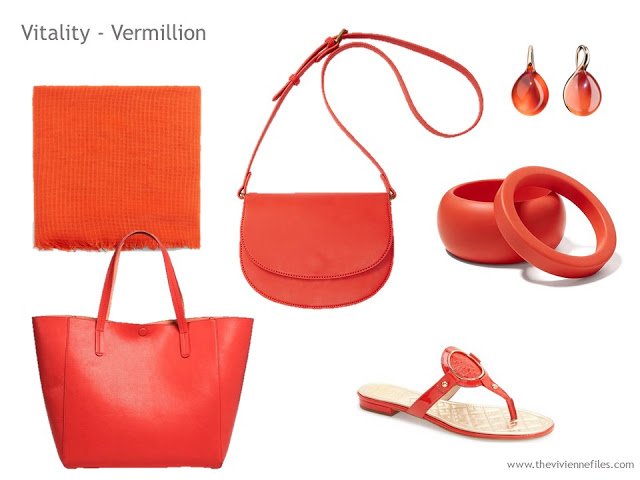 Scarf – Mango; bag – Loft; earrings – Pomellato; bracelets – Banana Republic; tote – Merona; sandals – Vince Camuto
These colors are way out of my normal range, but I find them lush and rich…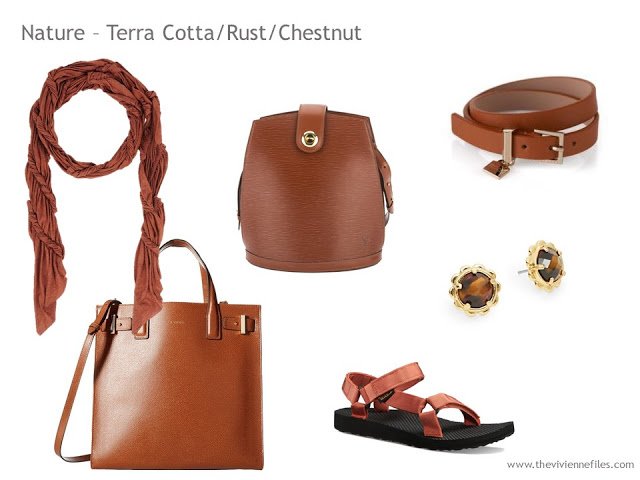 Twisted scarf – Alldressedup; bag – Louis Vuitton; bracelet – Hugo Boss; earrings – Kate Spade; tote – Lodis; sandals – Teva
In order to find things that were in the range as described in the book, I ended up searching for camel and then choosing the rosiest among the offerings. And the stone citrine was a good choice, too…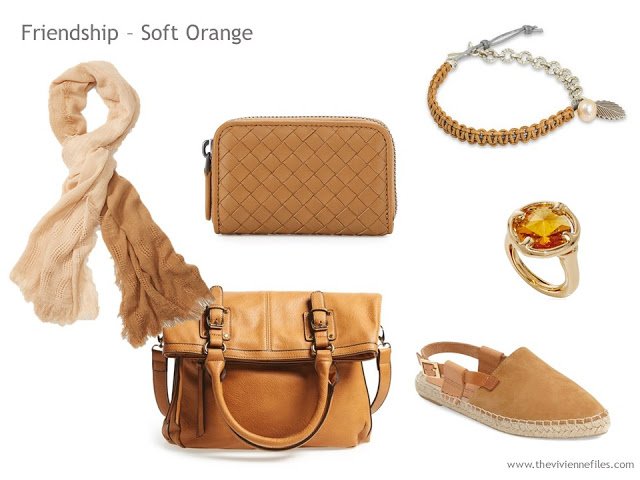 Scarf – Loft; tote – Sole Society; wallet – Bottega Veneta; bracelet – Siriporn; ring – Oscar de la Renta; espadrilles – Patricia Green
Peach is almost always easy to find, and goes beautifully with all warm colors, and with navy or grey. These shoes with a pale grey outfit would be perfect.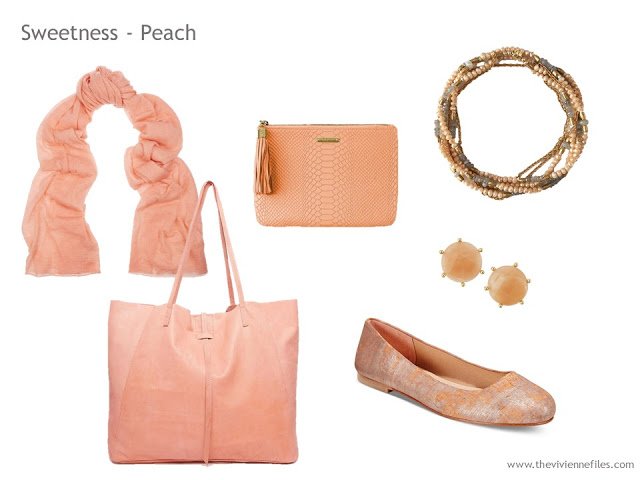 Scarf – Autumn Cashmere; clutch bag – GiGi New York; tote – Asos; bracelet – Terrain; earrings – Panacea; shoes – French Sole
3 shades of yellow! Oh heavens…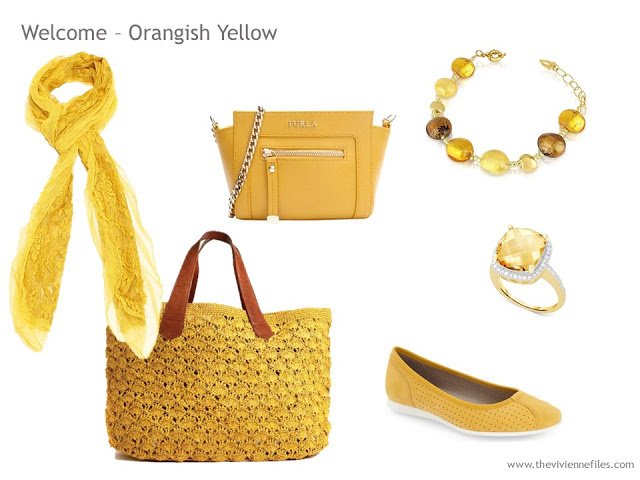 Scarf – Violet del Mar; tote – Mar y Sol; small bag – Furla; bracelet – Antica Murrina Veneziana; ring – Victoria Townsend; shoes – Ecco
From warm and rich to bright and cheerful…
(You will note that some designers seems to gravitate to certain colors. When you find someone who works in your favorite color, it's wise to keep an eye on their work, in case they come up with something perfect for you.)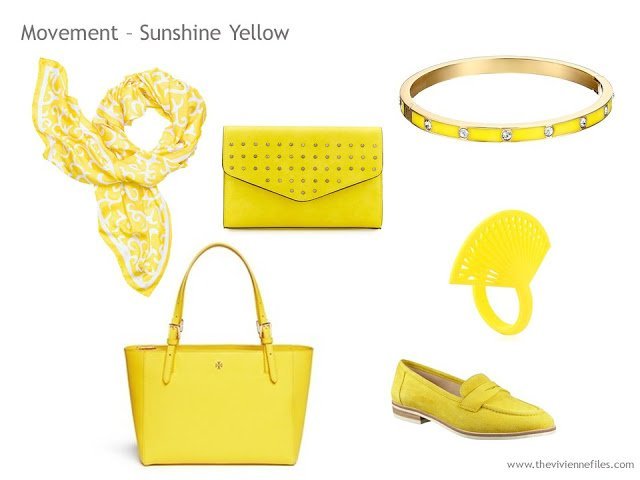 Scarf – Kate Spade; studded bag – Neiman Marcus; tote – Tory Burch; bracelet – Kate Spade; nylon fan ring – Vojd Studios; loafers – Nine West
And then on to softly subtle…
(the sandals are available in TWENTY-FIVE colors, just in case you're looking for a particular shade!)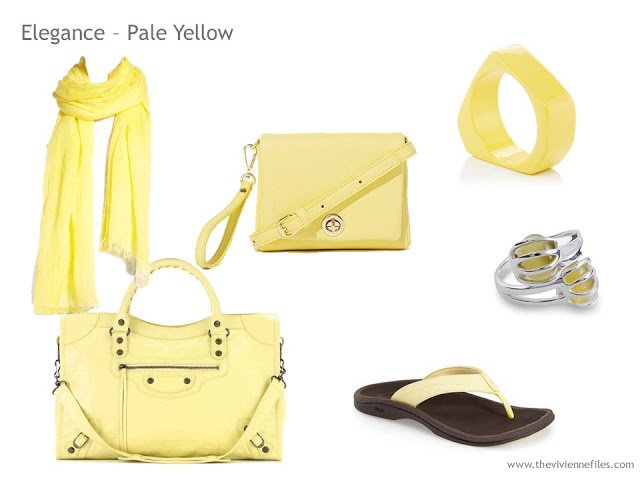 Scarf – Eileen Fisher; wristlet – Charming Charlie; resin bracelet – Marni; ring – Mahavir; tote – Balenciaga; sandals – OluKai
And 3 shades of green!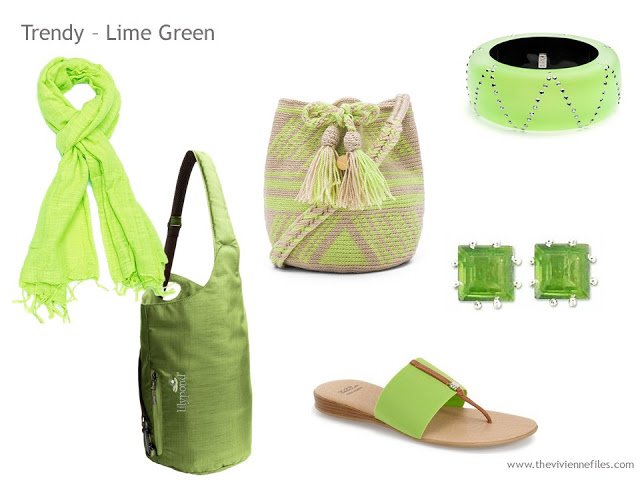 Scarf – Violet del Mar; sling bag – Lilypond; woven bag – Guanabana; bracelet – Alexis Bittar; peridot earrings – Bhavesh; sandals – Andre Assous
This is another accent color that just sings of warm weather, doesn't it?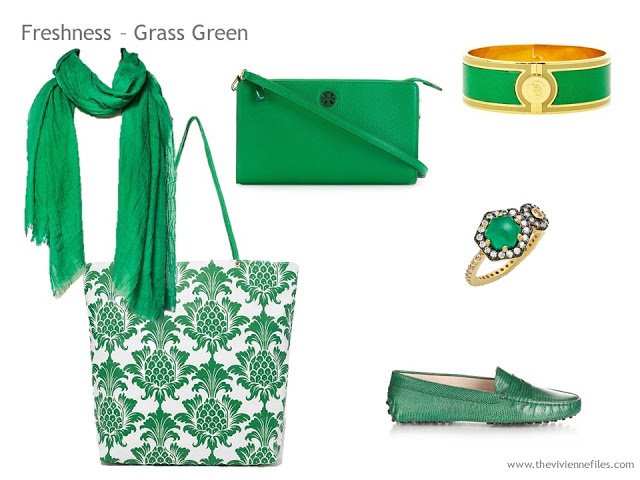 Scarf – Target; tote – Charming Charlie; cross body bag -Tory Burch; bracelet – Dooney& Bourke; ring – Freida Rothman; loafers – Tod's
Picture this with navy: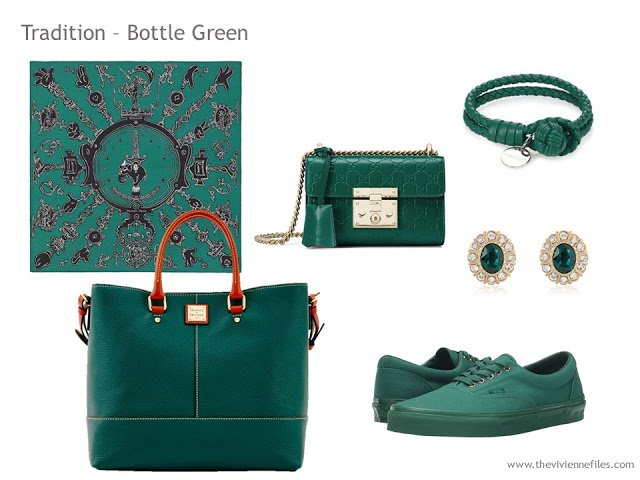 Scarf – Hermes Serio Ludere; shoulder bag – Gucci; tote – Dooney & Bourke; bracelet – Bottega Veneta; earrings – Givenchy; shoes – Vans
Tomorrow, if I can get it done, I'll share the other 13 colors they discussed in the book. I'm eager to know which colors are your favorites!
love,
Janice