It's a question that comes up all the time – I don't know what we're going to be doing when I get to: the conference, the reunion, the spa, the resort, that city I've never visited etc etc.
I thought about this while I was out of town… And I really wanted to stick with something versatile, like the "Whatever's Clean 13." But it needed a new look, or way of approaching, so I finally came up with this:
My thinking here was starting with a really "dressy-neutral" outfit, like a cardigan and pants. How could that be made more formal? One step up would be to swap the cardigan for a blazer. If I wanted to
really
get "gussied up," a sparkly cardigan would do it. And if I wanted to take things down a notch, swap the cardigan for a pull-over sweater.
I then did the same thing with the bottom half of the ensemble, and ended up with silk trousers, a skirt, the original trousers, and a pair of jeans. These eight pieces could all be worn together in every possible combination, so that gives you 16 possibilities. These range from the very dressiest sparkly cardigan and silk trousers (or maybe the skirt), down to the very relaxed sweater and jeans.
So THEN, you toss five different "tops" into the mix, also ranging from a really special red silk beauty, down to a simple striped tee shirt. Unless you're super-gifted in choosing things, some of these tops aren't going to go with every possible 2nd layer and bottom; I don't see the fabulous silk top with a cardigan over it!
I then added spaces where one could insert notes for anything that would go with outfits at various levels of formality, so if this is used as a shopping guideline, or for packing, nothing will be omitted.
This is what it looks like when it's empty: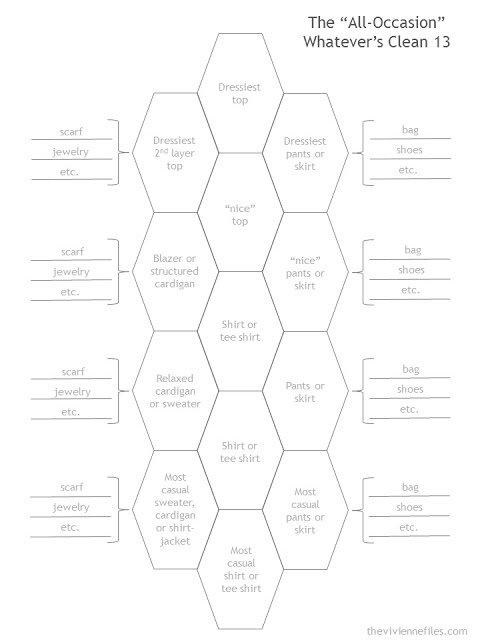 I immediately realized that the above wardrobe is a little bit… aspirational, in that a few of the pieces are expensive, and not necessarily something that many of us would wear at our absolutely MOST dressed up. So I tried the overall idea again, but this time using only pants, cardigans, and a sweatshirt. You could still go to a meeting with a lawyer or accountant based on this wardrobe, and certainly you'd be appropriate at almost any restaurant. But you've got a lot more "day to day" options here:
Here's the blank of the template – I think you can right-click on this and print it… If not, shoot me a note at [email protected] and I'll send you a PDF.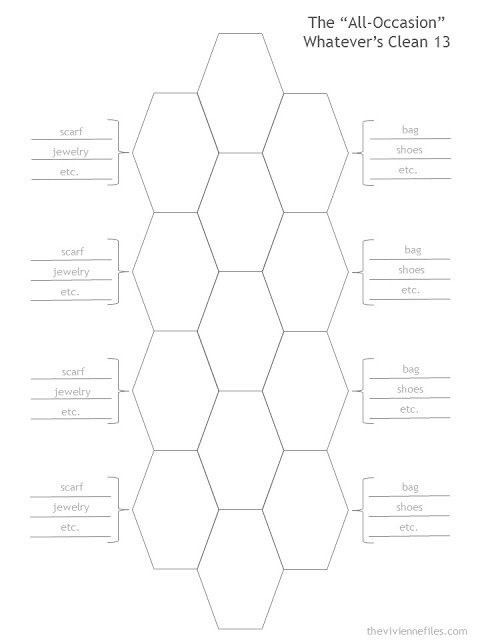 Are there any requests for other "all occasion" packing wardrobes (or capsule wardrobe) that you'd like to see?
love,
Janice