I had a wonderful time, no hesitations, and no conditions or qualifications apply.
Were things in Paris a little bit different? Yes, a little bit. As I said yesterday, my flight was very "uncrowded", so I anticipated smaller crowds, which was indeed the case. Maybe the thing that I noticed first was that there were French flags on display in unexpected places, including quite a few hanging from the windows of apartments in the city. In some cases, the flag was just a sheet of paper with the flag printed on it, taped to the window. I didn't see thousands of them – this wasn't something organized – but that made it all the more striking and moving when it was seen.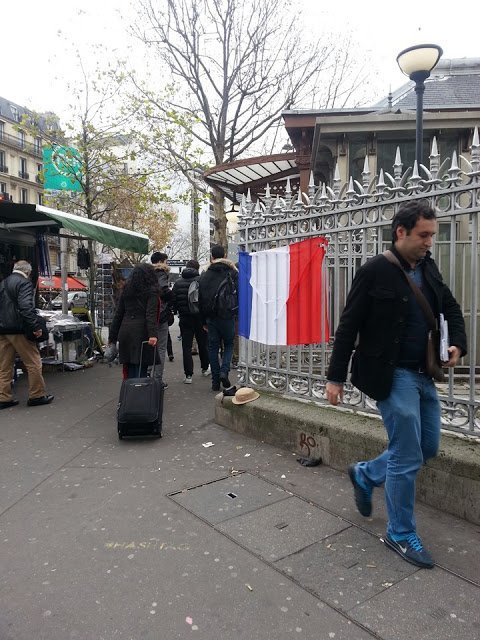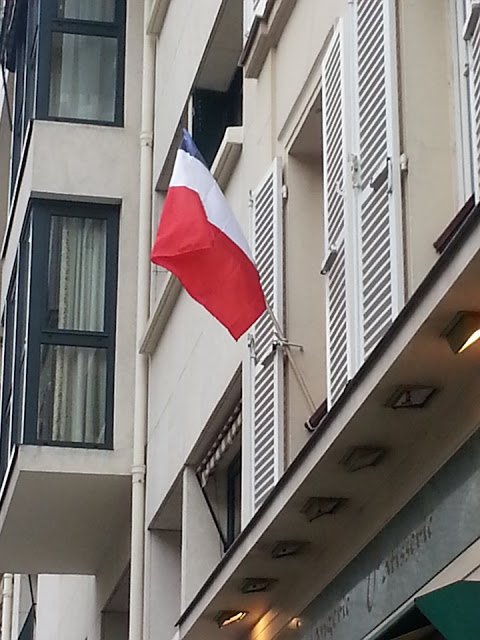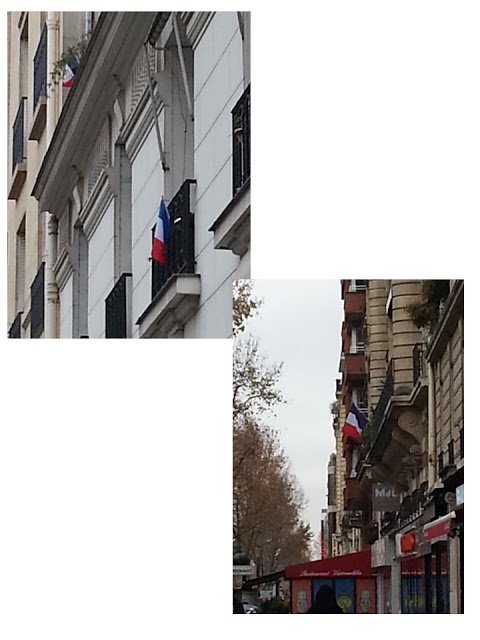 One of the things that I always do when I'm wandering around Paris (I walked over 50 miles in 3 1/2 days, so there was a LOT of wandering!) is to stop and read the historical plaques on the buildings. If you were ever remotely famous, and lived somewhere in Paris, there's a plaque on the building where you lived, commemmorating that fact.
But I am always touched to see the markers for those killed during the liberation of Paris in August 1944. The government of Paris had recent put flowers on many of these markers, more than half a century after the fact. In Paris, history is always right in front of you.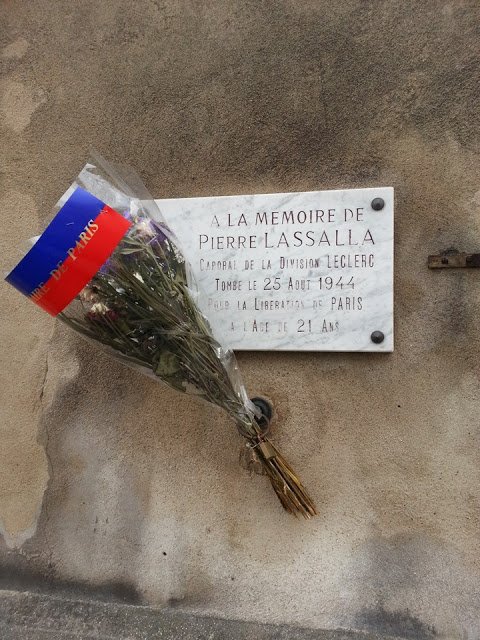 The engraving below explains why the wall has pockmarks in it – it was bombarded during the First World War, whle Clemenceau was working there. Some places, the wall might be patched and the experience forgotten. Not in Paris.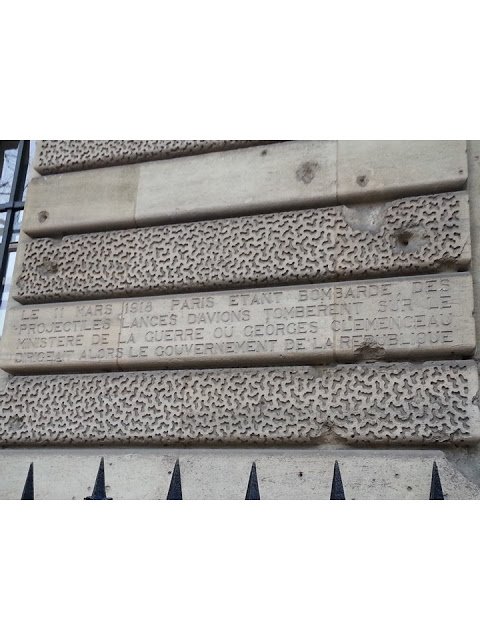 I saw a LOT of various signs and exhibits celebrating the Climate Talk meetings that were finishing up in Paris while I was there. There was a large exhibit outside the Hotel de Ville showing all sorts of initiatives in the Paris area to save energy. Also, lots of posters, and plenty of graffiti talking about the environment.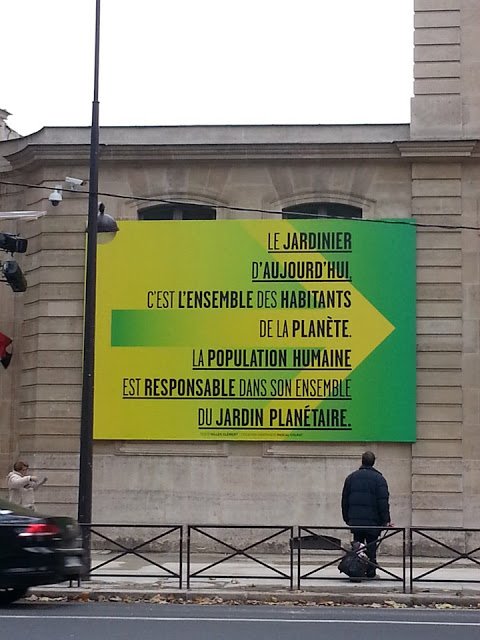 I'm sort of a hardened urbanite, so I find good graffiti and posters to be one of the delights of city life. Lest you thought that the French had all forgotten past American Presidents, you can rest assured that the upside-down book (with a changed title) lives on in someone's memory: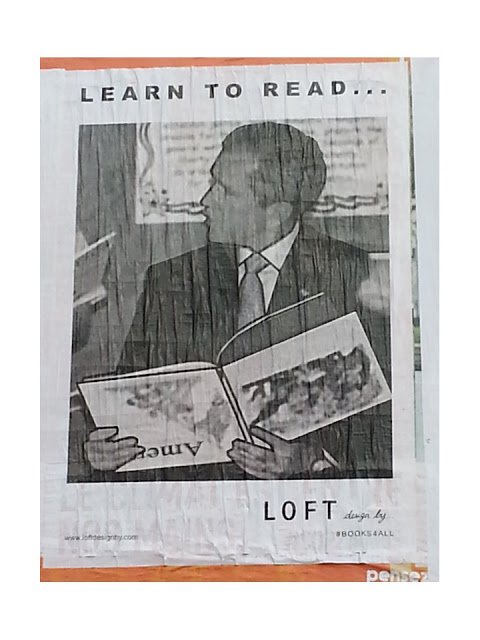 And I thought that it was striking that this was in English; if there's something that is a valid criticism of American media, it's certainly a lack of meaningful content.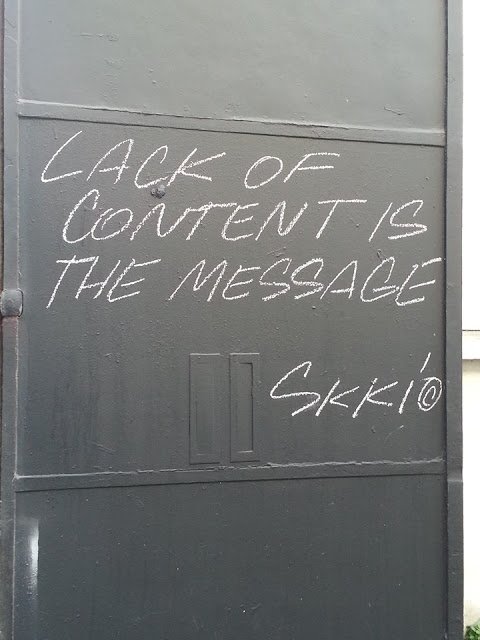 This very long text is a dissection of the "real" costs of consumer goods, starting with the price in Euros that is paid for a pair of shoes, and then walking through all of the hidden costs to humanity and to the planet that comes from overconsumption.
There are some people working very hard, and very seriously, to share their opinions!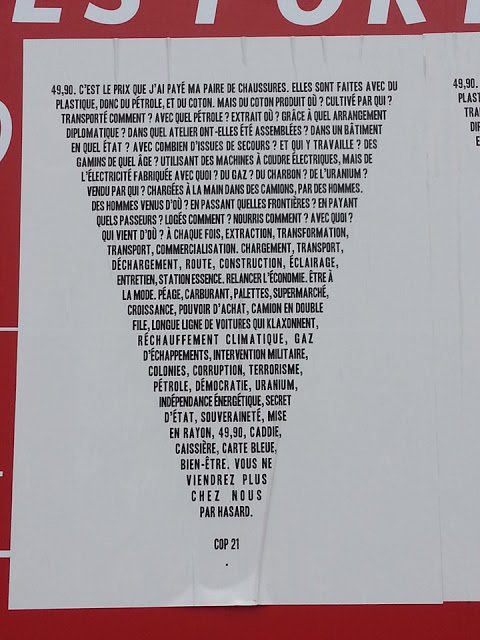 Lest you think that it's all grimly serious, there's always this kind of fun, confusing, slightly freaky delight hidden around a corner: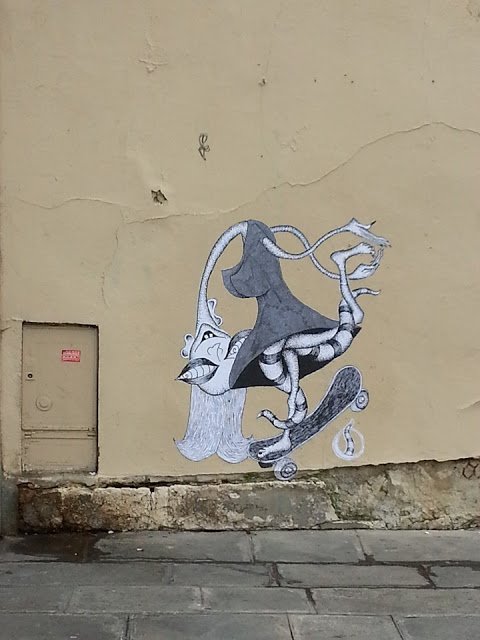 The first time I saw this, it was in a "rolling" sign along the street, and I thought that I had misread it, or not see the entirety of the message. This Latin phrase has been the motto of Paris, in use since the mid 1300's. It means Tossed, but Not Sunk. I thought it was lovely that J C Decaux has inserted this message in the middle of a number of "paid" advertisements.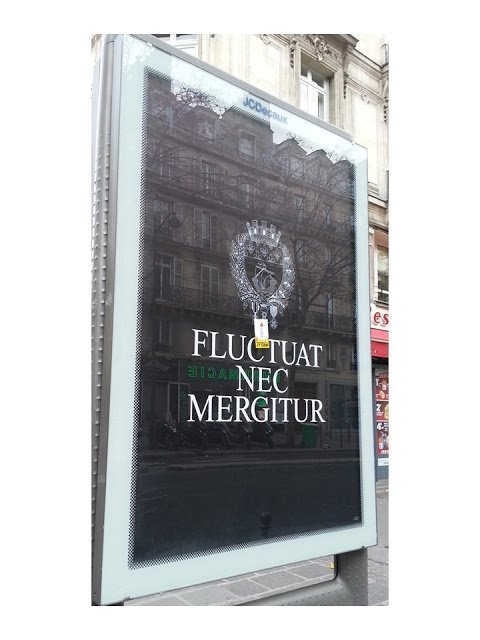 And yes, there were people with guns. Machine guns. I've now seen more machine guns than I'd ever seen before in my life, but I'm not in the military, and I've never gone to a gun show, so it didn't take more than 1 gun to accomplish that! Here's a soldier in front of Notre Dame: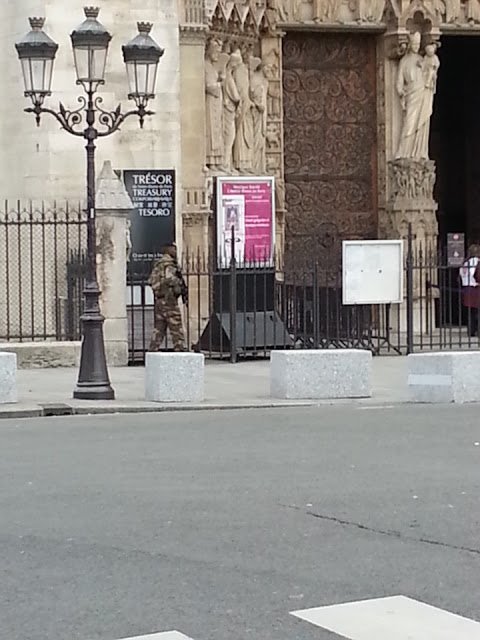 I didn't see hundreds of guns; I didn't even see dozens. And for some reason, I didn't find their present particularly upsetting – maybe because I'm accustomed to assuming that people around me might be carrying a gun, since concealed carry is legal in Chicago. (and the number of guns owned by residents of this city is stomach-churningly high).
When going into some stores, I was asked to open my coat and/or my bag, and a few places were using a hand-held metal scanner. Again, this is normal for going into sporting events o large concerts, so after the first time being caught off guard, it didn't seem like a big deal. The only place that this requirement caused a queue was Sunday, at Bon Marche, were at least 4 people were inconvenienced for almost a minute, waiting for their turn…
And most of all, I didn't feel gloom, nor pessimism, among the people that I saw, and with whom I spoke. Sometimes, maybe, a sense of resolute persistence, but always with cheer and a sense of humor. I would go back tomorrow!
I still have photographs of shop windows (OMG, the windows…), as well as some thoughts on what everyone was wearing, and where I stayed, and what I ate, and of course how much I ended up loving my Standard bag. So unless you're sick of hearing about Paris, I'm going to continue down the entirely unbusinesslike course of writing and tell you more in the next couple of days.
love,
Janice