Oh, did I window shop….But before I get to that, I have to answer a question someone asked, before I forget: What about my hair care needs when I travel?
This is it. I shower in the evenings, and then untangle my hair again the morning, re-dampen it, and scrunch it with my hands. Stick in a headband, and I'm done! I haven't got a lot of patience for primping; if I had to blow dry my hair every day, I'd shave my head….Makeup = lipgloss, and of course I'm wearing sunscreen. Done.
I have to suggest an very small, empty spray bottle to almost anybody who's going to fly. Yes, you can buy those Evian spray bottles that are going to outlive us all in a landfill, or you can get one of these and refill it after you go through security at the airport. Inexpensive, and effective for bringing a bit of humidity to the arid confines of the flight.
On to the store windows!
This window, to me, tells the whole story of shopping in Paris; each store management has their own point of view, and the entire store will reflect this fact. If you are looking for something in purple, the store shown below is NOT your destination. And they're quite content with that – it's just their vision for this season. There's a great deal of "being true to your own, personal, ideal" going on in Paris, both in the stores and on the backs of the people.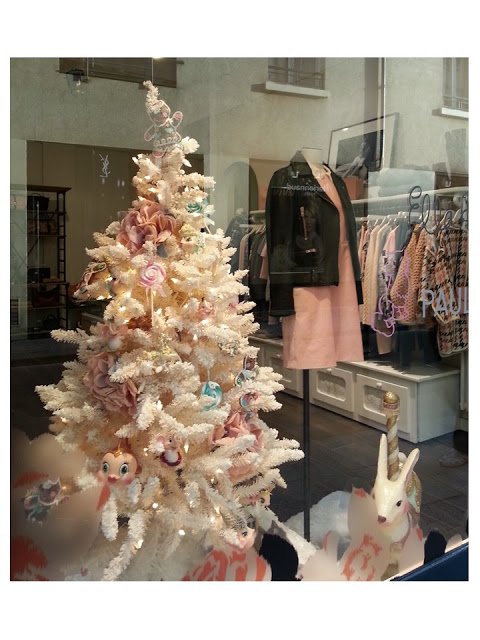 The holiday displays were delightfully, absolutely, positively beautiful. Some people have good taste and immaculate attention to detail: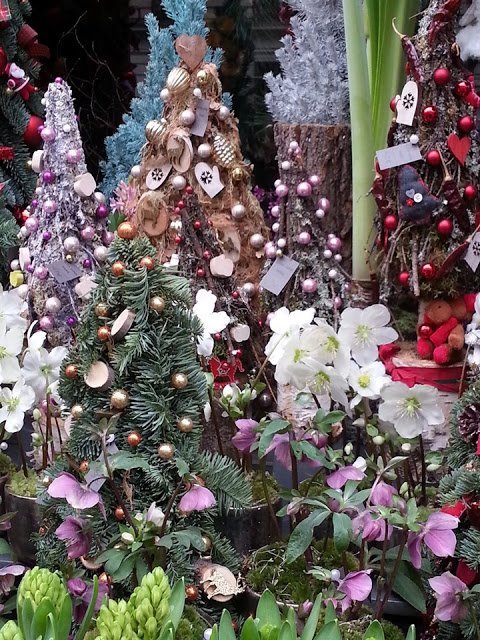 These holly plants were very small, but a cluster of them was eye-catching, yet really simple.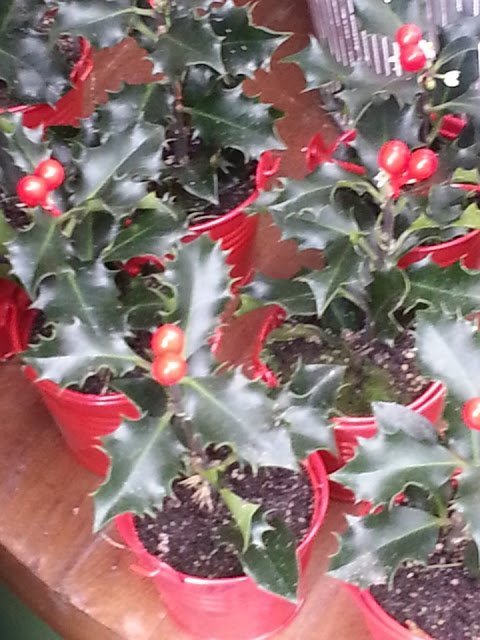 Paris has a TON of stores that are tremendously specialized. I saw a store that sold nothing but amber jewelery: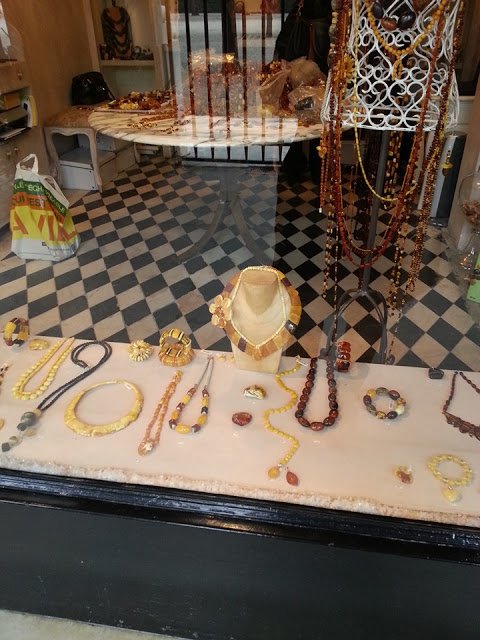 There are a LOT of stores that sell only hosiery. I had to pilgrimage to Mes Chausettes Rouge, in order to buy socks for Belovedest, but there are also a lot of stores that provide women with an amazing array of choices. You can see why I believe that the occasional accent sock in the perfect color is a nifty idea, once you've seen it in Paris!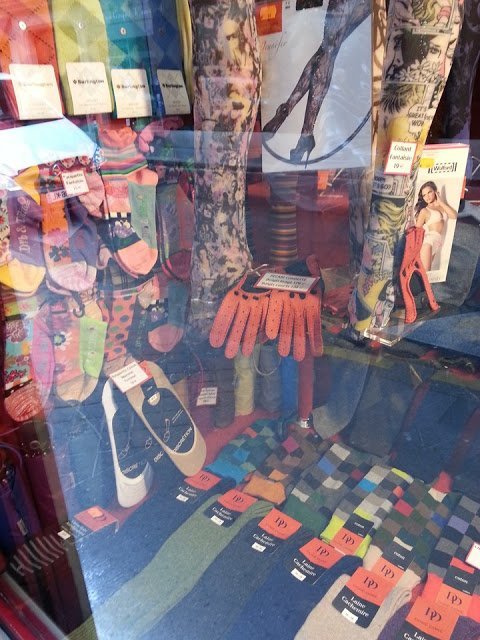 I don't know what amazed me so much about this particular shop, except that I've never seen so much netsuke in one place before.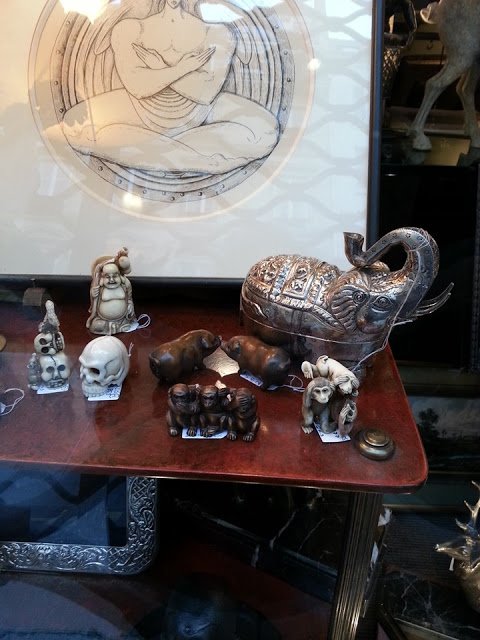 If you're ever planning a trip to Paris, definitely think long and hard about any really particular interests or hobbies that you have; you might easily find something astonishing in Paris. Especially if you're a collector of coins, or toy soldiers, or Hermes scarves, or…
The last day I was in Paris, I went to the Rue St. Honore, to visit Hermes and check out the entire street. It was just as delightful and ridiculous as always – a scene of frantic shopping, and out of control conspicuous consumption. But there was also a lot of creativity and beauty.
My favorite window, just because of the intelligence of it, was Lanvin. They were all staged to look as if they were people looking into the windows at Lanvin! In addition to being pretty bright, it gave you an uncommon view of the backs of garments: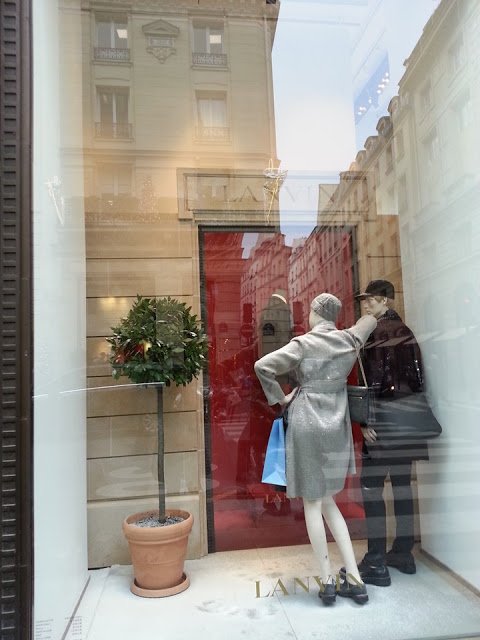 I have to apologize for the really strong reflections in a lot of these photographs – I tried to move around to minimize them, but had very little luck. But you get to see a lot of little glimpses of me!
The Hermes windows underwhelmed – they were very "laboratory" in theme, and felt completely un-holiday-ish to me…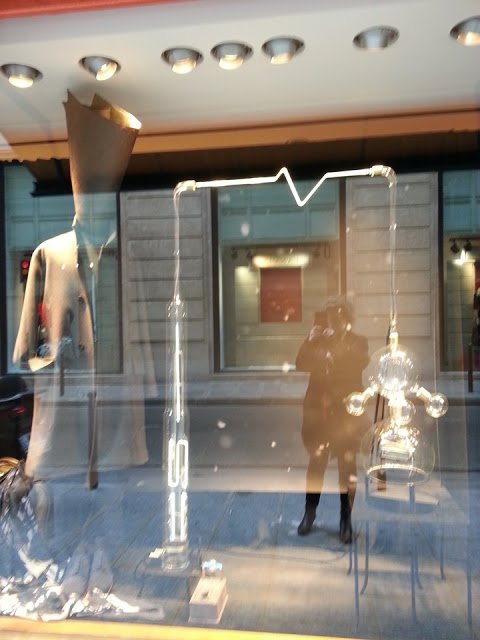 Yes, that's me…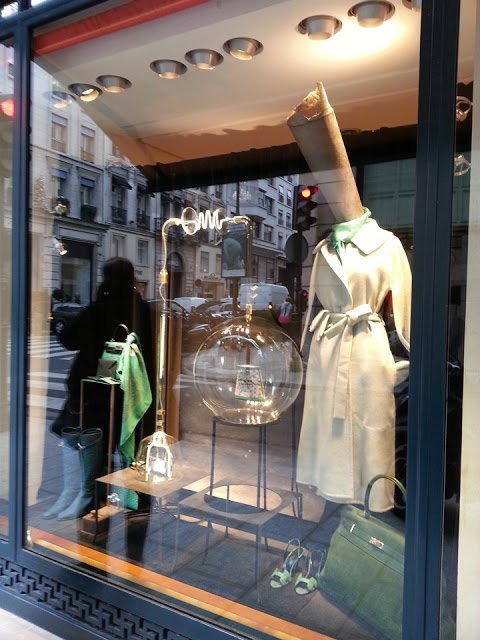 I went into both Hermes stores, but didn't buy anything. It was a lot of fun watching other people shopping for scarves; the staff in the stores makes a dramatic production out of FLINGING the scarves dramatically over the counter to show them to their best full benefit. It's particularly good that I went in, because a scarf that has tempted me online turned out to have no whappage at all in person. These things are good to learn….
I loved this window, but it's tough to see; it's the back of Santa's head, with his hand holding a tray containing Bottega Veneta merchandise. Another clever idea: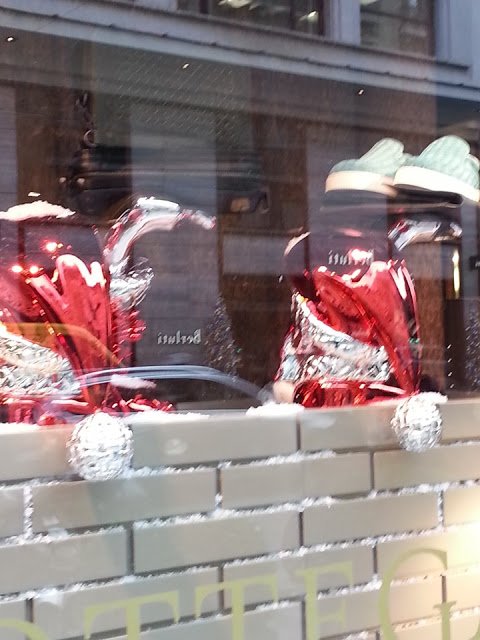 Gucci was very old-fashioned looking, but held a lot of merchandise, which is effective in its own way!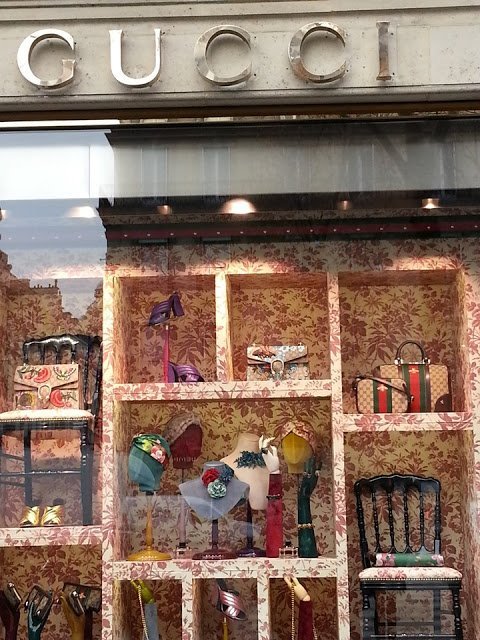 Mens clothing, including a scarf with an attached fur collar. I don't personally know anyone who would be wearing this…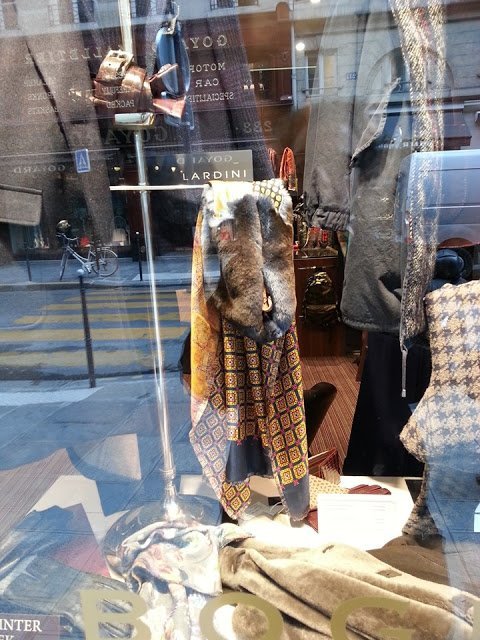 I'm really sorry that this didn't turn out – the stones in this jewelry are as big as your fist! Really striking, beautiful, only for a woman of great presence. (notice how curly my hair is; the weather was nicely foggy…)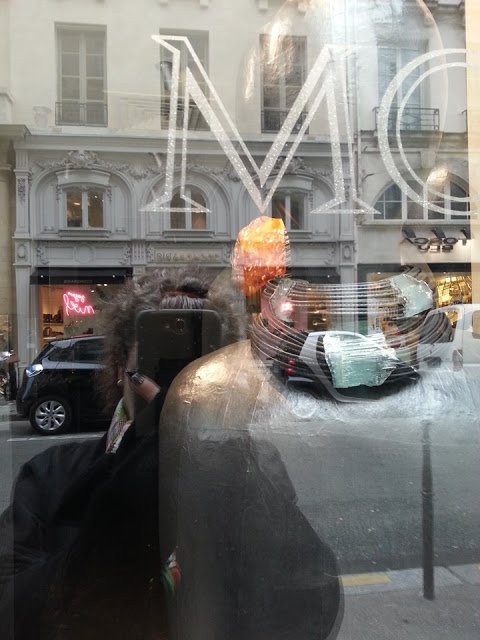 Belovedest and I often joke when we're going to Paris that it would be possible to find a handbag, or a piece of jewelry, in ANY pattern, design, or concept that you want.
Would you like a horse handbag?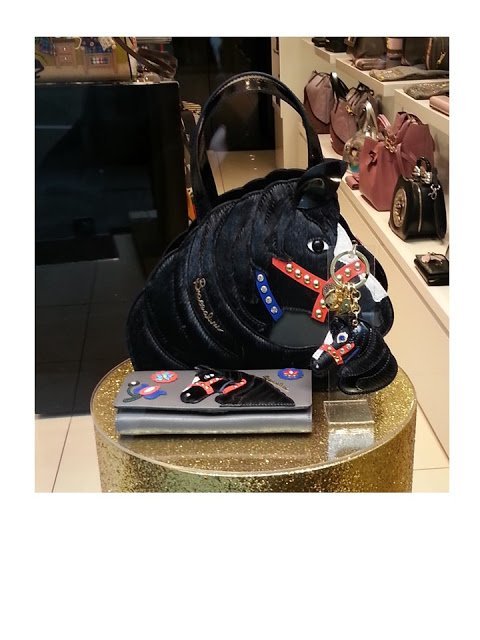 How about a bag that looks like a train car?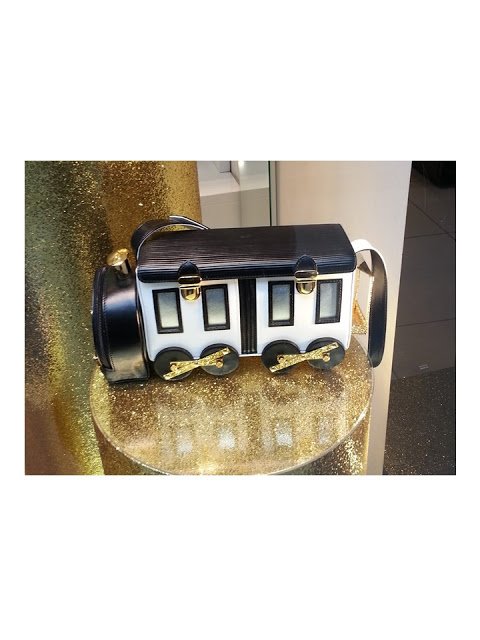 The handbag photos were taken at Bon Marche, the big Left Bank department store. They were open on Sunday, which is pretty genius in a city where quite a few things are closed that day! And it was a great day to be there, because they had literally dozens of artisans set up around the store, showing their work and customizing things for customers.
I was really tempted by a woman who made fabric handbags – really just squared off fabric sacks – with fairly large (3/4 inch?) grommets around the top. She had a really wide range of fabrics available, and a really WIDE range of braided cords, which she would weave through the grommets to serve as handles. I saw someone get a brilliant purple velvet bag with gold grommets and hot pink satin handles. It was divine… but it wasn't an environment in which I could easily take a photograph – I'm sorry!
You'll also see some really amazing, unusual things in the windows of Paris. Like these:
This is a tiara, or headband, maybe, with the skyline of Paris. You've got to love the Moulin Rouge… I kind of wanted to try this on, thinking that once it was buried in a couple of inches of curls, it might be a little bit less… out there…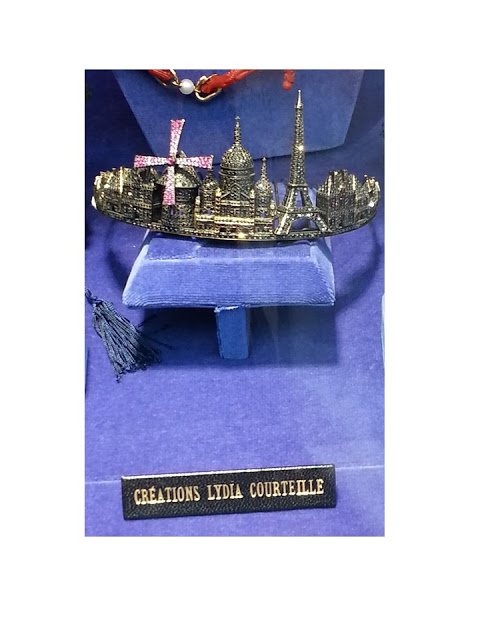 If I had been earlier in my shopping hysteria, I would have had one of these bags. I'm a sucker for pearls…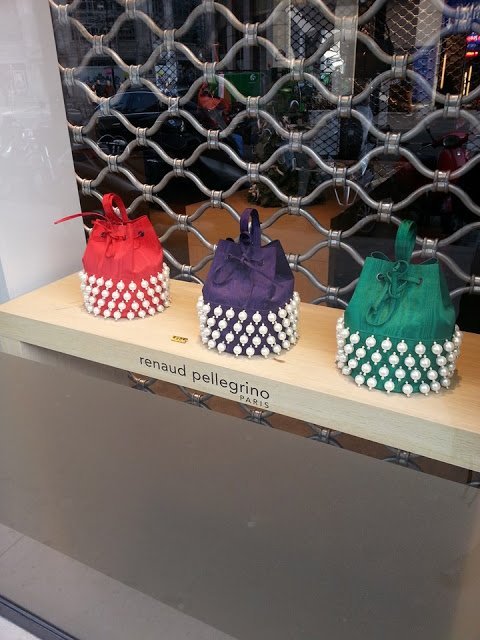 I still can't really put my finger on what it was about this window that caught my eye, except that it's just a lovely assortment of accessories for men, presented like a dessert cart.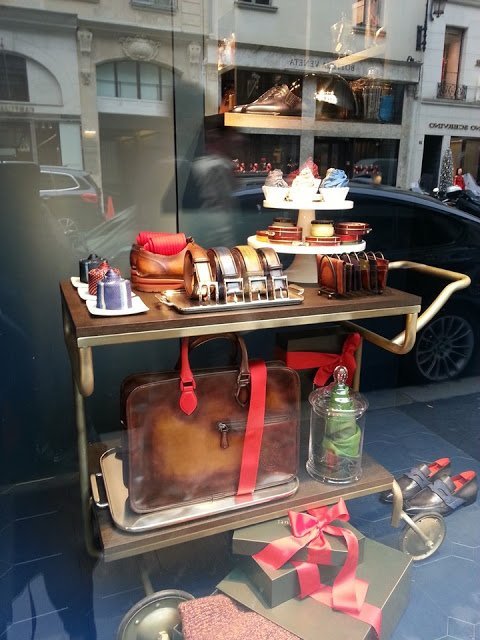 ANY jewelry you can dream up, you can find. I've seen earrings that look like little pea pods. Necklaces that were strings of frogs joined together. (metal frogs, not real ones!) You can truly indulge any strongly-held style preference you have! (I am currently wearing 6 pearl rings, 5 of which cost me 10 Euros total…)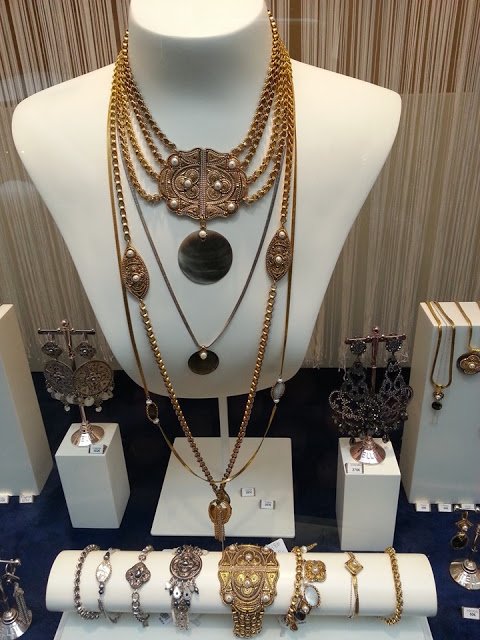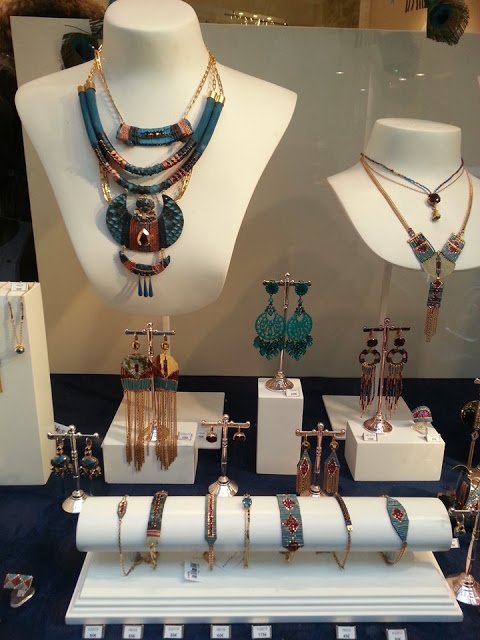 I DID see a couple of instances of really shameless cultural appropriation of Native American themes… and more Star Wars stuff than you could shake a stick at…
But have you been thinking of a simple, single stone necklace to nestle in the hollow of your throat? We've got those!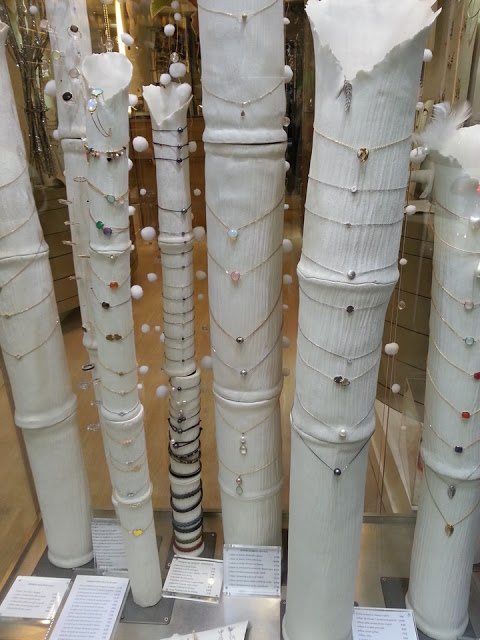 In the market for a few pieces of jewelry in mint green? You're covered!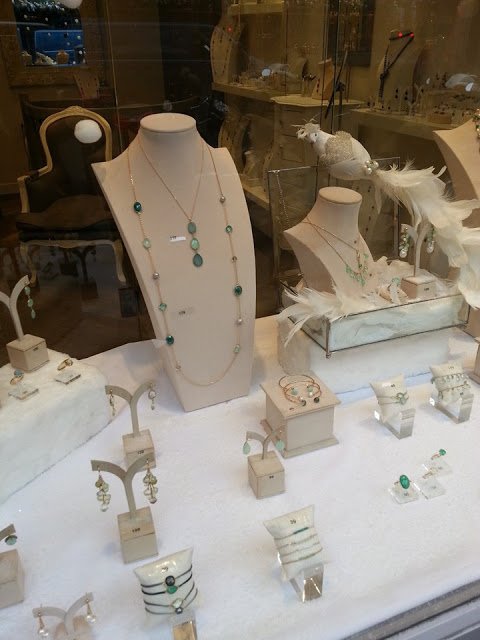 (I even saw a pair of mint green and gold, houndstooth print stilettos. What does one wear with such a shoe?)
If you like antique jewelry, you could easily leave Paris deeply in debt – there are literally dozens of stores like this one: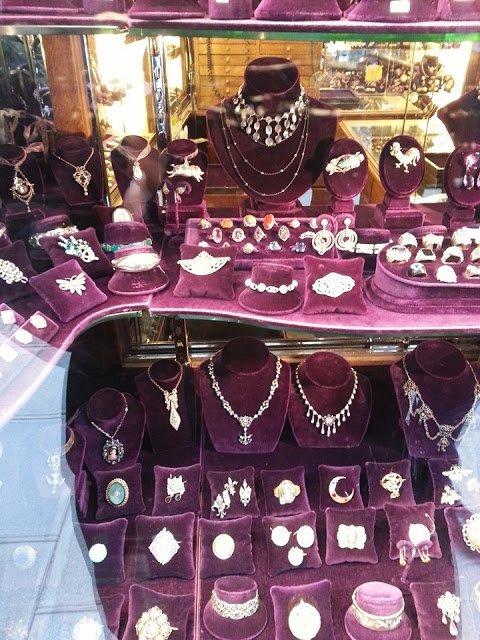 And I couldn't talk about window shopping in Paris without mentioning the madness they have for comic books, or BD's (bandes dessinees, in French). There are LOTS of stores, selling hardcover versions of a hundred different series of stores, to adults. I seldom see a child buying them, but often adults. The stories seem to be pretty adult-themed – not sexual, but mature.
There is also a robust market for figurines from all of these stories: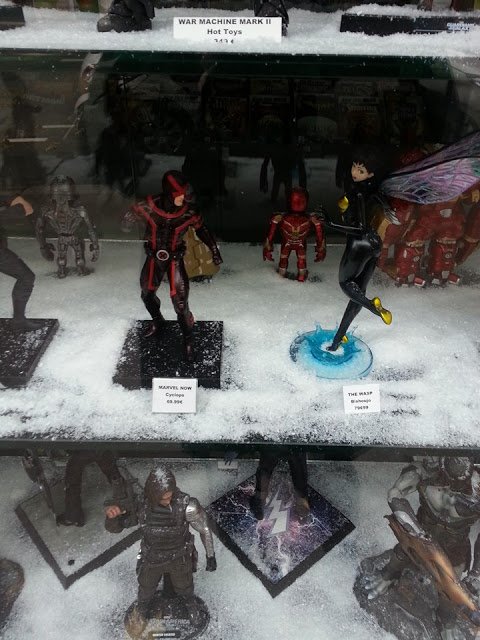 This Scarlett Johanssen figurine is alarmingly well made: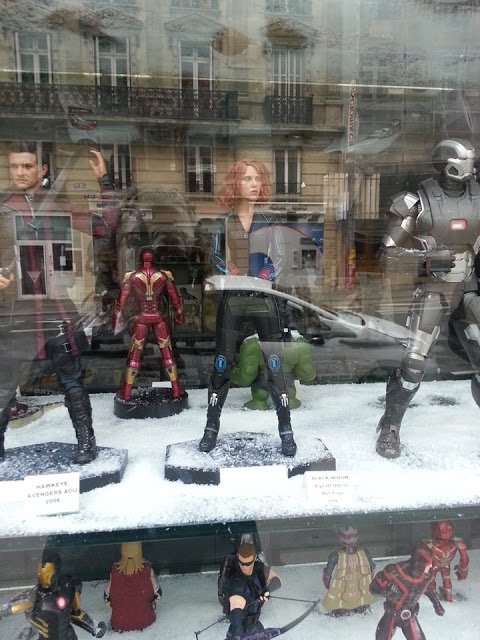 I'm still not done! Hotel, luggage, and food are still in my mind….
love,
Janice