December 21, 2015
Something I lose sight of, between visits to Paris, is the fact that there is so much really great art on the streets. This trip, I was enjoying the various lions I saw ornamenting and guarding the buildings!
While there were a lot of Christmas decorations all over Paris, they weren't as ubiquitous as they are here in Chicago. But some of them were really spectacular – worth the trip just to see them…
I saw some decorations that I thought were in questionable taste. I'm not crazy about fake snow under any circumstances, so flocked trees have never been my preference. But this just felt over the top:
And I took a couple of pictures that really lack much of any context, but still tell us something interesting about life in Paris. This photo, for example, was taken just to let Belovedest know that I'd arrived okay, and was ensconced in a seat at the Cafe de la Mairie. But this shows you a bit about cafe life – the guy who brought his laptop, and moved in, the people sitting and drinking wine before noon, and the people hanging out with the bartender at the bar…
I loved this – the idea that you can get a fast food burger with Bearnaise sauce:
Something nobody warns you about when you're traveling to Paris is that not only do you have to read French menus, but you often have to read them HANDWRITTEN. In handwriting unlike that you might find familiar. With foods you've not see on menus in your hometown… And the stuff on the boards is ALWAYS the best – it's the specials of the day. It can be one of the world's most excruciating conversations, but it's always worth having the staff try to explain to you what the foods are. They're usually very accommodating, and you can discover amazing new things to eat!
This is a really typical kind of blackboard to see. Pay special attention to any of the "Formule" – set price menus that give you choices from a shortened menu for a VERY advantageous price. Again, this can often be special foods of the day or season that they're featuring.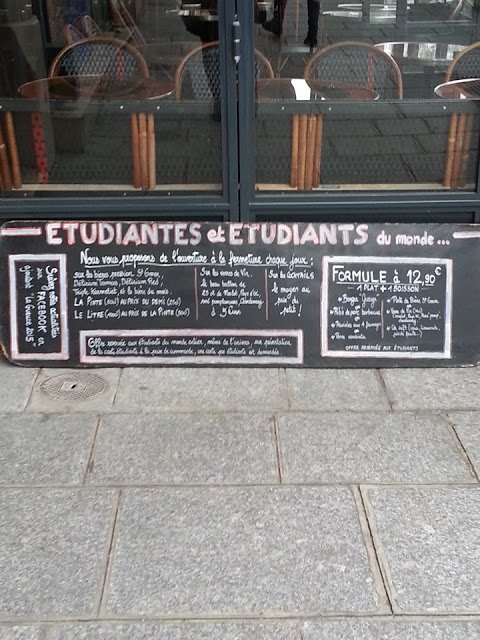 Yes, people will eat outdoors until they absolutely can't anymore. Most cafes have outdoors tables with varying degrees of protection around them and/or heating fixtures. This Le Pain Quotidien had a full-on plastic covering that created a small room outdoors, which was quite cozy…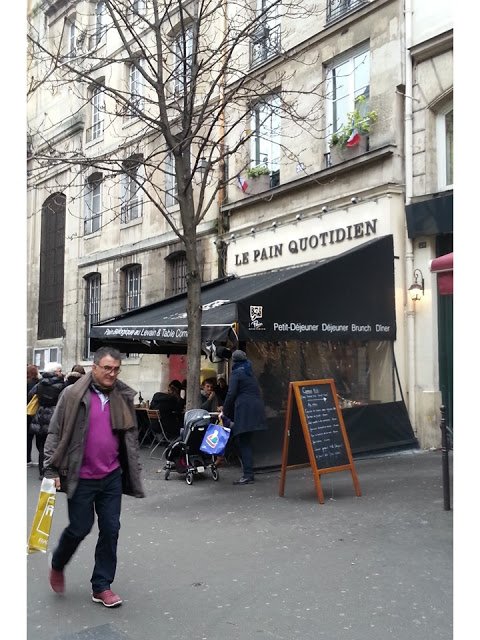 Another thing you won't necessarily know until you get there is the wide variation in the width of the sidewalks, and the strange things that go on… Some sidewalks are literally less than a meter wide; you're walking single file, and often in the streets.
There are quite a few really wide streets, often with metal posts stuck into them to keep drivers off of them, or to control the drivers that ARE on them.
Yes, people park on the sidewalks, some places, some times. Motorcycles can be on the sidewalks at any time…
And be alert that there might be water running in the gutters at any time, even if there hasn't been rain for quite a while. Actually, it's MORE likely if there hasn't been rain – the Parisians are very good about cleaning their streets. There's an extensive staff of people running around the city (bright green uniforms!) sweeping and cleaning streets and gutters. Very nice, as long as you're careful not to walk into a surprising waterflow where none was expected!
(none of this means that you don't have to be alert for dog… traces…)
What were people wearing? I have more to report on this subject, but starting with outerwear. The first 2 days I was there were relatively warm – upper 40's to lower 50's Fahrenheit. EVERYBODY was wearing a short, high-collar, relatively lightweight quilted jacket. It looked like Uniqlo had taken over the entire city and uniformed them appropriately!
Those who weren't wearing Uniqlo or similar quilted jackets were wearing Barbour. You could see the Barbour logos, most of the time, but even in the absence thereof, the style was pretty consistent – below the waist, quilted nylon or waxed cotton, somewhat equestrian in feel. I can vouch for the quality of these jackets, as I've had a couple of ages, and they will NOT wear out…
The last day I was in Paris was simply cold – a few degree below freezing, with a consistent wind! The lightweight quilted jackets vanished from the streets, to be replaced by hooded parkas, with fur trim. REAL fur trim, as nearly as I could tell:
I still have a few more photographs – my hotel room, mostly, and more observations about what I saw people wearing, and just some other general silliness that stuck in my head. So I'm not quite done yet writing about Paris!
love,
Janice