December 3, 2015
Taupe is SO elusive, and can be interpreted in so many ways! But to me, taupe means a greyish beige, that's sophisticated and subtle.I found all four garments today at L.L.Bean. It's great to be able to find multiple pieces in a difficult color in 1 place – it improves the chances that the garments will match or at least blend nicely.
Some of you have made it very clear that you think Bean is terribly unsophisticated and boring, but I find some of the nicest, best-made, most classically styled clothes there, at prices that don't require missing a mortgage payment! We can't all wear runway designer clothes… You are free to replicate these looks at much higher prices if that's what you prefer.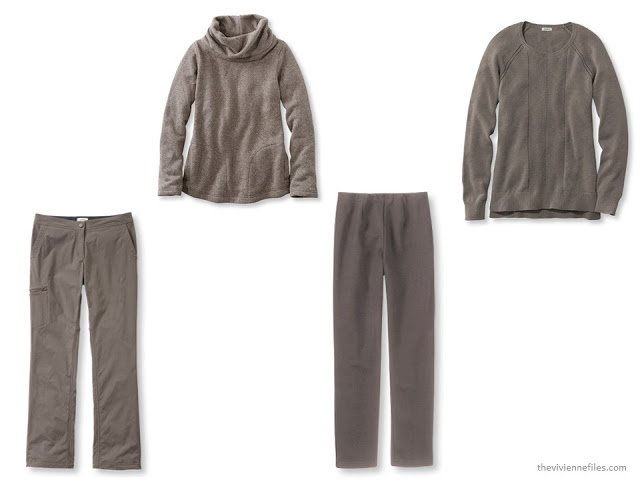 trail pants – L.L.Bean; cowlneck top – L.L.Bean; trousers – L.L.Bean; crew sweater – L.L.Bean
Neutral colors really take on a whole new look when paired with taupe – the scarves really make these flow, but you could easily juxtapose the colors on their own…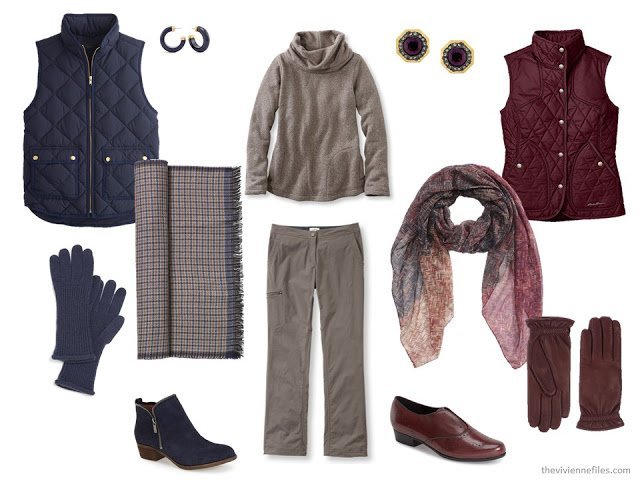 navy vest – J. Crew; navy hoop earrings – Chico's; plaid scarf – Johnston & Murphy; navy gloves – Halogen; navy boots – Lucky Brand; red earrings – Louise et Cie; dark berry vest – Eddie Bauer; scarf – Tasha; maroon gloves – Orciani; maroon laceless oxfords – Munro
Bright colors are challenging with taupe, because they can appear harsh unless handled with care. I've been trying to find a nice yellow accent to use, but I can't find a yellow vest that isn't (1) terrible quality, (2) photographed in a way that I can't use (i.e. on a model doing some bizarre pose), or (3) a garish and ghastly shade of yellow that is unwearable by most people, and un-coordinate-able by me. (spellcheck just threw in the towel…)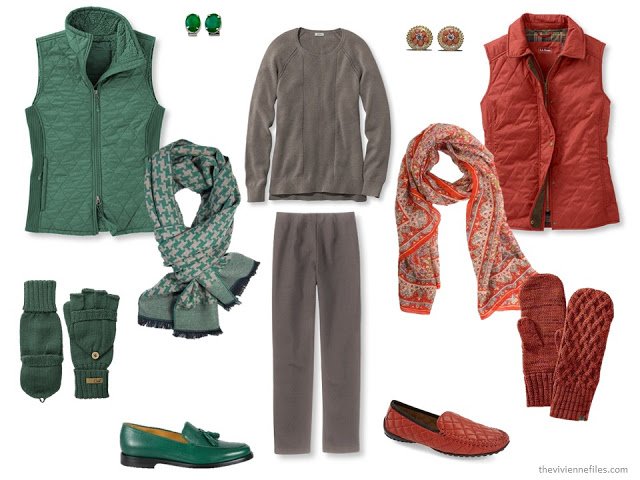 Green vest – L.L.Bean; green onyx earrings – Alok Jain; houndstooth scarf – Dibi; green mittens – Coal; green loafers – Paul Smith; orange earrings – Marlyn Schiff; rust vest – L.L.Bean; paisley scarf – Gretchen Scott; rust mittens – Merrell; loafers – Robert Zur
Muted colors and taupe are made for each other – any color with a touch of grey blended into it will work well here.And when you're looking for scarves, don't forget to check museum shops – the floral scarf below is from the National Art Gallery! Gallery scarves tend to be well-made and very reasonably priced, plus you know that your purchase helps support the museum – win/win!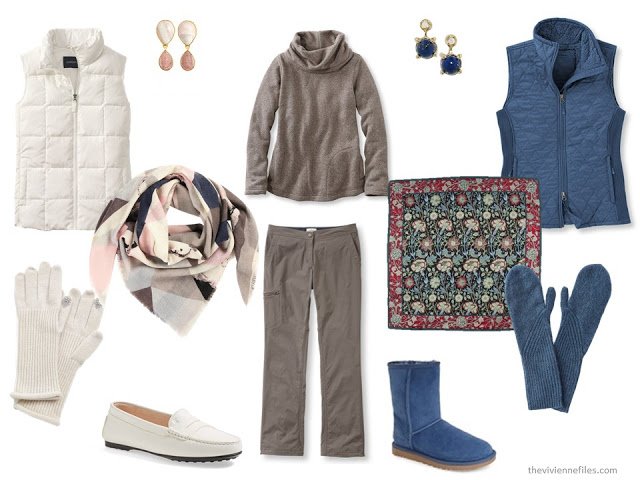 Ivory vest – Lands' End; earrings – Heather Benjamin; geometric scarf – Becksondergaard; cream gloves – Halogen; ivory loafers – Tod's; blue earrings – N+A; dusk blue vest – L.L.Bean; scarf – National Gallery of Art; blue mittens – Acne Studios; boots – Ugg Australia
Pastels work nicely here – I was a little bit surprised! And I wanted to include a solid-colored scarf here, just to show that it looks great, and is always an option to consider. If you haven't bought my holiday gift yet, definitely consider those metallic loafers!
But seriously, if you're looking for jewelry for holiday gifts, check out Novica, but do it soon! Much of their merchandise ships from the country of origin, and you want to allow for ample delivery time before your gift-giving event…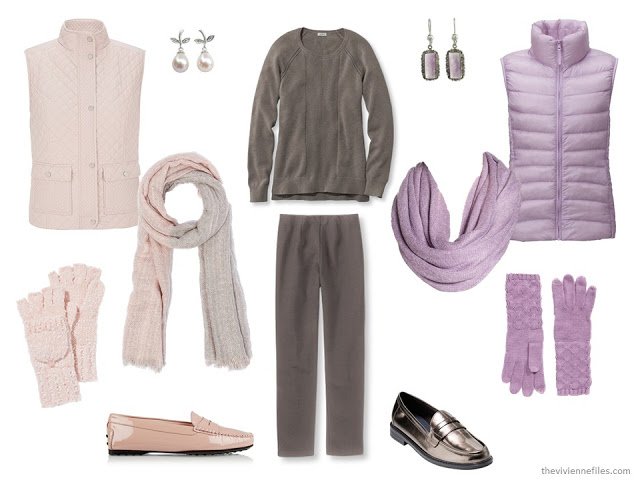 Blush quilted vest – Viyella; pearl earrings – Matta; marled scarf – Charming Charlie; blush gloves – New York & Co.; patent loafers – Tod's; lilac jade earrings – Zandra Lorena Sajbin; lilac vest – Uniqlo; infinity scarf – Echo; gloves – Echo; metallic loafers – Cole Haan
I am still looking at a few more color options – I will do as many as I can, within the limits of being able to find appropriate "core" garments with which to work. I never want to let you down, but you already know that!
love,
Janice