I particularly love working with menswear – their garments are so beautifully designed and well made that it's gratifying to put things together into outfits…For a warm weather trip, I'm still including a blazer, cardigan and sweatshirt. Maybe it's from living in Chicago, but I find that there's no destination that doesn't, from time to time, require something warm. At a minimum, the blazer or cardigan comes in handy when you want to be more "dressed" for some activities. And if you never actually
need
your sweatshirt, that's good!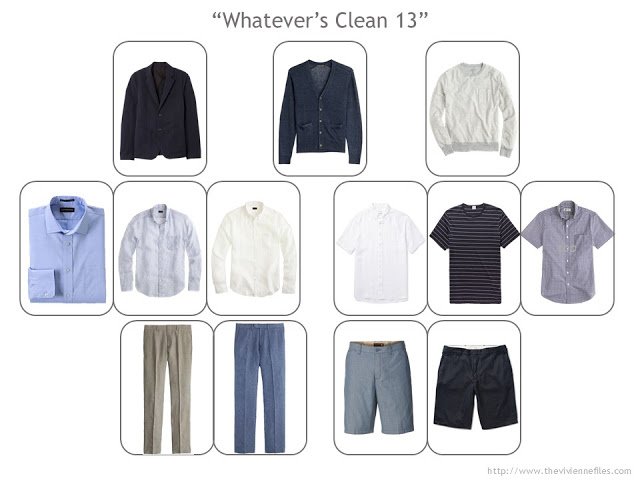 This starts out like any other menswear wardrobe, but the blazer is cotton, and unstructured (i.e. unlined, but still meticulously finished inside.) The trousers are linen, and the tie is a lighter-weight fabric and overall "look." But you still need this kind of look for a lot of vacations; unless you're going to a tropical destination (about which I know NOTHING), a blazer and dress shoes will get you into virtually any place you want, sort of a black-tie event!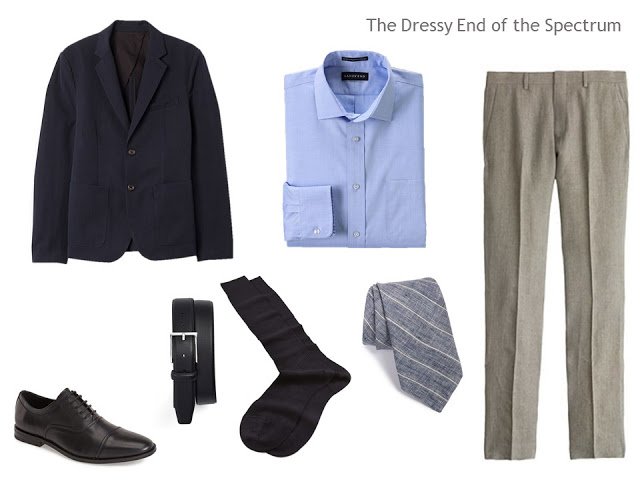 Navy blazer –
Steven Alan
; black oxfords – Calvin Klein;
belt – Nordstrom;
black over-the-calf socks – Pantherella; blue shirt –
Lands' End
; linen tie –
Todd Snyder; linen
trousers –
J.Crew
More linen! I'm a big fan of linen for hot weather, although it can wrinkle atrociously. If the humidity is high enough, the wrinkles will fall out…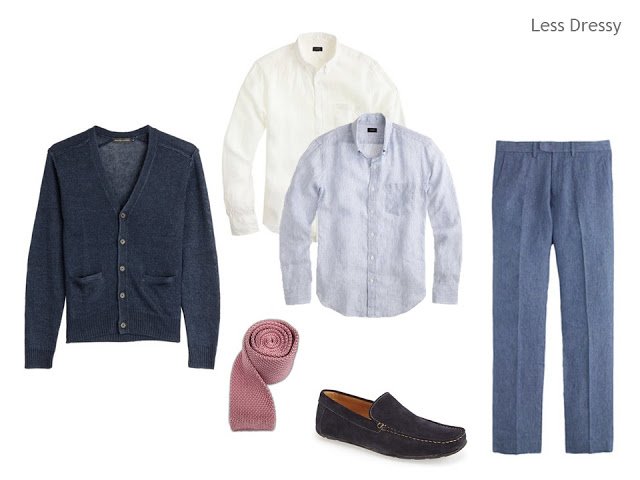 I have a really strong personal dislike for cargo shorts, and for clothing with writing on it… If you're in a city or town specifically to attend an event that suggests a garment with a logo, then go for it. (I will definitely be wearing an Irish rugby jersey when I'm in Wales next month!). But I think it looks much nicer to avoid these garments for vacation wear. A pink belt? I tossed this in to show one way in which a touch of whimsy and humor can be introduced into an otherwise conservative wardrobe. And I like looking at men's legs well enough to be a big fan of no-show socks!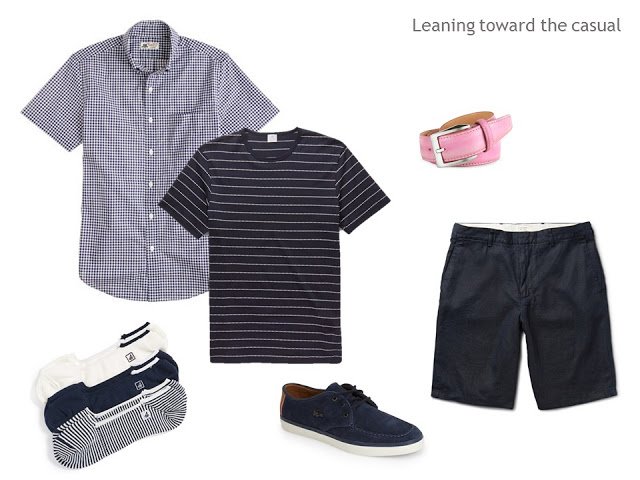 socks – Sperry; suede
sneakers – Lacoste; linen shorts –
Club Monaco
Another pair of shorts, a simple short sleeve linen shirt, and a lighter-weight sweatshirt finish off our 13 pieces. These are easy to wear with virtually anything else in your suitcase (except maybe shorts with the blazer are a bit much…)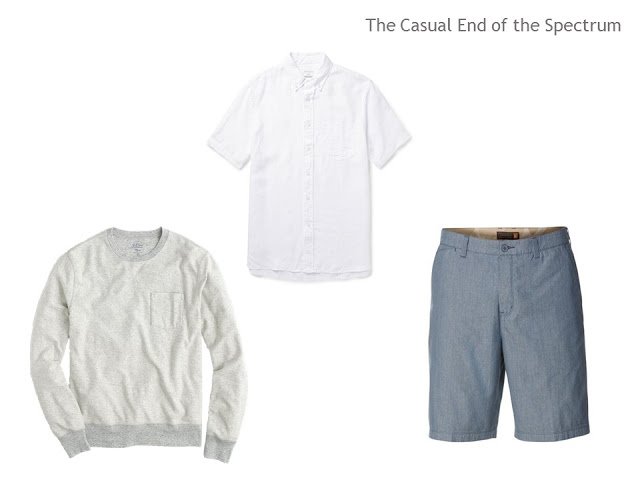 This has a lot of possibilities: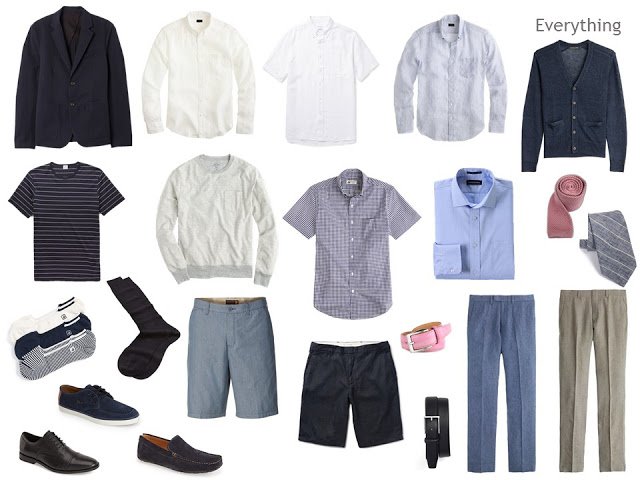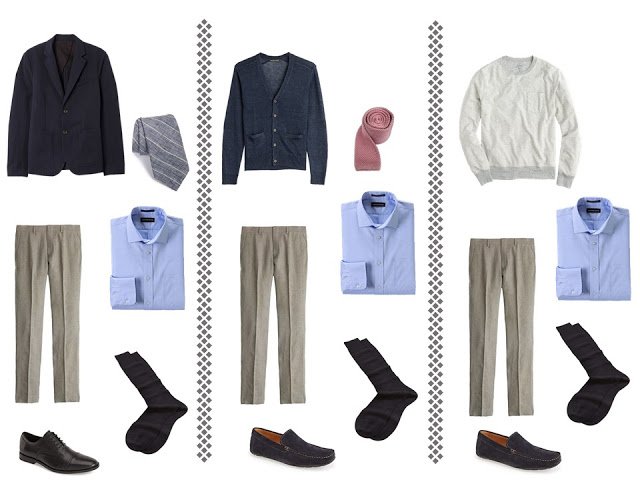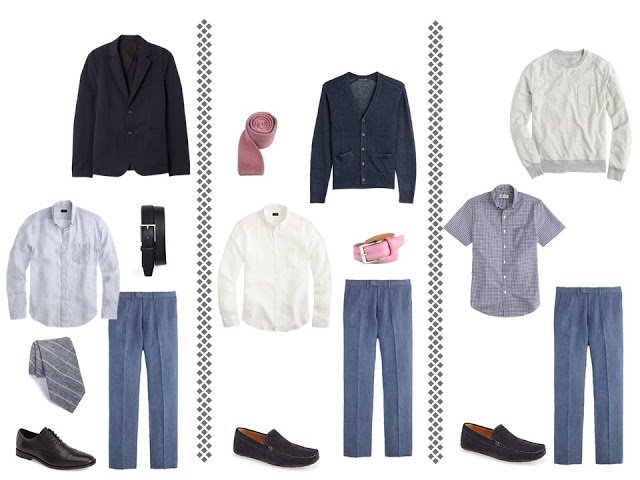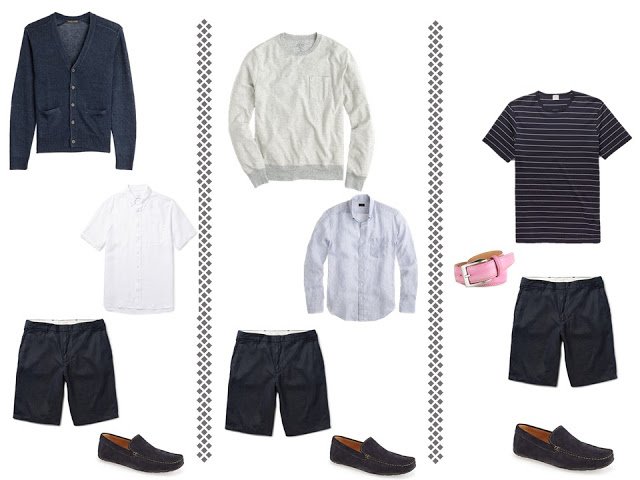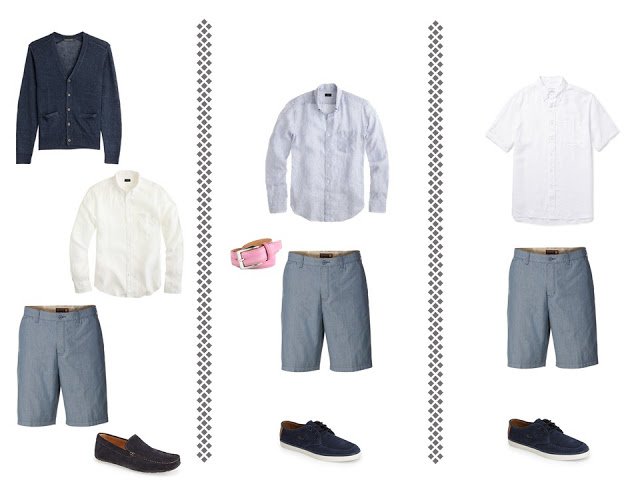 I want to do this one more time, with warm colors for warm weather. If only I could just toss these things into a bag and drag Belovedest off for a few weeks….
love,
Janice