Two people sent me this list, from a well-known magazine, asking if I thought that the items included on this list were things that they should consider buying.Oh, me and trends…. it's a conflicted relationship…
On the one hand, I don't think we should EVER let ourselves be dictated to in terms of what we buy. Unless someone else is going to flat out GIVE me something, I will make my own purchasing choices. And I think there's something inherently self-defeating about chasing trends: you spend money that you probably shouldn't waste on things that are, by definition, going to be obsolete in a short period of time.
That said, I think that unless you're a very famous poet, you should try to look as if you're somewhat in touch with current appearance standards. If you're 6 feet tall, and a poet or other artist, you are free to rock the turban with veil to your heart's content!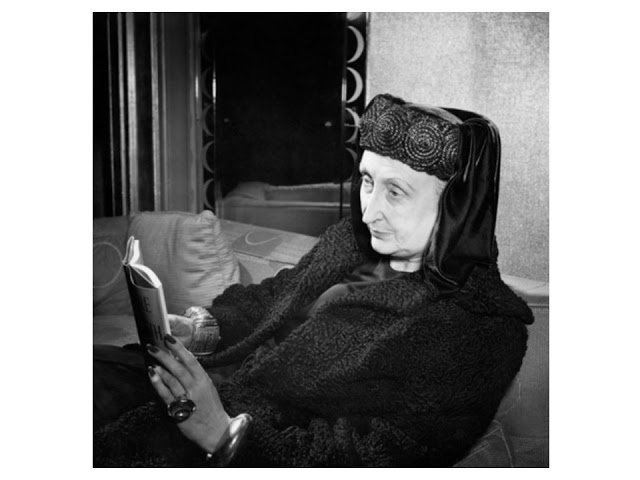 Dame Edith Sitwell, photograph by Cecil
Beaton
Frankly, some of the things included on this list aren't particularly trendy…Defining just exactly WHAT a trapeze bag IS can be difficult – Google the word, and bags of all kinds of shapes come up! But I think most people are thinking of the bags on which the end panels "stick out" like wings… To my eye, it just looks kind of like an over-stuffed bag!
But there's nothing about these bags that will scream LOSER if you carry it for more than one year. If you have a serious "coup de coeur" for one of them, you can be comfortable knowing that you'll be able to use it for a few years. Plus, they're available at all price ranges, so you don't have to drop the mortgage payment on a handbag.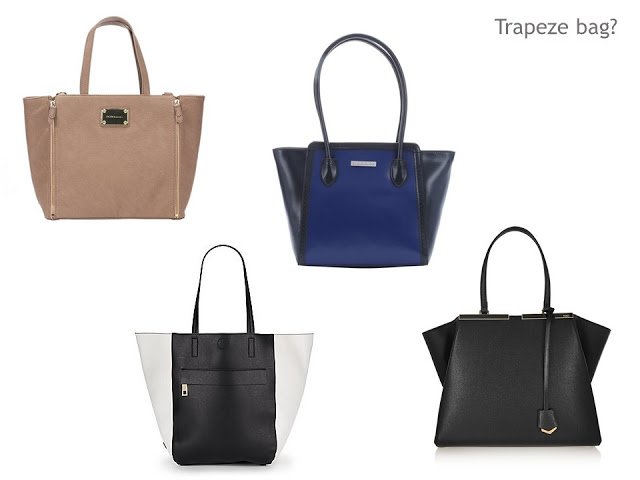 Um…. HELLO? This is not a trend… metal trim and accents have been on shoes for hundreds of years. If you find a pair of these that has an irresistible call, live it up, because these pretty much CAN'T go out of style.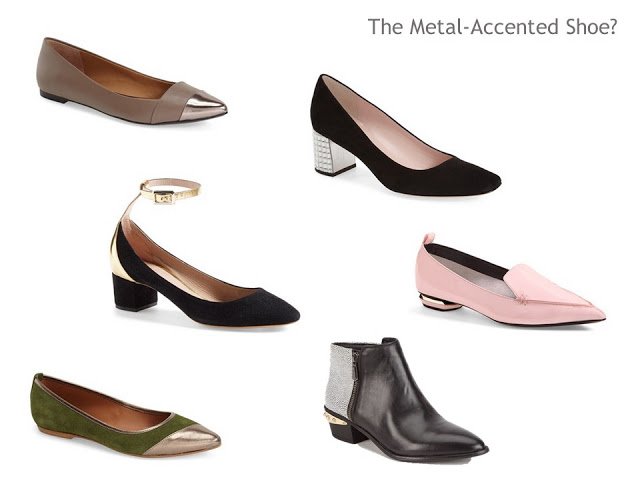 Taupe flats – Calvin Klein;
black & gold ankle strap flats – Chloe;
green suede – Summit; pumps with crystal heels – Kate Spade New York;
pink flats – Nicholas Kirkwood; boots – Sam Edelman
Same with a "column" dress, better thought of as a dress without a defined waist. I wore these when I was a wee princess, in the early '60's, and my mother wore them too. If they're going through a resurgence, that's wonderful; these are great dresses for those of us without a defined waistline, or a high waist. This cut is a great one to show off beautiful fabric or textural details. You'll want to tread carefully with necklaces hanging down onto material which should be the focal point. Nice earrings are perfect here.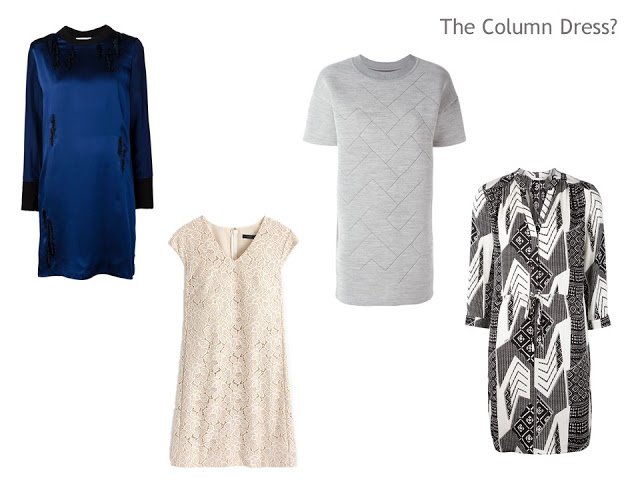 This one was so funny to research – the definition of peplum seems to be confusing… A ruffle around the bottom of a skirt is NOT a peplum. A ruffle on the hem of a dress isn't a peplum either, thank you.A peplum is an additional panel of fabric (somewhat like a ruffle, and it could be shirred like a ruffle) sewn onto the hemline of a top, attaching at the waistline and flaring out below. It's a great style for those of us who don't like to tuck our tops in, and for those of us who like to find ways to create the illusion of a waist that narrows. If you fall into those categories, or if you just plain like these styles, grab one. When these vanish from stores, they're gone, so buy, wear, and enjoy now.
But a serious word of warning – make certain that the fabric is soft and somewhat drapey, rather than crisp and rigid. Nothing looks quite as odd as a stiff little "board" of fabric sticking out around your middle.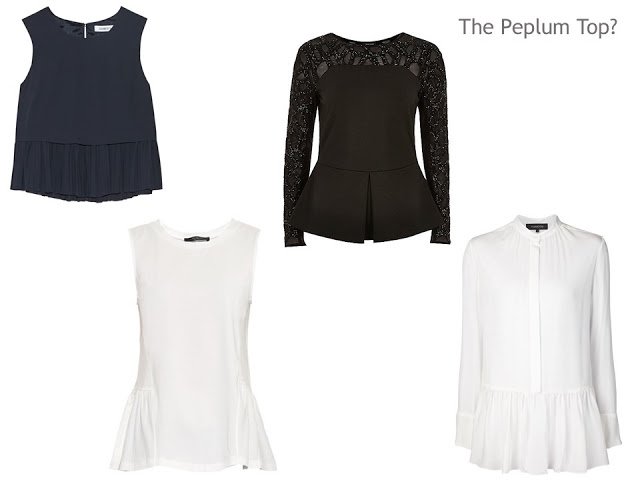 Here's another item that didn't feel at ALL like a trend to me. I think of a cocoon coat as one that falls around mid-thigh, often doesn't have a traditional collar, and is (usually) tapered toward the hem, with lots of room in the torso and underarms.If you wear pants a lot, and bulky sweaters, this coat is a dream come true – lots of room for your sweaters to layer under these beauties, but not so long that your legs are encumbered. If you fear appearing top-heavy, purchase with care, and look for a touch of princess seaming (like the taupe wonder below) or a slightly longer length and strong vertical line (like the beautiful purple coat). Some designers tend to use this coat style often – Isabel Marant and Max Mara both seem to have these every year.
Yes, the taupe coat reverses to pink parachute fabric…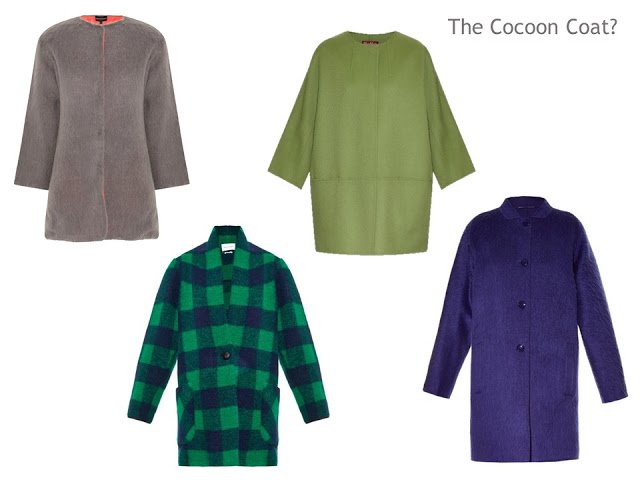 The bottom line of these items? The only one that felt really "short-term" to me was the peplum tops. I think one could easily ignore all of these suggestions and dress as one prefers without any fears of appears out of date, or out of touch.I'd really rather see what YOU like, rather than seeing you being obedient to total strangers who only want to sell you something…
love,
Janice