May 27, 2015
I really love the "Whatever's Clean 13″…
I love travel, and I love packing light, and I love the idea of being able to just stick your hands into your bag and pull out things that will come together in a beautiful outfit.
Today, I'm looking at warm weather, but prepared for some coolness. I know that trips to the south of France, ranging into Cinque Terre and Venice, will give you some hot, lavender-scented days in Provence, but then in Venice, after dark can be positively damp and cool… You can't be prepared for every last possible need, but you can be intelligent, and beautiful…
Lace is the unifying theme today, starting with this beautiful (and outrageously expensive) lace top. Comfortable pants and shoes, the always essential cardigan and scarf, and you're good to go!
I'm assuming, for purposes of our imaginary trip, that there will be abundant sightseeing, but that there will also be many romantic nights. Not necessarily black-tie dressy, but things for which you still want to look lovely, and feel alluring.
So, starting with our travel outfit, our substitutions are as follows:
black cardigan, replaced by beige cardigan;
lace top, replaced by black floral top;
lace top, replaced by botanical print top;
lace top, replaced by beige sparkle top;
lace top, replaced by ruffled beige top;
lace top, replaced by black sleeveless top;
beige trousers, replaced by beige shorts;
beige trousers, replaced by black skirt; (just sort of roll and stuff in the bag)
beige trousers, replaced by beige lace skirt; (so easy to pack!)
beige trousers; replaced by black trousers.
This gives you thirteen pieces – two "covers", 2nd layers, or cardigans, six blouse/tee shirt tops, and five "bottoms".
I chose simple, flat sandals that area all described as being designed for comfort, and the jewelry, clutch bag, and black wrap all have an echoing sense of lace about them.
This all seems to live together quite nicely, doesn't it?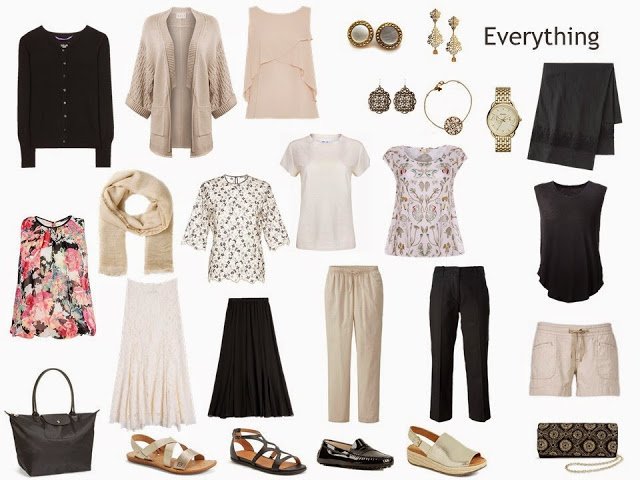 And, as with any "Whatever's Clean" wardrobe, you have literally dozens of choices, suitable for a casual dinner, a rainy day in a museum, a sunny day outdoors, or a very romantic evening meal and walk around town.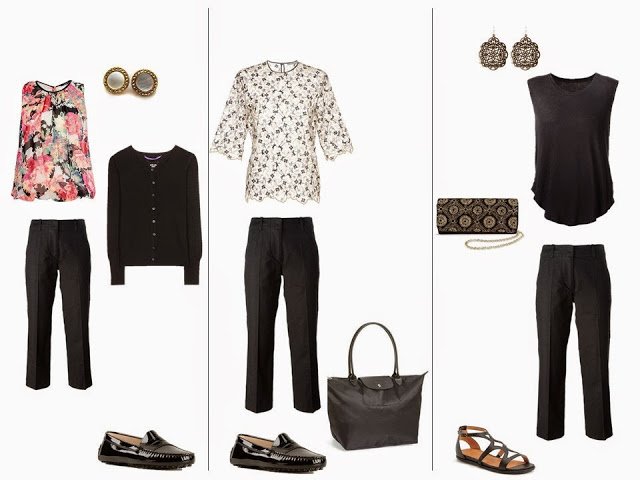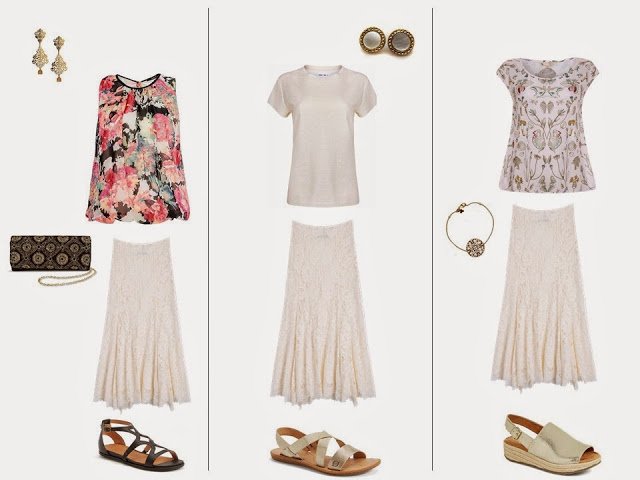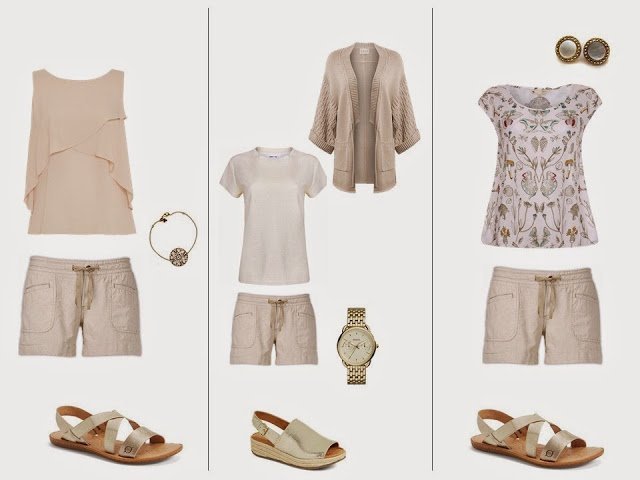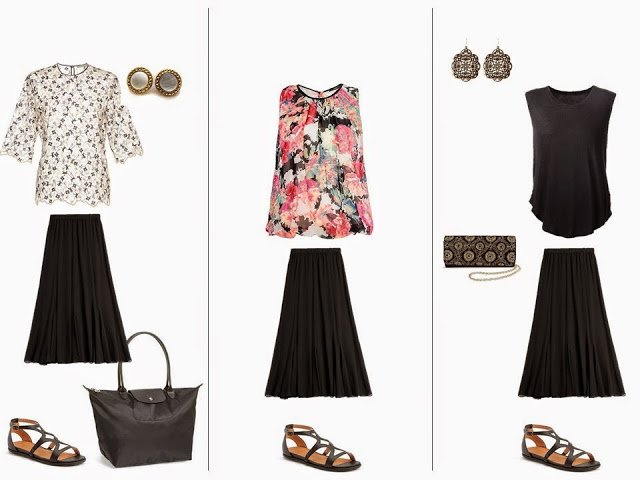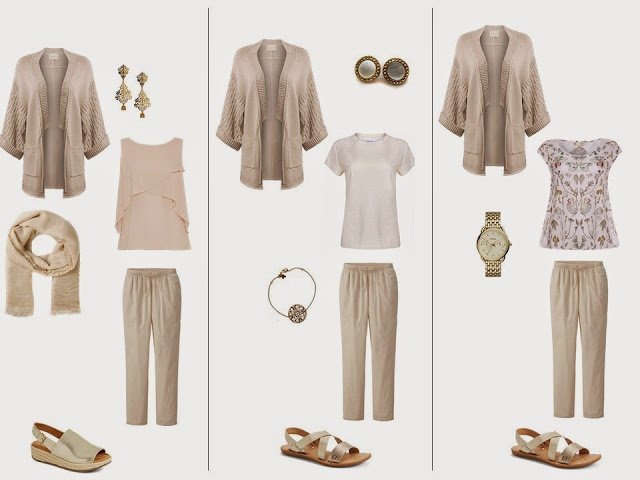 If for some reason you strongly felt that you needed more clothes, you could add a skirt or trousers (maybe in a beige and black pattern, although this would break the sacred "Whatever's Clean"…), and two more tops. I can't personally imagine packing more than 16 pieces for almost anything…
But what do you think?
love,
Janice