Belovedest and I were doing our usual wander about Paris on our last vacation, when we saw this store across the street. It had the usual clean, simple look that many stores in Paris have (the stores there seem to be either very sleek and simple, or charmingly cluttered in a tiny and inviting way…). With reckless disregard for our safety, which is really the only way to walk in Paris, we crossed the street in the middle of the block and went in…
Before we escaped, we had purchased a beautiful linen plaid scarf for Belovedest, in soft tonal beige, tan and ivory, and I had a new cashmere hooded sweatshirt in traditional grey. I bought the largest size available in the sweatshirt, because I was looking for smooshy, cuddly comfort; I have to say after wearing it a few dozen times that I got everything I was looking for!
Here's their information, as well as a scan of their brochure. I typed out the text, for those of you on teeny little devices:
ASAP – as sustainable as possible
99, Rue du Bac- 75007 Paris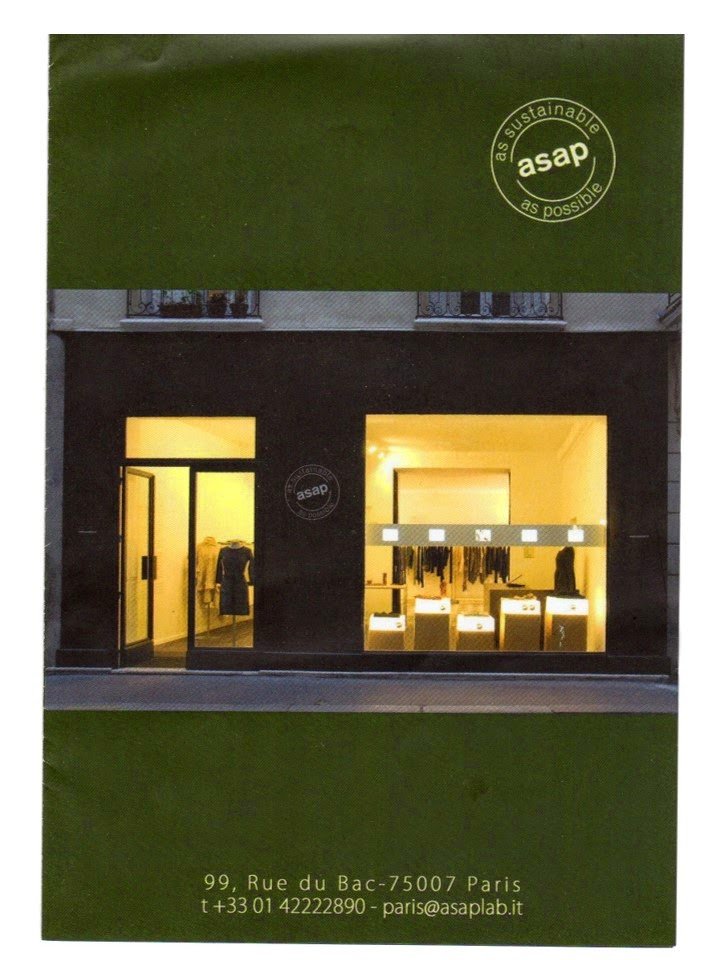 Priceless natural fibers (yak, camel, cashmere, silk and linen), not subjected to a dyeing process. Project with a low environmental impact.
Accessories and clothing produced with yarns and fabrics of the highest quality, selected and recovered among the best Italian companies who no longer use them because available in quantities too limited for a profitable industrial production.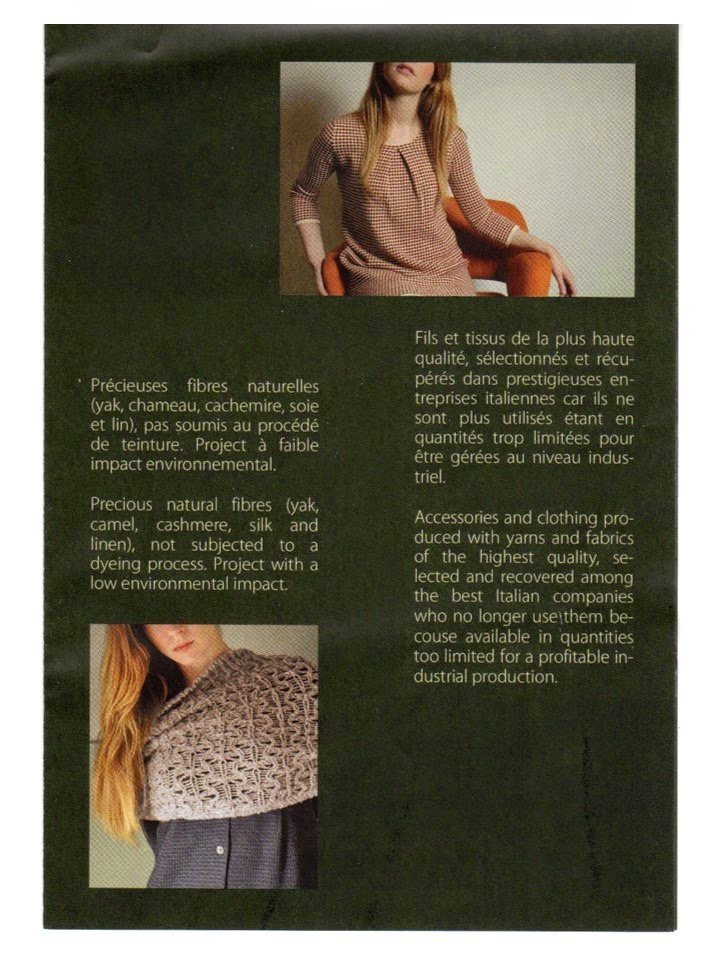 100% cashmere products dyed with natural elements such as flowers, leaves, berries and roots using no chemical additivies.
Major medical studies have confirmed, for the natural dyeing, the lack of reactivity in terms of allergy.
Products made frorm leather that has been tanned with vegetable tannins. No chemicals were used for the process of tanning: bio-degradable, hypoallergenic, non-polluting leather goods.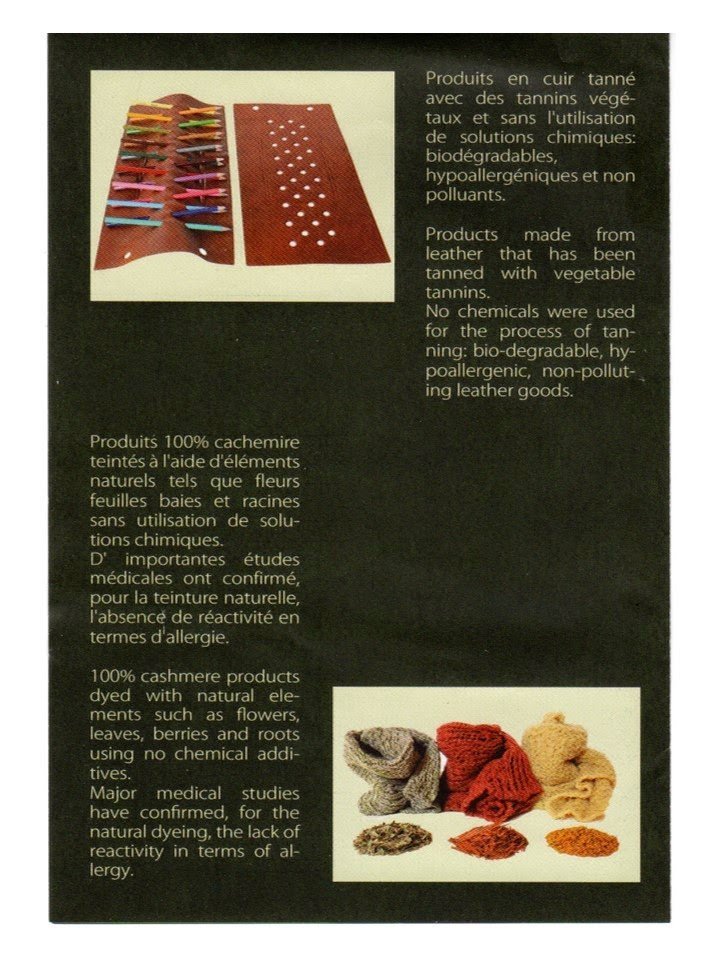 The RVR Lardini reversible garments are made with natural fabrics on one side and water repellent fabrics on the other side. An innovative and versatile line perfect for those who travel.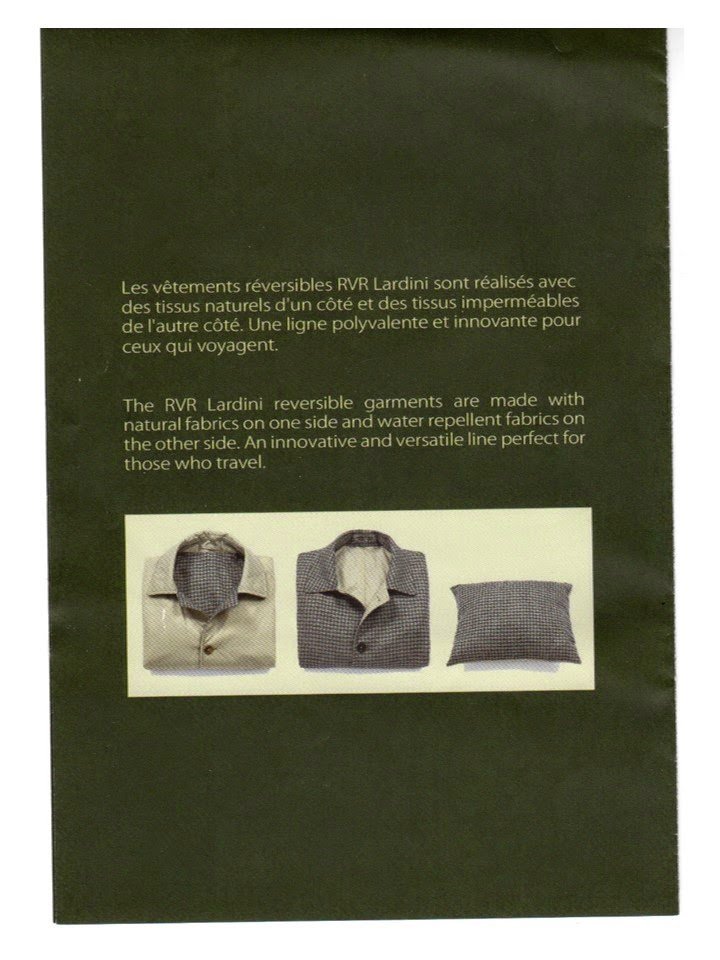 We saw some of the RVR Lardini reversible garments, and if they had had something that suited my needs, I would have been ALL OVER it; I could definitely see a black tweed shirt-jacket style that reversed to a black water repellent fabric… (maybe they're listening…)
AND – the winner of last Monday's giveaway – L'Armoire Ideale des Paresseuses, is THE
DUCHESSE
! How cool is that? Check out the link on her name – if you're not reading her blog, you're missing wisdom, charm, and good taste, as well as a heaping dose of intelligence and just plain common sense.
Here's the random number chooser:

I love Excel so much…
Sweet Duchesse, send me a note with your address (thevi
[email protected]
) and I'll get this right off to you.
love to all,
Janice