I grabbed this book when I was in the middle of a mad shopping spree at Athaeneum bookstore in Amsterdam. If you read Dutch, French or English, this is a wonderful place to wile away the time and the Euros. Of course, I'm a little weird about bookstores now that Chicago has very few in the entire city…
Frankly, either this book is terrible, or it is so tongue-in-cheek that the authors must have disfigured themselves writing it. It makes Parisian women (and yes, it's ONLY about women) into a caricature of reckless sexual conduct, adolescent romantic sensibilities, and an overall casual disregard for their work, significant others, and family members. That said, there were, as always, some bits with which I completely agreed… For example:
"WHAT YOU WON'T FIND IN HER CLOSET
Three-inch heels. Why live life halfway?
Logos. You are not a billboard.
Nylon, polyester, viscose and vinyl will make you sweaty, smelly and shiny.
Sweatpants. No man should ever see you in those. Except your gym teacher – and even then. Leggings are tolerated.
Blingy jeans with embroidery and holes in them. They belong to Bollywood.
UGG boots. Enough said.
A skimpy top. Because you're not fifteen anymore.
A fake designer bag. Like fake breasts, you can't fix your insecurities through forgery.
Truth be told, if the Parisienne could wear just a Burberry trench and nothing underneath, she would be in heaven."
If you can't find something in this book that deeply offends you, I will be astonished…
But speaking of EXCELLENT writing:
I've got a packing worksheet for you!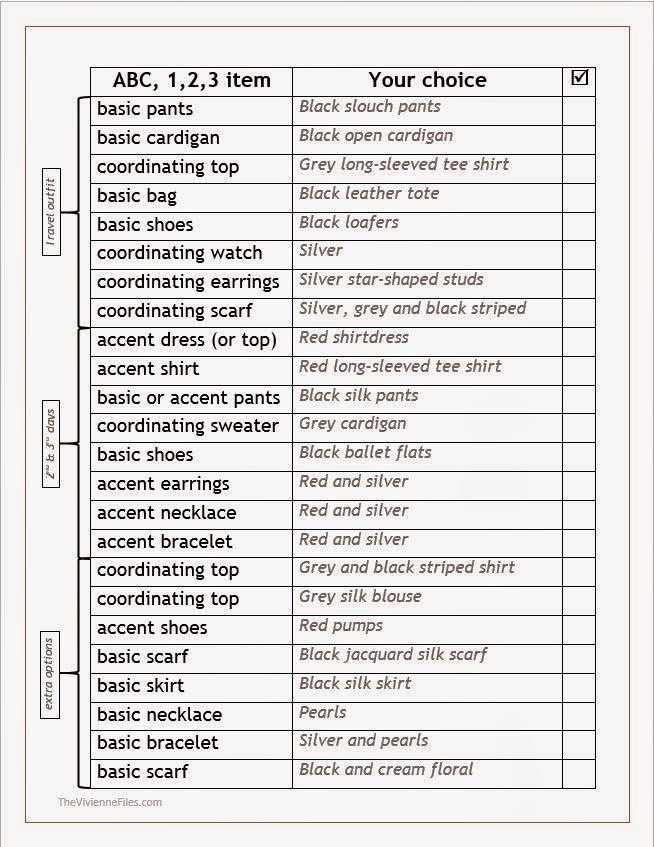 I've been promising it to you for months, I know. This is actually the worksheet, embedded in a 10-page baby booklet that discusses the various items, and what ABC, 1,2,3 means.
Here where you can find it:
Let me know what you think,
love,
Janice