June 19, 2014
Now that you're in the process of having your new and wonderful trousers altered to fit perfectly, it's the ideal time to make sure that you have the right shoes in our capsule wardrobe.
Let me vent. If you're one of those people who has a stack of shoes under their desk at work, or piled into a file cabinet drawer, it's about time to stop that. Trust me, the CEO does NOT keep a wardrobe of cheap shoes in their office. In fact, I'm willing to wager that absolutely nobody on the executive committee keeps an assortment of footwear under their desk. If we're in an office environment, let's measure up to the highest standards we can manage.
Whew! thanks for letting me get that off my chest…
Now, choosing excellent shoes. These should be the very nicest shoes that you've ever owned in your life. Beautiful leather, or if you're vegan/vegetarian, the very finest fabric you can find. Exquisitely constructed. Soles that can be replaced, repeatedly. Interior support that makes them comfortable to wear for 12 hours straight. Heels that won't snap off, or get caught in steam gratings and scraped raw.
Have you ever noticed that there is no category for "Comfort Shoes" in the men's department?
Yes, I have very strong feeling about shoes…
So I'm focusing on timeless, elegant, classic shoe styles that are appropriate for work, travel, social life, errands, religious events – whatever life might throw at you, short of a full-dress ball.
Look for shoes that are very simple and sufficiently "un-memorable" that you can wear them a few times a week without attracting undue attention.
Excellent quality brown shoes are more difficult to find that black ones, but the rewards are well worth it; nothing is more beautiful than burnished, well-polished brown leather.
Note: These Frye ballet flats also come in a darker, semi-sweet chocolate shade too.
Our wardrobes still look pretty meager, but the journey of a thousand miles starts with a nice pair of pants, and some good shoes!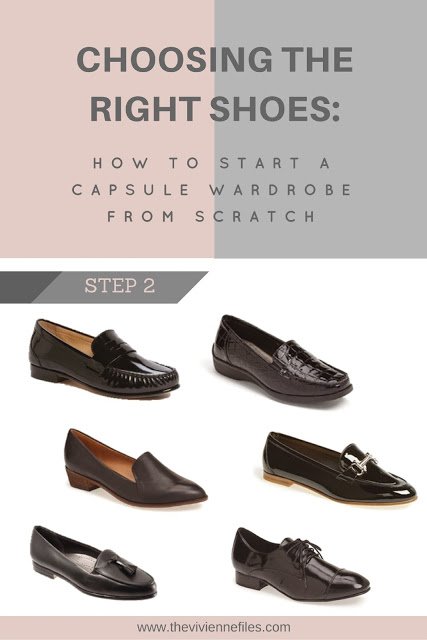 love,
Janice