June 11, 2014
Floral garments are everywhere this summer – any sort of skirt, blouse, tee shirt or dress your heart may desire is out there somewhere…
But I receive emails every day asking how a floral garment can be incorporated into
The Common Capsule Wardrobe
. Let's look at this problem in some detail.
First off – the gorgeous blouse with which you fall in love – is it in colors that bear at least a passing resemblance to the rest of your wardrobe? Or does it include a substantial portion of a neutral (or two)? This blouse might be the first glimpse of rose/dark pink that your wardrobe has seen in decades, but at least it has a lot of neutral khaki in it, and enough black details that it can be worn with black.
If it was that rose detail that really caught your eye, then run with it – grab a scarf, earrings, or maybe a bracelet in the same tones. This doesn't have to be a big extravagance; I've seen racks and racks of "one season" fashion jewelry in pretty colors that was very affordable. If it's the color that you love, indulge the love!
And make sure that you have footwear of some ilk that will work well and give you a head-to-toe harmonious look. If you've never worn lighter colored shoes or sandals, this might be the summer to grab a pair. Don't skimp – cheap sandals are a modern form of torture…
I can't emphasize often enough the role that a dozen simple garments can play in having a really versatile wardrobe. Every woman's dozen garments will be different; it's well worth thinking about what 12 items you could most often use, finding them, and maintaining them for maximum mileage. I'm going to use these twelve items as an example of what many of us might have in our closet already.
So your new blouse can go to work, or to a picnic, or a casual dinner… And the scarf that you picked up in a rose-tinted moment of inspiration works to dress up any of your neutral clothes. The sandals give your more soft-hued outfits a continuity that black or navy shoes would break.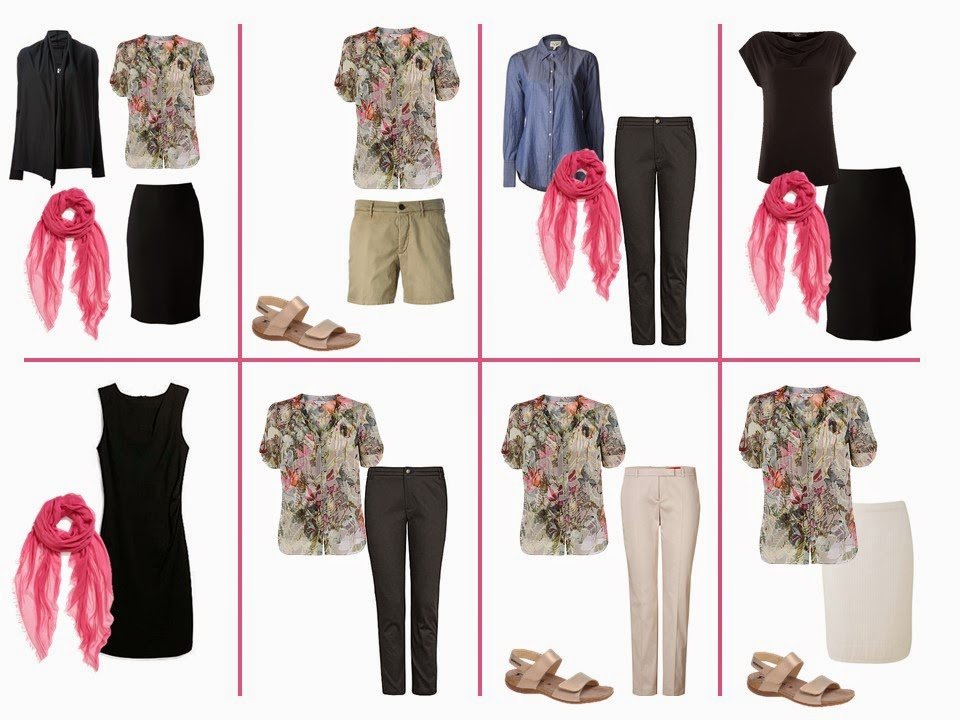 What twelve garments would make up your core Common Wardrobe?
love,
Janice
Looking back:
2012 – I was attending multiple graduation festivities, so I was Packing out of the 333.
2013 – One of my readers was tasked with Integrating a scarf into the Common Wardrobe: Hermes Coup de Fouet.