I've been in the live-in caretaker role for quite a while now – since we got back from Paris, I've only been home a handful of days… In order to uncomplicate my life, I just put some clothes into a backpack and hopped on the train, hoping for the best.
Turns out that my instincts were great – I was wearing three garments, I packed six, and there was literally NO combination that wasn't wearable. I felt like my clothes were a perfectly weighed slot machine upon which I couldn't lose…
These were the clothes that I had with me: (okay, these aren't exactly the same garments. My cardigans are from Lands' End, and are years old. My denim shirt is from J. Jill and is no longer available. Everything else is Eileen Fisher…)
I'm not kidding anybody here – this is a pretty monochromatic wardrobe, and nobody who saw me frequently was fooled into believe that I had traveled with steamer trunks full of clothes. Of course, that wasn't really the point.
Having this kind of versatility accomplished a lot for me:
Whatever was clean could be worn
I didn't have to think about it
If a garment become unwearable for some reason (torn, stained, etc.) it didn't really matter, because everything else I owned could still be worn in the absence of any 1 piece.
It didn't hurt that I had 3 scarves with me, and a whole mountain of jewelry… the accessories were absolutely critical to changing up my appearance and giving my poor patient a little bit of variety.
These were the options that I had: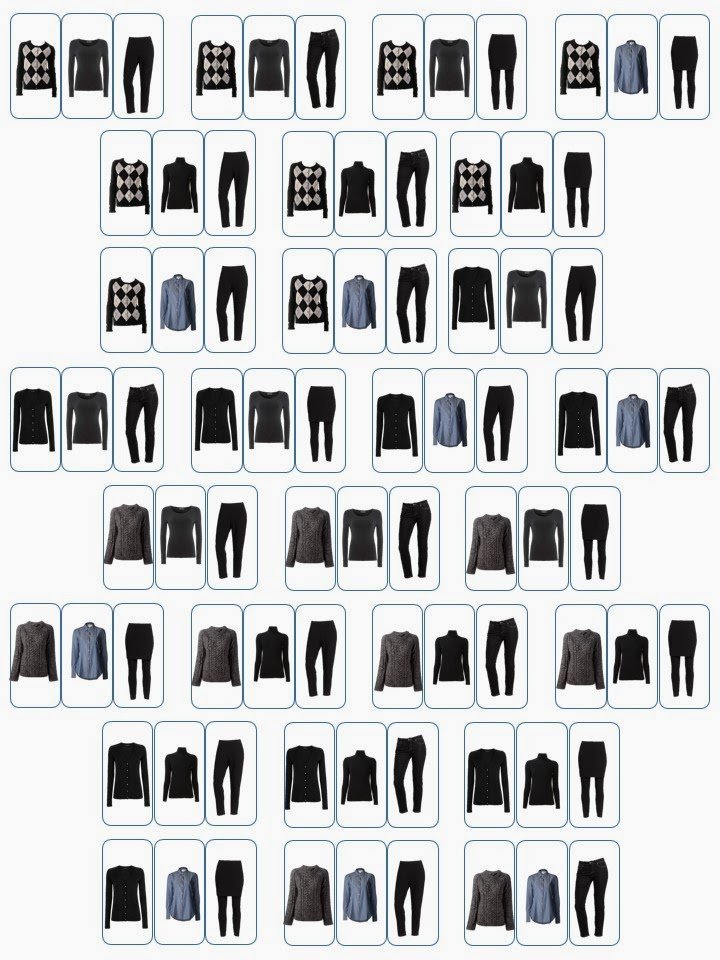 I could have gone further with this concept – a grey cardigan, grey tee shirt, grey pants, a white shirt, blue denim jeans…
This isn't a travel solution for most people, but in a pinch, it's nice to know that you can grab the right handful of clothes and be set for a few days.