August 19, 2013
I've had a ton of questions from readers about packing for trips that include multiple cities, and a variety of activities. And I've also had a few requests for packing navy, tan (or khaki) and coral. So I endeavor to answer questions and fulfill requests with this post.
As usual, I like to start with the travel outfit that includes a couple of capsule wardrobe essentials – I'm always a fan of a cardigan, long pants, loafers, and a big scarf. Simple stud earrings don't get caught on things when you're sleeping on the plane. Dark colors are good because they don't show wrinkles or spills, and a cardigan gives you the layering option for when the plane is cold.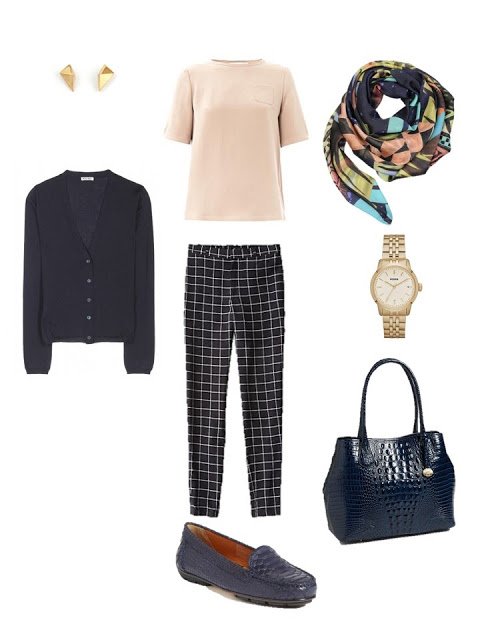 Gold shard earrings- De Anna Kiernan, Tee shirt – Max Mara, navy cardigan – Miu Miu, checked pants – Steven Alan, scarf – milleneufcentquatrevinftquatre, watch – Fossil, tote bag – Brahmin
Then I start with a four-some in your dark neutral. These four garments will give you four outfits, and they offer you a range of looks from extremely simple and casual to dressy.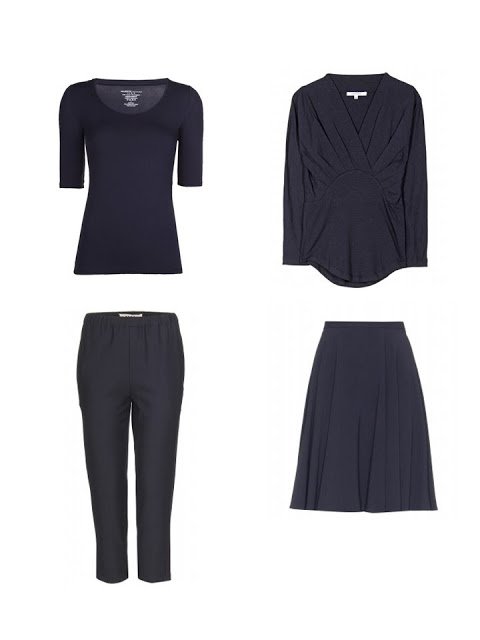 Tee shirt – Majestic , Pleated top – Carven , capris- – Marni Edition, skirt – Miu Miu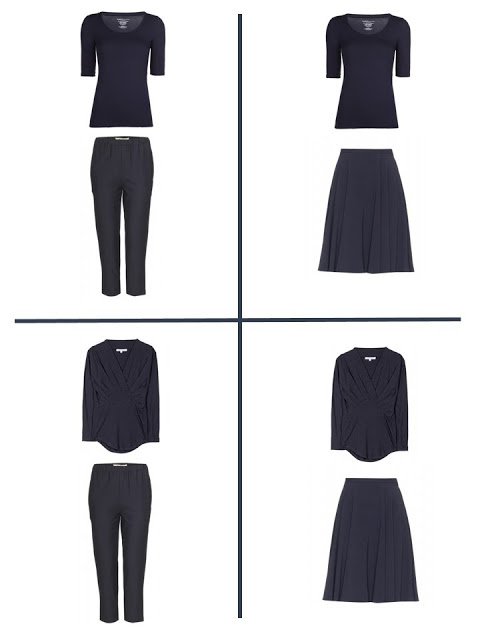 Next I build a four by four of the second, lighter, neutral. At this point, I usually introduce another cardigan, or a jacket. Unless you're traveling to someplace guaranteed to be extremely warm ALL the time, a second cardigan is useful. Remember – a cardigan can be worn with nothing underneath them, just like a sweater. And at this point in time, you're going to have a LOT of outfit options.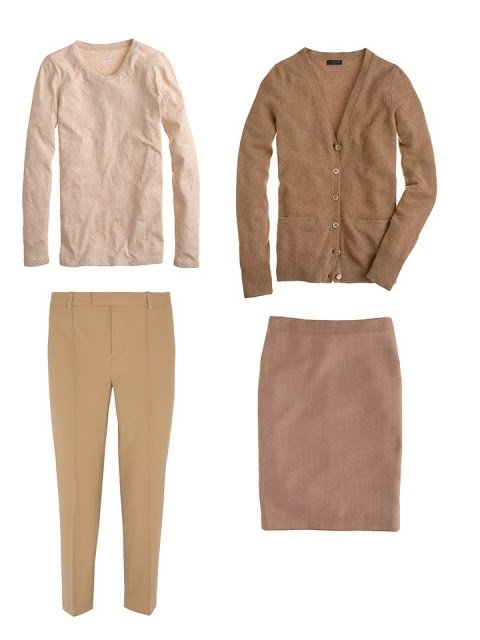 Tee shirt – J. Crew, Tan pants- J. Crew, skirt – J. Crew, cardigan – J. Crew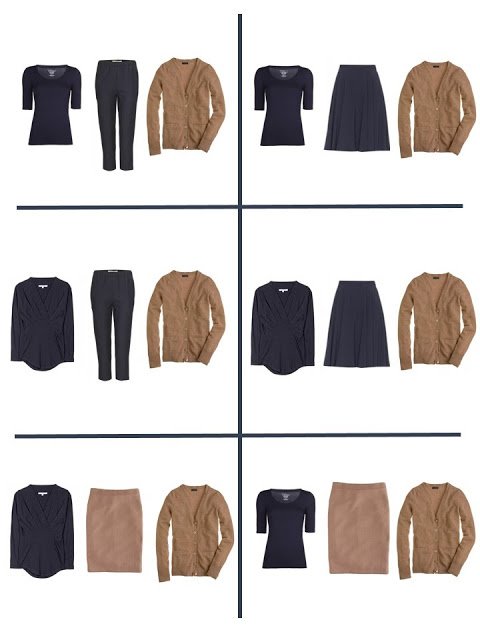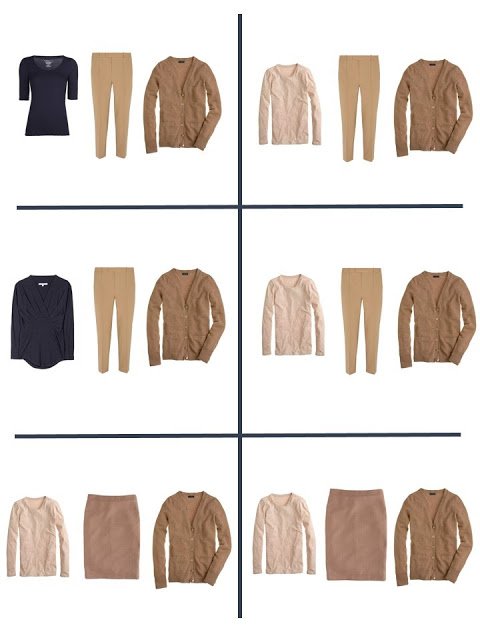 And finally, I pull together three accent-color tops, and a pair of jeans… I don't know how many different outfits this would give you, but as long as you have access to laundry, you should be all set!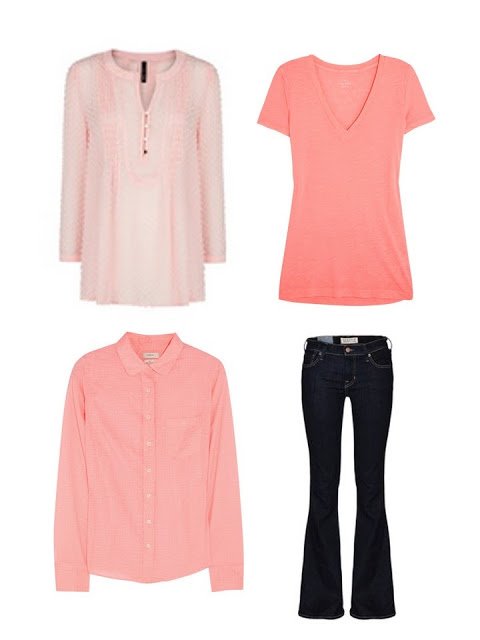 Blush tunic – Mango, tee shirt – J.Crew, cotton shirt – J. Crew, jeans – Textile Elizabeth & James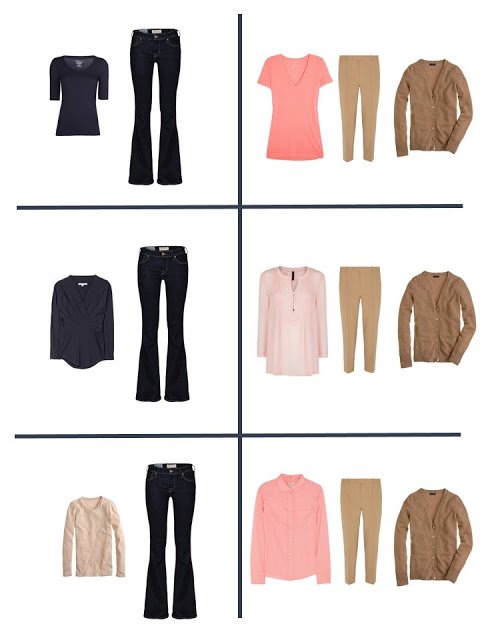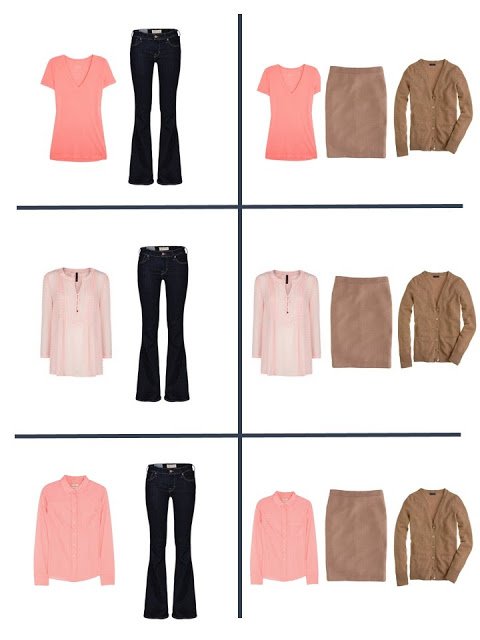 love,
Janice