March 20, 2013
I never wear camel, because it's wicked unflattering on me, but I love the look of it…At it's simplest, the sweater with jeans or twill pants. A scarf, and some pretty earrings, and you're good to go. Note that the shades of camel don't have to match exactly.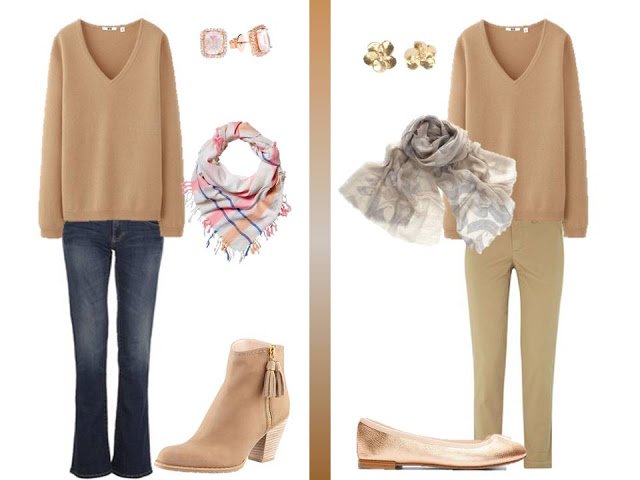 Sweater – Uniqlo, rose quartz earrings – Glacier Jewellery, scarf – Scotch & Soda, jeans – Ralph Lauren, boots – Stuart Weitzman, earrings – Gabrielle Vallarino, scarf – futabaya, khakis – Vince, ballet flats – Repetto
A long line of camel and brown, with a simple white or cream shirt, is the easiest outfit in the world. Simple gold jewelry is all you need; a watch might be enough!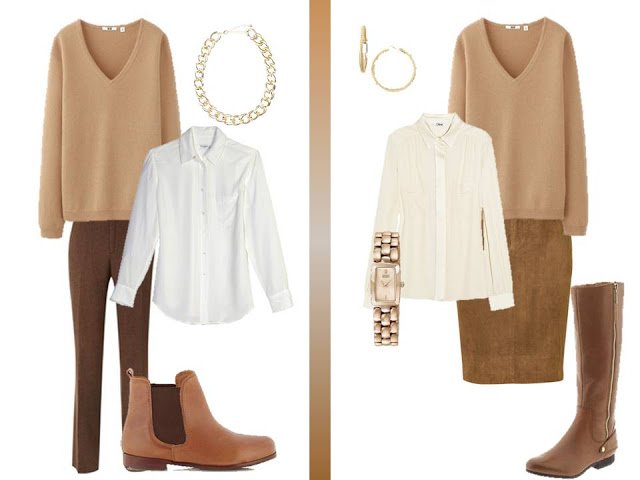 Sweater – Uniqlo, necklace – 10 Bells, white cotton shirt – Equipment, brown wool pants – Lauren by Ralph Lauren, boots – Topshop, earrings – Roberto Coin, white silk blouse – Chloe, watch – Citizen, suede skirt – Ralph Lauren, black tights – Missoni, boots – Clarks
With white jeans (or cream/ecru) you have the opportunity to break out your favorite summer tee shirts before the weather's actually "tee shirt warm". This is also a chance to sneak your favorite ballet flats back into circulation, to pull the whole outfit together.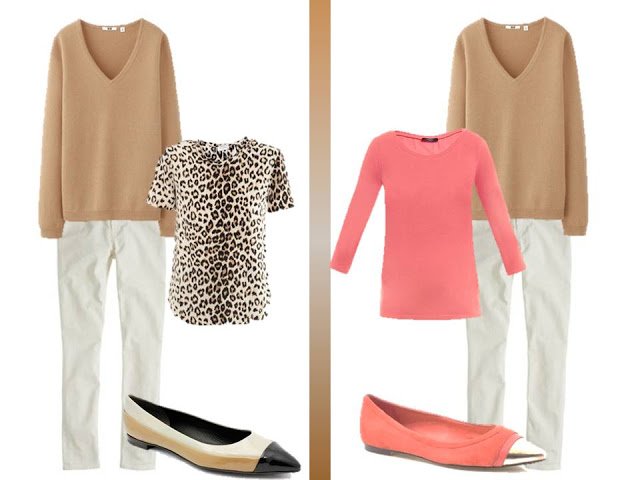 Sweater – Uniqlo, tee shirt – Equipment, white jeans – J. Crew, tri-tone flats Belstaff, peach tee shirt – Weekend by MaxMara, peach flats – Nude
With a camel skirt or pants, you have a perfect basis for almost any blouse…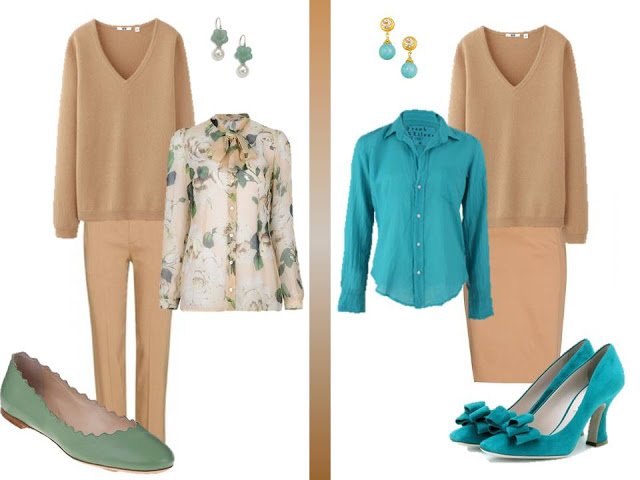 Sweater – Uniqlo, quartz & pearl earrings – Majorica, silk blouse – Dolce & Gabbana, camel pants – Chloe, flats – Chloe, topaz & turquoise earrings – Scully & Scully, turquoise cotton blouse – Fran & Eileen, camel skirt – Mango, pumps – Miu Miu
The simplicity of the sweater is a perfect balance for pants that have some… busy-ness… about them. As always, accessories are what makes it look like an ensemble, and not just a random collection of garments.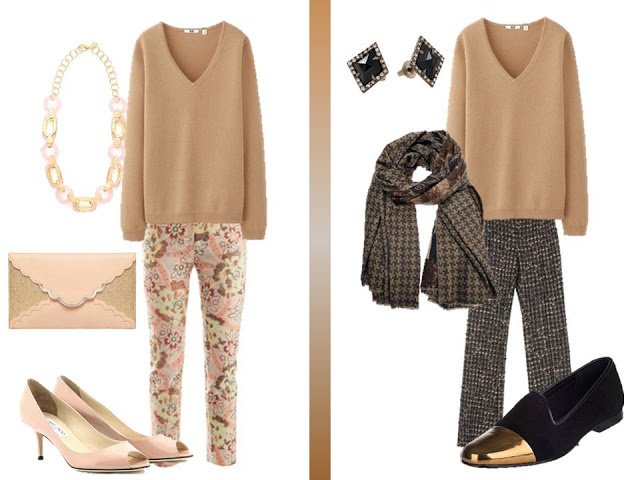 Sweater – Uniqlo, necklace – Tory Burch, clutch – Dorothy Perkins, jacquard pants – Erdem, pumps – Jimmy Choo, black diamond earrings – MPL, scarf – Pierre-Louis Mascia, tweed pants – Dolce & Gabbana, loafers – Bettye Muller
And a very "out there" jacquard or metallic skirt is calmed down with the sober, but still elegant, note that the sweater lends to the outfit. And it makes a great background for jewelry…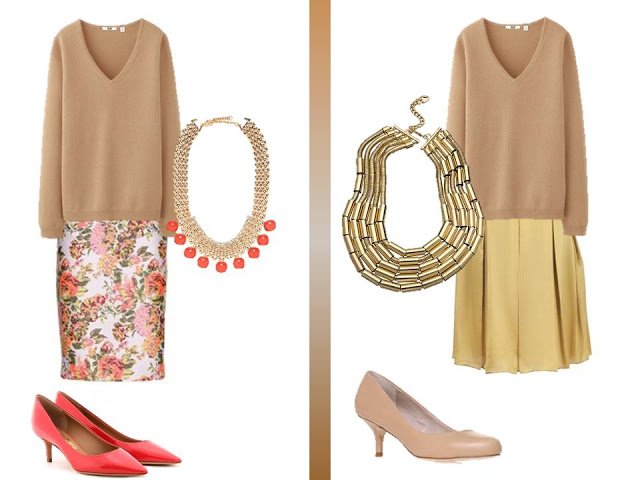 Sweater – Uniqlo, necklace – BaubleBar, floral jacquard skirt – Stella McCartney, pumps – Salvatore Ferragamo, necklace – Roman Luxe, silk skirt – Gaspard Yurkievich, pumps KG Kurt Geiger
Please note that some of the garments and accessories that I showed with the black v-neck sweater on Monday are making a reappearance today with camel. This is NOT laziness on my part (some readers accuse me of the most amazing things…); I do this deliberately to show how versatile some pieces of clothing, and some accessories, can be in your wardrobe. Every piece I show is carefully chosen to look beautiful, and to help you visualize how this might work with your own wardrobe…
love,
Janice