I get LOTS of questions about what to wear with scarves – many people seem to feel that they're not wearing their scarves as often as they should. So I'm going to walk you through what I think of, when I see a scarf for which someone wants suggestions.First, the obvious way to wear a scarf – match the colors! Wearing a scarf with two differently colored garments can make it clear that this ensemble wasn't an accident.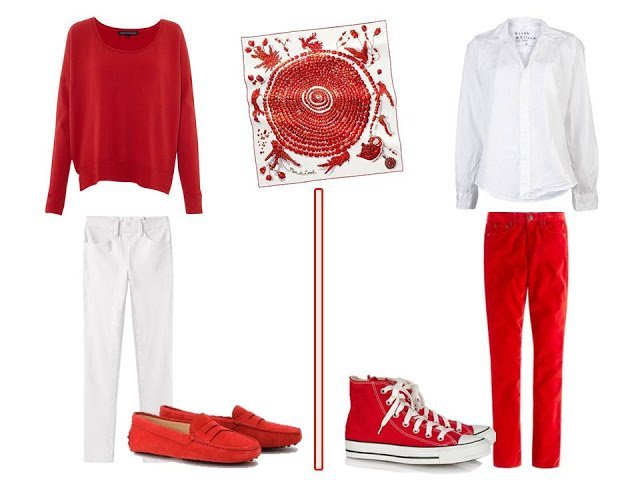 Scarf – Hermès Reve des Corail, sweater – French Connection, white
jeans – Acne, suede loafers – Tod's,
white shirt – Frank & Eileen, red velvet jeans – J. Crew, shoes – Converse Chuck
Taylor
Next, it's always easy to wear almost any scarf with black! The addition of another accessory in a similar color ties it all together.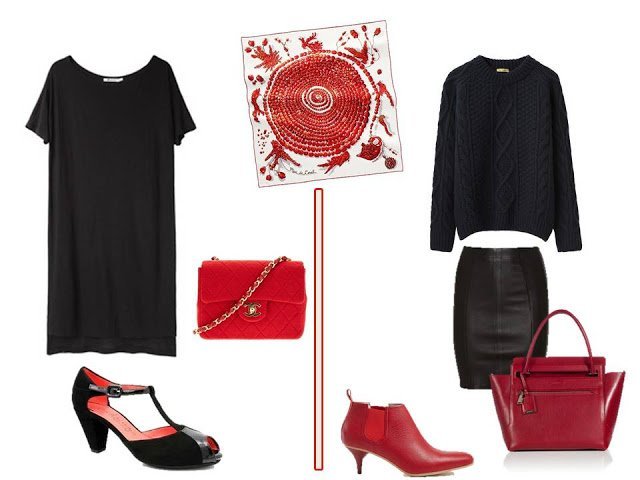 Scarf – Hermès Reve des Corail, shoes – Pas de Rouge, quilted bag –
Chanel, sweater – Peter Jensen, leather skirt – Marc by Marc Jacobs, boots –
Acne, bag – Jil
Sander
Moving just a bit further afield, I think of what other neutrals are obvious with the primary color of the scarf – in this case, grey and navy are easy choices of happy color contrasts with the red and white of the scarf. As I always do, I toss in another red accessory to show that this choice was part of a plan, and not just an afterthought.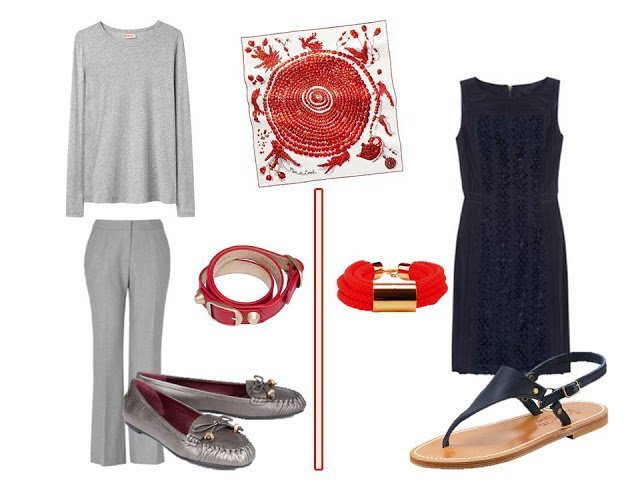 Scarf – Hermès Reve des Corail, sweater – Organic by John Patrick, grey
flannels – Jaeger, leather bracelet – Balenciaga, grey loafers – Marc by Marc
Jacobs, cord bracelet – Sabrina Dehoff, navy dress – Tory Burch, sandals – K.
Jacques
My last thought will be of more non-traditional neutrals – warm colors that look great with a touch of red…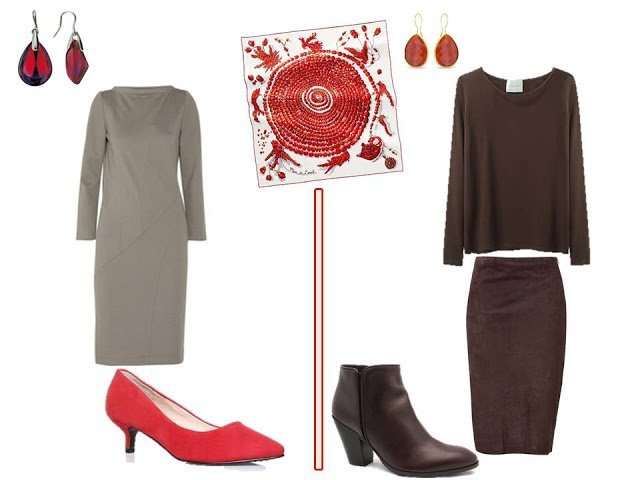 Scarf – Hermès Reve des Corail, earrings – Baccarat, taupe dress –
Calvin Klein, pumps – NineWest,
earrings – Ice.com, tee shirt – La Garconne,
suede skirt – Ralph Lauren, boots – Giuseppe Zanotti