May 19, 2012
One of the sections of the book French Chic, by Susan Sommers, which I read repeatedly, was one in which she listed seven items of black clothing, and then set out a little grid of how you could combine these items, and how they would be accessorized.
I could never visualize this.
So I decided to put together her suggestions in images. Some of the accessories ideas just scream "early '80's", and so I didn't stick to all 12 plans exactly as written…
This is an interesting approach to wardrobe-building, or to packing. The vest is, to me, a difficult garment, and I would probably be tempted to substitute a leather jacket, denim jacket, or second cardigan. And if you're not interested in 2 skirts and a dress, you could easily work with four different styles of pants.
I understand that I may have misinterpreted the term "vest" in this context, but I'm leaving the images…
I think there's some potential to this type of plan, and I'm pondering recreating these outfits in other colors.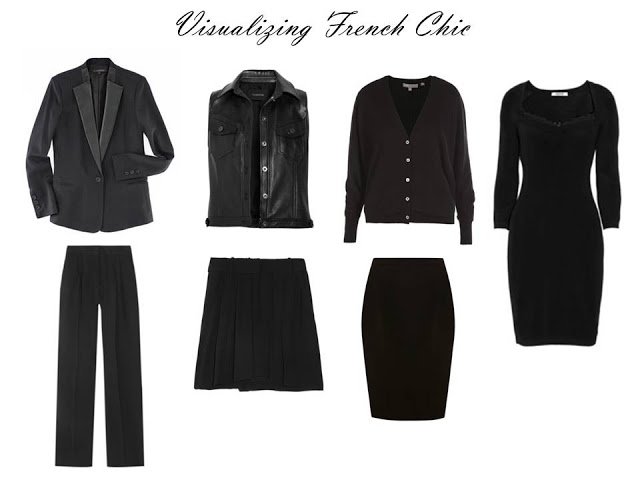 blazer – Romwe, leather vest – Thakoon, cardigan – Vince, dress – Moschino Cheap & Chic, pants – Chloe, pleated skirt – Isabel Marant, pencil skirt – Coast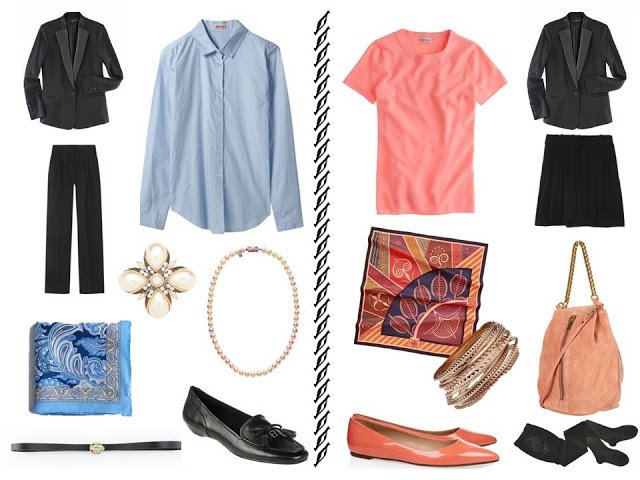 Cotton shirt – Organic by John Patrick, pearl brooch – Debenhams, pearls – Mikimoto, pocket square – Joseph Abboud, lizard belt – Moss Mills, lizard loafers – Etienne Aigner, tee shirt – J. Crew, scarf – Hermès, bracelets – JCPenney, ballet flats – J. Crew, tights – HYD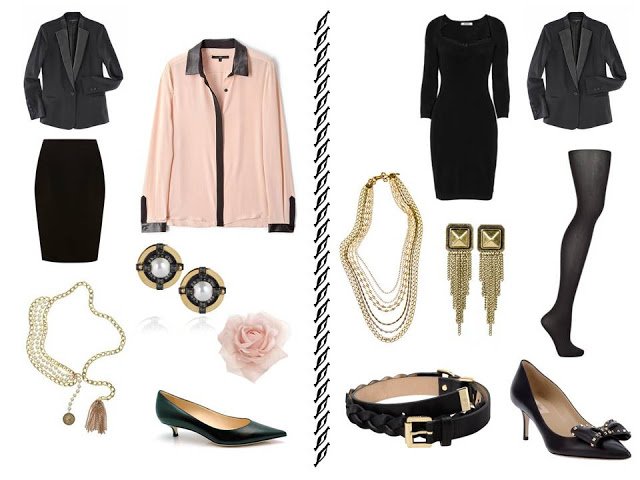 Silk blouse – Tibi, pearl belt – Chanel, pearl earrings – Lanvin, flower brooch – Monsoon, pumps – Jimmy Choo, necklace – Marie Chavez, earrings – Jules Smith, ribbed tights – Fogal, belt – Mulberry, pumps – Valentino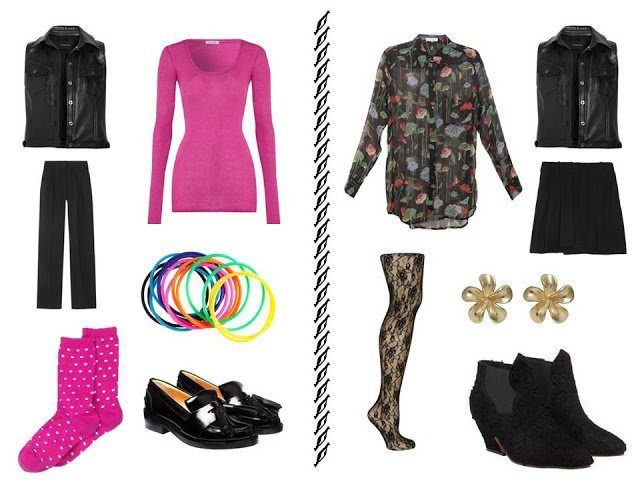 Tee shirt – American Vintage, bracelets – H&M, socks – Kate Spade, loafers – Acne, blouse – Equipment, lace tights – Jonathan Aston, stud earrings – Nina Breddal, ankle boots – Acne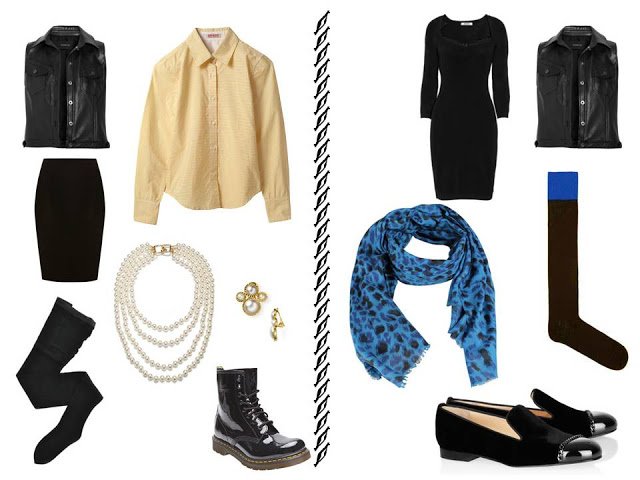 Shirt – Organic by John Patrick, velvet tights – Wolford, pearls – Kenneth Jay Lane, boots – Dr. Martens, scarf – Lily and Lionel, socks – Sportmax, loafers – Christian Louboutin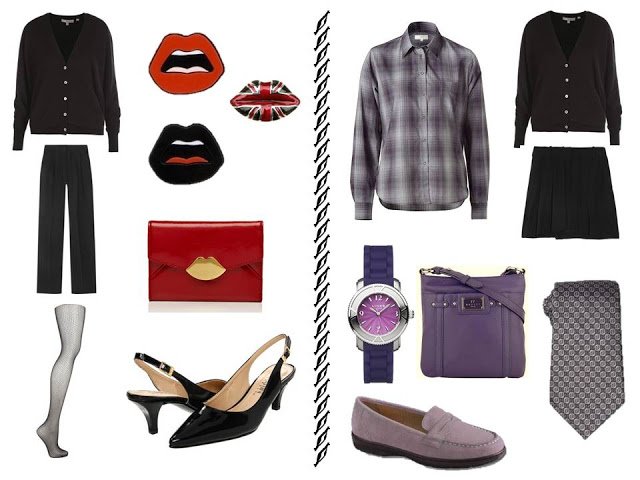 Black & red brooches – Yazbukey, Union Jack brooch – Lulu Guinness, clutch bag – Lulu Guinness, sheer tights – Wolford, slingbacks – Christin Michaels, plaid shirt – Vanessa Bruno Athe, watch – Links of London, cross body bag – Radley Ealing, tie – Gucci, purple loafers – Debenhams
How far could you go with these 7 pieces, and all of the relevant "add-ons"? I could live for quite a while…
love,
Janice