So I've decided that I'm going to curate my wardrobe in groupings of eight, in keeping with the plan that seems to be working so well for other wardrobes that I build! And first up, the highly utilitarian work wardrobe for the winter holidays. Cotton turtlenecks from Lands' End, sweatshirts from Lands' End and Adidas, and jeans from NYDJ (stretch jeans are ESSENTIAL if climbing is in your job description). I didn't need a lot of clothes, because I'd have to come home most evenings and immediately launder whatever I'd been wearing…
To me, this wardrobe, while not particularly dressy or innovative, is elegant, if you define elegance as simple, timeless, and appropriate to the situation at hand!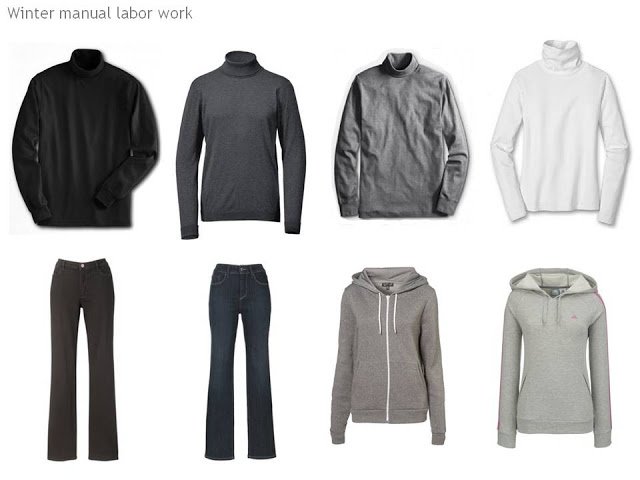 And I've chosen to include eight accessories/pieces of outerwear with each eight garments that I choose. For the winter holiday work, I have to have:
my Barbour coat,
cheap black earmuffs from who knows where,
Falke leather gloves that I've had for AT LEAST 10 years,
my Camper pelotas shoes (best climbing shoes ever!),
an Hermes scarf (yes, I wear Hermes with a sweatshirt)
two paisley scarves from Diwali Paris,
stainless steel ball earrings. I'd love to wear other jewelry, but I have to wear something that won't chip or scratch if I catch a box in the face. Yes, that happens!